I have a baggage problem. That is to say, I like bags. I'm always getting new bags, too. My wife asks me if I really need more and the answer is always yes. I need more bags. Why do I need them? Because I haven't been able to find the perfect bag for hauling my waterfowl gear, until now, that is. Hard Core came out with three blind bags that fit all of my needs perfectly and trust me, It's Not Easy!
The Elite Blind Bag
When you're headed out for a day in the boat blind, or shore blind, you're going to haul a lot of gear with you. And you want that gear to be protected and ready to use when you need it. Mike Galloway at Hard Core looked at all the bags out on the market and wanted something better.
"I'm a bit of a gear snob," he said. "When I look at designing something, I'm very specific about what I want that product to do."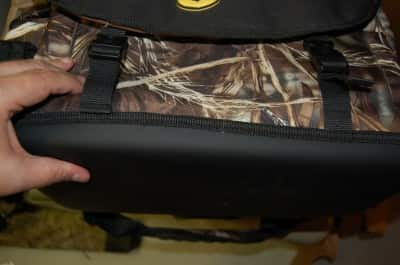 That desire led to some sweet features of the Elite that makes it a favorite among the Pro Staff and of this writer. The first is the hard plastic bottom that keeps your stuff dry when there is a little water in the boat or the pit. If you've ever had your bag, and all the contents get soaked from that little bit of water, you know why I dig this feature.
The next thing is the rain coat. You have a rain coat, why not the bag, right? Hidden away in a waterproof pocket on the back of the bag is a pull-out rain coat that slides over the bag so that when you're taking that bumpy boat ride across freezing water, the spray doesn't freeze you bag. I have to admit, the first time I saw this feature, I wondered why someone else hadn't done that earlier.
There are just enough pockets on the outside of the padded bag to let you get to those items you always reach for first, like your dog controller, your calls, or other stuff. There is also a nice pocket for your cutters so you don't have to dig for them when you're cutting extra foliage when you're brushing in the blind.
There are loops for holding different choke tubes, so you can swap out depending on how the birds are flying without having to dig in your bag to find them. There are also straps on the back to hold your rain gear in case that chance of showers turns into a full-blown downpour. It truly is a well thought-out bag. Even the shoulder strap is designed for comfort. Nice!
There is also an interior pocket that was designed with smartphones in mind. It keeps the phone safe and dry, while allowing you to still access the apps and other functions, a key thing for those of us who like to check the weather, shooting regs or even take a text message or call. Like I said, it's a well thought-out bag!
The Blind Bag
Take the killer features of the Elite and downsize it just a little. The Blind Bag is perfect for the hunter that doesn't need all the room of the Elite. You'll find the same padded interior and durable, well thought-out pockets and features. Like the Elite, there is a special pocket for your drink or thermos. I don't know about you, but I'm nothing without my coffee in the morning.
Both bags also would serve well as camera bags for those of us who carry and use camera equipment while hunting. I usually have a video camera, a point-and-shoot digital, and a DSLR camera with an extra lens or two. I also like to carry along a remote video camera and at least one trail camera. The trail cameras work well to capture images of the hunt from a remote spot. I also use them to scout for birds, deer, and whatever else I'm hunting. As you can imagine, I'm planning on using one of the blind bags from Hard Core as a dedicated camera bag this fall. Filming hunts is all the rage, but I've been doing it for years. It's Not Easy!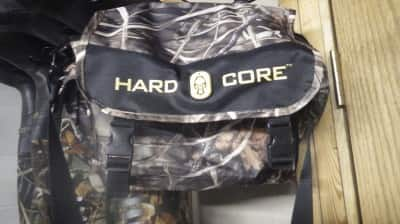 The Guide Bag
Even still, there are times when the other Hard Core bags are too much. Take, for instance, hunting in timber, or from a Man Cave layout blind. The Guide Bag is a totally different kind of bag. Hard Core's Mike Galloway designed this bag with mobility in mind.
"A lot of guys will take this bag and hang it on the tree when they are hunting flooded timber," he said. "I added D-loops on the bottom to hang a shell carrier on. We also made the bag compact enough for the guy sitting in his Man Cave blind to keep just the essentials where you need them."
The Guide bag is more compartmented than the two bigger bags. There is a spot that will hold two boxes of 3-1/2-inch shells. And the front pocket is hinged to only open so far and not let your stuff fall out. Great if you're hunting in flooded timber! The top flap holds three choke tubes and there is a zippered compartment for your license or choke tube wrench.
It's Not Easy!
Honestly the hard part is selecting which bag to buy. I went with them all because I do all kinds of hunting. The Guide Bag will be with me for hunting from the Man Cave and Apprentice Blinds. I'm also going to use an Elite Bag to haul my camera gear and a Blind Bag for those days when I'm hunting from the boat. All the bags feature solid construction and attention to detail that I haven't found before. They all come with the extra cool, Hard Core logo on the zippered and across the flap, and they feature Realtree MAX-4 camo. If you're like me, you love this sort of stuff. I'm a confessed gearhead who has tried a ton of gear and is always searching for the best. I've found it with these bags!
Images by Derrek Sigler
What's Your Reaction?