Just a few short weeks ago, I was on a pronghorn hunt in New Mexico filming for a new outdoor television show that I will co-host with Kenneth Tallent for 2014, Double Lung Outdoors TV. A chain of events—including a helicopter crash—during this trip has changed my life.
I arrived at the airport in Amarillo, Texas on August 23, where Kenneth Tallent and Johnny Kennedy, who had been traveling from McKinney were waiting to pick me up for the beginning of yet another adventure. This time we would be hunting pronghorn antelope and prairie dogs in Clayton, New Mexico, all which would be captured on film for another episode of our new television show. The trip was arranged by Kenneth's good friend and our spectacular sponsor, Rick McLaughlin of Wholesale Roofing Supply. We had lunch at the infamous Big Texan Steakhouse while awaiting the arrival of producer Jeron Detty and cameraman Shayne Yamamoto of Detty Outdoors to pack them up and head north for another three-hour drive. The decision to fly Jeron and Shayne in for this trip would later prove to be a lifesaving one.
The opening day of antelope season was the following day, August 24. With only three tags available for the Carr's Ranch, the hunters would be Rick, Johnny, and myself. We met early, split into two groups with cameramen, guides, and hunters and spent the day stalking several antelope. By the end of the day there were two pronghorns headed to the processor, with Johnny and I excited about the chance to harvest these two beautiful animals.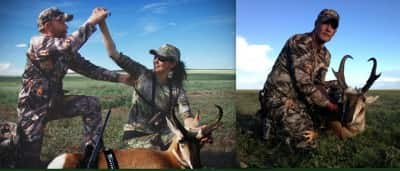 The afternoon of August 25 was spent reviewing footage, and planning for our future trips across the world. With a phone call to my friend with a helicopter nearby, we had a new plan for our last afternoon in New Mexico the next day. The pilot would arrive just after lunch the next day, take us up for a quick flight that would give us the opportunity to capture some aerial footage of our rigs that were wrapped with camo and logos and film some of the beautiful terrain we had tread for the last two days.
We met at the Clayton Airport on the 26th, where Jeron, Shayne, and I would buckle down into the R44 helicopter with the pilot and fly off into the wild blue yonder. The plan was to take as many pictures as we could, and hopefully find a herd of antelope to film from overhead. There were some slight wind gusts and the flight was a little bumpy and swishy, but I had total confidence in the pilot and held on. For approximately 30 minutes we saw some breathtaking views and were able to film Kenneth and Johnny in the rigs trucking down the highway. It was magnificent to see. Shortly after flying high over the rigs, I suddenly realized that we were not moving in a "comfortable motion,"—I am not sure how to explain it, but it seemed the helicopter started to veer to the left slightly, and shortly thereafter I looked down to see the ground coming at my window very quickly. I thought to myself, "He can't possibly be trying to land at this thing at this speed?!" and then we hit the dirt. It was quick and rough, we came to an abrupt stop with terrible noise from the motor and the piercing sound of an alarm. I felt my hand being caught and crushed, and realized that life as I had known it may be over forever.
Footage of the crash can be seen here.
The helicopter came to a final rest with a loud humming noise. I was numb to what was being said or done around me, and focused on trying to free my hand but quickly came to the conclusion that the entire aircraft was on my hand, and I was not going to be able to move it without help. I felt at that point that I may lose a finger or worse, and was overwhelmed with the thought and the pain.
I then became cognizant of what was happening around me. Jeron Detty, the show's producer, was moving about the cabin in a deliberate and determined manner, Shayne was moaning in pain, and saying "Help me, please help me, Jeron." His words were breaking my heart. He was such a good kid, was skeptical about boarding the helicopter, and was potentially seriously injured. I could not see behind me with my hand trapped, so I crumpled up over my hand to allow Jeron room to work to free Shayne, who was hanging from his seat belt directly above me.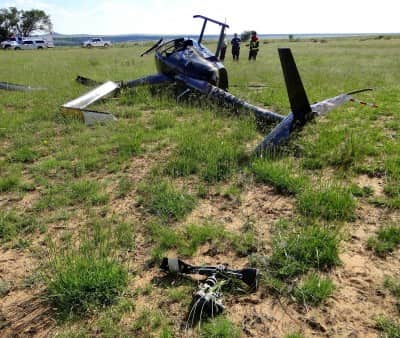 With my back turned, I could not see what was happening, but within seconds I heard Jeron say that he would have to "Get Becky Lou out first," realizing that if Shayne was released from his seat belt, he would fall directly on top of me. As Jeron reached behind the seat to pick me up, I yelled "My hand!" He then proceeded to grab under my arms and try to lift me out of the helicopter, pulling on my trapped hand. All I could say was "My hand, my hand, my hand!" In my shock, I couldn't find the words to make it clear to him that my hand was pinned under the helicopter.
He paused to access the situation, and as he looked past me onto the ground, he saw my hand smashed flat under the helicopter door, with the entire weight of the helicopter and everyone in it, putting pressure on it. He quickly stepped in front of me, into a very tiny area, stomped with his foot to break out some glass, which allowed him to lift up the door, and I worked my hand free. He then picked me up like a rag doll and placed me on my feet outside the helicopter, where the pilot helped me to get a safe distance away from the wreckage.
Almost immediately Jeron had Shayne unbuckled, and had brought him a safe distance from the helicopter. After I was sure everyone was out, and no one needed me for something, I grabbed for my phone but could not get a signal to call out. Cell service had been very sparse in the area the entire time. As I was walking around looking at my phone, it hit me and I fell to my knees, raising my hands as I thanked my Heavenly Father for sparing our lives, and I asked for his guiding hand to help us through. I opened my eyes and looked at my phone and there was a signal!
I quickly called Kenneth, and they had not noticed we were not around. I told him "The helicopter is down, we've crashed, and we need an ambulance right away!" I tried to keep the conversation short in case the signal cut out. Kenneth replied that he was on his way. I then hung up and immediately dialed 911 and made a connection. I knew that Kenneth would call, but I figured that two phone calls into 911 couldn't hurt. I tried to explain to them where we were, with Jeron giving me highway information and GPS coordinates, but I eventually handed Jeron the phone to finish talking to them.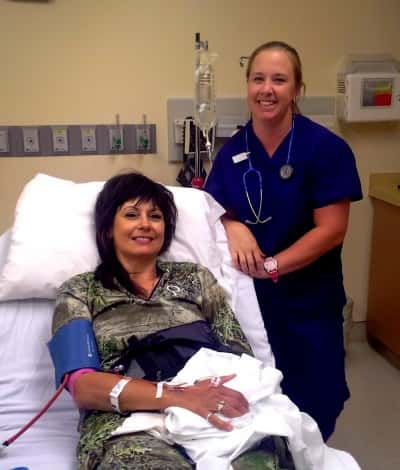 I rushed over to Shayne, who was sitting on the ground. He was in so much pain and complaining that his shoulder hurt very badly. I can be heard on the video telling him "It's going to be ok, we are all ok, my hand may be broken but I'm ok! Isn't that wonderful?" I was still in shock, reassuring everyone while I was gradually coming to the realization that I had actually survived and the worst was over. I just sat on the ground next to Shayne and comforted him.
Kenneth Tallent and Johnny Kennedy arrived shortly. They came right into the field and scooped us up. Shayne and I got into Johnny's truck and headed to the local hospital, and that is when I relaxed my guard. The pain in my hand became my only focus. I called my husband Lou and let him know what was going on. He was in disbelief, but I assured him that I was going to be fine and told him I would call him later, because I wanted to give Shayne my phone to call his family and girlfriend, which seemed to give him comfort. After about four miles on the road, we met the ambulance. We stopped and Shayne and I were transferred into the emergency vehicle and taken the remainder of the way to the hospital.
After several hours, Shayne was diagnosed with four broken ribs, which explained the excruciating pain in his back and shoulder area. I was informed that I had one small fracture in the first knuckle of my index finger (which ironically seemed to be the only place on my hand that didn't hurt).
As I finally settled and drifted back into reality—and being the foodie that I am—I realized that we would not be back to the hotel before the restaurant closed, so I called Jeanette at the historical Ecklund Hotel and she was kind enough to keep some food warm for us and we all sat down to our last meal in Clayton at about 10:30 that night. Jeron, Shayne, and I had flights scheduled out of Amarillo the next morning, approximately three hours away, and we would be leaving early. The packing of the vehicles, equipment, luggage, and so on was all done between 11:00 p.m and 2:00 a.m. It was a tough night for all of us, but I was grateful for it.
As we were filming the terrain, there were several cameras rolling and as a result, some gripping "point of view" film footage of every moment of the crash—before and after—was captured, as seen above. This, of course, has gained media attention and the video has gone viral. We've had several interviews, including on shows like Good Morning America and channels like FOX News and KASA Albuquerque. It's been hard to watch the video, it makes my blood run warm each time. I feel so fortunate to be here to talk about a potentially tragic story that has a happy ending.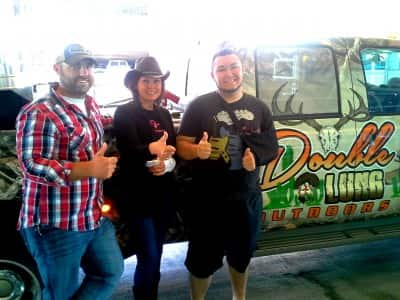 I have to say the group remained extremely positive throughout the entire ordeal and I am really amazed by Jeron Detty, who immediately turned into a "Rescue Robot" doing and saying all the right things and caring for each of us. He focused on everyone else first, all while keeping a calm and soothing tone which in turn helped all of us to make it through. I am so grateful that he was not injured beyond functioning (he was later diagnosed with a concussion) and feel so fortunate to have him there to take care of us all. Thank you, Jeron, for keeping your cool! I love ya, man! I am also extremely impressed by Shayne Yamamoto. Now that we know that you were hanging from your seat belt bearing down on four broken ribs, your moans of pain were not only warranted, but are proof that you are one tough dude! There are very few things more painful and I'm sad for you having pain but happy it was only broken ribs.
This experience has truly given me the chance to do things differently, mend some fences, repair some relationships, focus on deleting the negative forces in my life, and inject more positive beautiful things into it. I truly believe that God has saved all four of us, and that he has a plan for each of us. I am certain that we will live our lives differently because of this experience.
I believe if you love life, it will love you back—and I also firmly believe that is why I am here today! With God at my side, I say let's do this!
Images courtesy Becky Lou Lacock and Union County Sheriff's Department
What's Your Reaction?