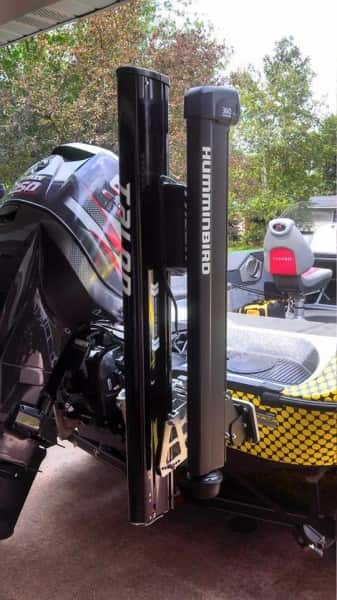 Friends don't let friends miss fish. The new shallow water anchor systems are getting deep enough and fast enough that they apply to far more fishing scenarios than saltwater redfish or largemouth and smallmouth bass. As an improved boat control tool for catfish, panfish, muskies, and walleyes, these anchor systems will put more fish in the boat.
Now reaching depths to 12 feet, the shallow water anchor system is a weapon in two professional walleye anglers' arsenal: Jason Przekurat and Mark Courts. These two, along with a stellar field of the best walleye anglers in the country, will compete this week at the Cabela's National Walleye Tour Championship in Devils Lake, North Dakota.
Sponsored by Minn Kota and Humminbird and using the Minn Kota Talon system, Jason Przekurat of Stevens Point, Wisconsin and Mark Courts of Harris, Minnesota are convinced it gives them an edge heading into this big event. "I first discovered how useful the Talon Shallow Water Anchor is in river fishing for walleyes," shared Przekurat, past MWC champion, past FLW champion, and two-time angler of the year with over $460,000 in tournament purse. "I could sneak into position without disturbing the area and get on a spot that I knew had fish, like a nice little eddy."
"The Talon is stealthy and allows quiet movement," added Courts, past winner of two PWT tournaments and holder of more than 25 top-10 finishes in professional walleye tournaments. "It helps me move within seconds of a decision, a lot easier and a lot more efficient." Three settings on the Talon allow for different conditions: normal, soft-bottom, and rough water. With the soft-bottom setting the Talon is programmed to not keep dropping (even though it could), and with the rough water setting it accounts for pitches and troughs. In the rough water setting it re-connects with the bottom every 10 seconds to anchor up. Smart, quiet, and fast.
Devils Lake is a unique fishery, rising continually since 1993 from earth-fed springs. How will Przekurat and Courts use this tool on Devils Lake? "There are so many shallow spots on Devils Lake that hold fish," answered Jason. "I can get on a position, fish thoroughly, and move quietly and carefully to fish an adjacent spot. The hand-held wireless remote control makes it easy and it is so fast and quiet. It improves boat control. "
If you think Jason will be in trouble navigating the low-clearance bridges with a tall anchor system on the back of his Evinrude-powered Ranger Boat, you will have to think again. "The tilt bracket moves the system forward into the boat," shared Jason. "They probably designed it for going in and out of a garage, but it will work great going through those low bridges on Devils Lake."
"I guess it is kind of like an iPad, in a way," continued Przekurat. "You don't think you need one until you have one and realize how much you use it and can't imagine not having it. I wouldn't fish without my Talon now, there are so many times that I use it. If there is a situation where I don't want it on the boat, say trolling rough waters on Lake Erie, it easily detaches in just a minute. I can stow it in the truck or in the hotel room. Other brands are not easily removable like the Talon."
For folks that would like to have their own Talon Shallow Water Anchor, they are giving one away right after the Devils Lake tournament. Enter the drawing at the TESTRIDE event at Graham's Island State Park in Devils Lake next Saturday, September 21, 2013. "We've offered a chance to win a Talon at each of our TESTRIDE events," shared George Liddle with Ranger Boats. "This is the last stop for the TESTRIDE season and we will draw a lucky winner after this event." Folks that cannot make it to Devils Lake can enter via email. Simply send your name, address and phone number to info@liddlemarketingcompany.com and put TALON in the subject line.*
*Doing so opts you in for receiving promotional information from Johnson Outdoors. You can always opt-out at any time later.
K.J. Houtman is the author of the award-winning Fish On Kids Books series, chapter books for eight- to 12-year-olds with adventures based around fishing, camping, and hunting. Her work is available at Amazon and local bookstores. Find out more at fishonkidsbooks.com.
What's Your Reaction?