The Alabama Bass Trail made a splash last year when it became the state's first destination trail for bass fishing. With the announcement this past week on the steps of the State Capitol, the Alabama Bass Trail (ABT) adds the designation as Alabama's premier amateur tournament series trail.
With Governor Robert Bentley and a host of other dignitaries in attendance, Kay Donaldson, ABT Program Director, announced a 10-tournament trail that will compete in two divisions. The eleventh event held on Lewis Smith Lake will be for the championship.
"Last year we stood on the shores of Lake Guntersville and announced the creation of the Alabama Bass Trail," Governor Bentley said. "Y'all remember that 12-pound bass I caught. Actually, I did catch it. I pulled it right out of that livewell."
"I'm excited to announce the first amateur tournament series on the Alabama Bass Trail. Alabama is a great state for fishing. We have a number of professional tournaments in Alabama. The goal of this amateur tournament series is simple: We want to encourage more people to fish. In fact, the goal of the entire Alabama Bass Trail is to share our lakes and rivers with not only the people of Alabama, but people outside of Alabama."
To illustrate the importance of bass fishing to Alabamians, several weeks ago Governor Bentley was in Walker County, where the residents didn't want to talk about the usual subjects of infrastructure and the economy. "They really wanted to talk about the (professional) bass tournament at Smith Lake," he said.
"They talked about how we changed the slot limit on the lake so that three times a year we can waive that and have these types of tournaments. It had a $2-million impact on the area, from just that one tournament. When most people want to talk about roads and jobs, they wanted to talk about fishing tournaments, which is a good thing."
The Alabama Mountain Lakes Tourist Association, which oversees the Alabama Bass Trail, says that bass fishing accounts for $16 million in lodging taxes and license fees annually, while 15,000 jobs are supported in Alabama by the fishing industry.
"That's just our economy. This is also about quality of life," Govrenor Bentley said. "This is really something special that we're starting here in Alabama."
Conservation Commissioner N. Gunter Guy Jr., who accompanied Governor Bentley to the Alabama Student Anglers Bass Fishing Association championship on Lay Lake earlier this year, believes each aspect of the Alabama Bass Trail is a benefit to the state.
"The Alabama Department of Conservation and Natural Resources is extremely pleased to work alongside the Alabama Bass Trail to promote Alabama as a great fishing destination," Commissioner Guy said. "We worked with them to promote resident and non-resident fishing license sales and our new freshwater fishing license tag. We are also extremely pleased to work alongside them with high school anglers to distribute fish attractors in various lakes and to introduce young people to fishing and outdoor conservation."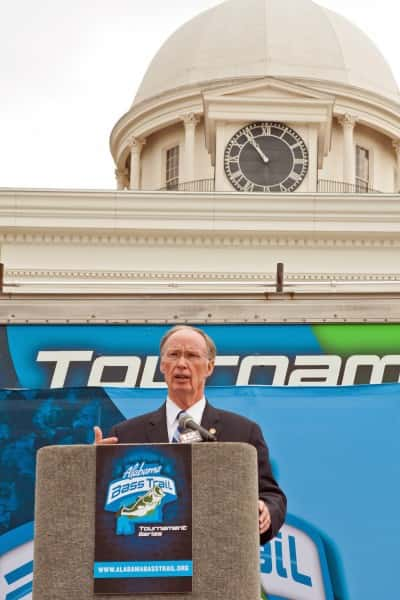 "I was with Governor Bentley at Columbiana for the high school fishing championship and got to see the kids' faces and their enthusiasm. What a great event that is to engage young people in fishing across this state. We feel the Alabama Bass Trail will be one more way to attract anglers to Alabama. We look forward to an exciting 2014, and I hope Gov. Bentley gets to catch him another big fish."
The Alabama Bass Trail Tournament Series will have Northern and Southern division competitions with a guaranteed top prize of $10,000 at each event. Donaldson said the ABT expects to pay out $420,000 in cash and prizes during its inaugural year.
The Northern Division tournaments are Feb. 1, 2014, at Lake Guntersville; March 22 at Pickwick Lake; April 5 at Neely Henry Lake; May 31 at Wheeler Lake; and June 21 at Logan Martin Lake.
The Southern Division schedule is March 1 at Mobile-Tensaw Delta; March 15 at Lake Eufaula; April 19 at Lake Jordan; May 10 on the Alabama River at Millers Ferry; and June 7 at Lay Lake.
The championship will be held October 10-11, 2014, on Lewis Smith Lake. The winning team will receive a fully rigged Phoenix bass boat with a 150-horsepower Mercury outboard.
Donaldson said if all the above is not enough incentive to fish the Alabama Bass Trail Tournament Series, there is even more at stake.
"In 2014, BASS (Bass Anglers Sportsman's Society) will sanction the Bassmasters Team Championship," Donaldson said. "I'm happy to say that the Alabama Bass Trail Tournament Series is the charter sanctioned trail for the championship series. We can send up to eight teams to the championship, one boat for every 50 boats in the tournament trail. The Bassmasters Team Championship will be held in the fall of 2014. The top three boats will compete for a chance to go to the 2015 Bassmasters Classic. That is an awesome chance."
For tournament anglers like Brent Crow, who regularly fish the Alabama lakes on the Tennessee River chain, the ABT Tournament Series is going to be something special.
"I think it's great," Crow said. "There's never been anything like this in Alabama. For the most part, you fish for $1,000. There's never been an opportunity like this. Everybody I've talked to is excited. I think it's going to be the best thing going for tournament fishermen in Alabama. I think we're going to fill it up with 200 boats. I've got friends in Texas and Louisiana and they're always fishing for $10,000. Everybody here has been jealous, but they don't have to be any more."
The communities around the tournament series sites are just as excited.
Hunter Hines, Wilcox Area Chamber of Commerce President, thinks that adding Millers Ferry (Dannelly Reservoir) to the Alabama Bass Trail is a "big deal for the entire county."
"It gives us an opportunity to showcase what we have," Hines said. "I think it's a diamond in the rough. I think if they ever fish it one time, I think they'll be back multiple times. We've got a lot going for us and that's Southern hospitality and great fishing."
Baldwin County Commissioner Tucker Dorsey said the tournament series announcement is great news as the county continues to develop the recently acquired Live Oak Landing on the Tensaw River. According to Dorsey, $950,000 of improvements are being made to the boat ramp, docks and parking area to accommodate tournaments of this size.
"This is a terrific deal for Baldwin County," Dorsey said. "This is the type of tournament and draw we anticipated when we took on Live Oak. This just shows that our long-term goals for Live Oak are coming to fruition a little faster than we anticipated. We're certainly excited to share the Mobile-Tensaw Delta with our friends and neighbors across Alabama and the bass-fishing community."
Visit www.alabamabasstrail.org for information on the trail or registration for the tournament series.
Image courtesy David Rainer/Alabama Department of Conservation and Natural Resources
What's Your Reaction?