Like many Americans, my fear of tax season is offset in a small way by the promise of a refund. It's the added incentive that many of us need to file taxes early—or at least before the post office closes down on April 15. As I wait for the refund to deposit itself in my bank account, I find myself daydreaming about how I'm going to spend it. Of course, fiscally-responsible options are about at the bottom of my list, but I also don't get carried away. After all, the majority of us won't be able to afford a new yacht on their tax refund. So why not invest in an upgrade to the one outdoor tool that many of us cannot do without? I am, of course, talking about knives.
If you're going to spend your tax refund on anything this year, consider purchasing one of these fine blades. For the most part, they're not inexpensive, but they won't also break your bank account either. Whether you're looking to treat yourself or simply replace that old, battered camp knife you've been using since forever, these knives may deserve a spot on your next shopping list.
1. Buck 110 Folder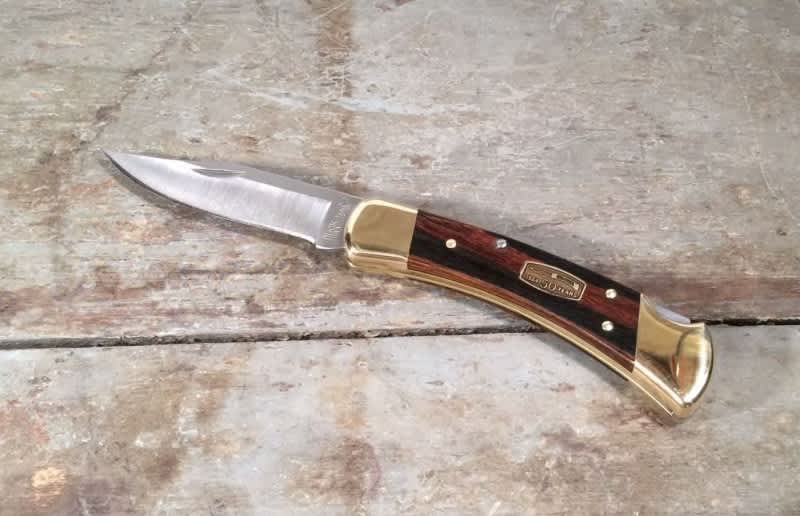 Retail price: $77
Street price: $35
If you don't own one of these iconic knives from Buck, it might now be the time to get one. It's hard to get more classic than the Buck 110 folder, a knife that has more or less been produced continuously since 1963. Intended as a compromise between mobility and the rock-hard reliability that outdoors enthusiasts demand, this knife is arguably the most popular hunting knife ever designed. The USA-made 110 features a 3.75-inch 420HC blade, heat-treated and hardened to a Rockwell value of RC 58. The handles are Macassar Ebony Dymondwood scales tipped with bolsters, and the knife itself is carried in a leather sheath. What's not to love? As with all other Buck knives, the Buck 110 comes with the company's trademark Forever Warranty in case you do somehow manage to break one. Considering that some people have carried these knives for decades on end, you may very well have to send it back in for some retouching.
I myself own a 50th Anniversary Edition and I would count it among the most reliable folders I own. It may not have all the bells and whistles that more modern knives bring to the table, but there is little to argue with in a time-proven design.
2. Benchmade Adamas 275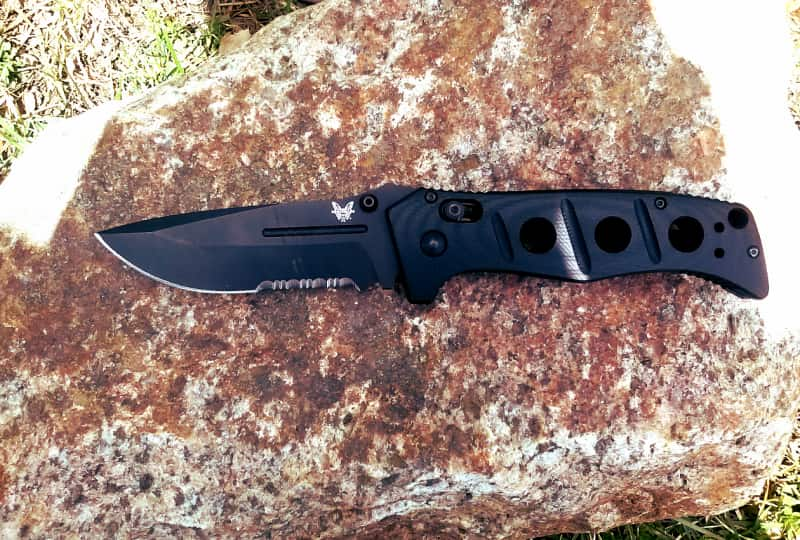 Retail price: $200
Street price: $150
As wide as a 400-page book and weighing about the same as a small boulder, the Adamas 275 is not the first choice for many people when it comes to a pocket knife. However, they would be missing out. This rugged knife has all the characteristics of a tank and while it may not survive small arms fire, it will probably outlast anything else you throw at it. Forged out of D2 steel and weighing a hefty 7.7 ounces, the Adamas is a beast of a knife from Benchmade. It comes in a tip-up, deep-carry configuration with Benchmade's signature AXIS lock, G10 handles, and a MOLLE-compatible pouch for storage.
You can read my full review of the knife here.
3. SOG Force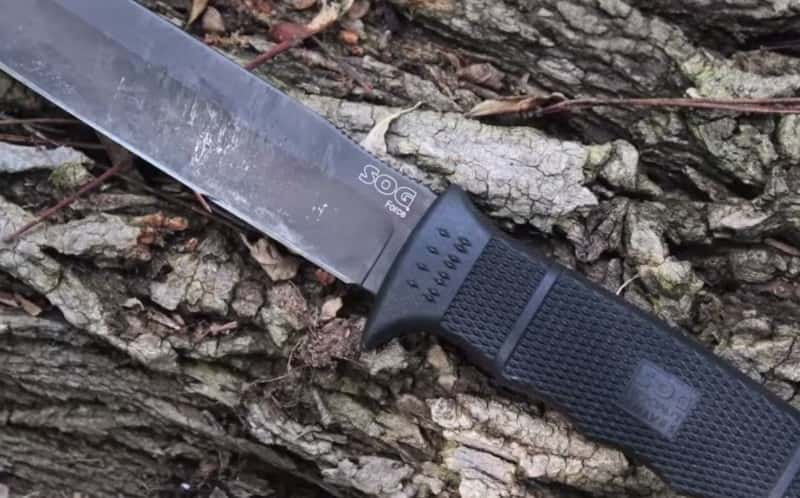 Retail price: $180
Street price: $100
Whether you're going backpacking, hunting, packing a bug out bag, or practicing your survival skills, the SOG Force has got you covered. Featuring a six-inch blade in AUS-8, the Force is neither too long to be practical, nor too short for most tasks. In essence, the Force is a drop point blade version of the much-loved SOG Seal Pup, and excels as a general-purpose knife with a study tip.
You can see one reviewer's exhaustive demonstration of the Force below.
4. KA-BAR Combat Kukri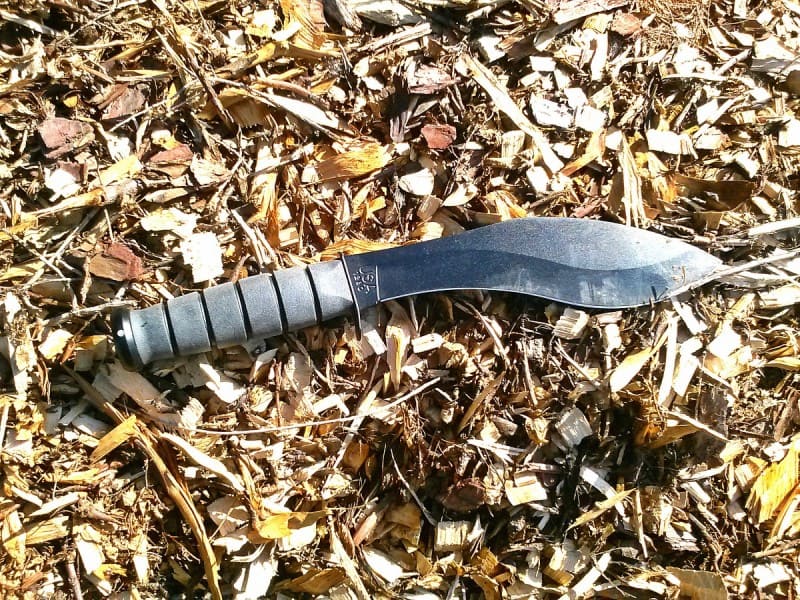 Retail Price: $113
Street Price: $80
The KA-BAR Combat Kukri may have "combat" in its name, but don't let it fool you into thinking it's not a workhorse as well. Like all kukris, the KA-BAR equivalent shines best when its used for chopping things with its eight-inch, 1095 Cro-Van blade. Styled in the fashion of KA-BAR's iconic bowie knife, this westernized-version of the famed Gurkha fighting knife is vastly different from its ancestors, but no less efficient.
For bushcraft purposes there are few more efficient tools than a kukri—it's practically a hatchet welded to a Bowie knife and somehow it still works.
You can read my full review of this knife here.
5. Spyderco Schempp Bowie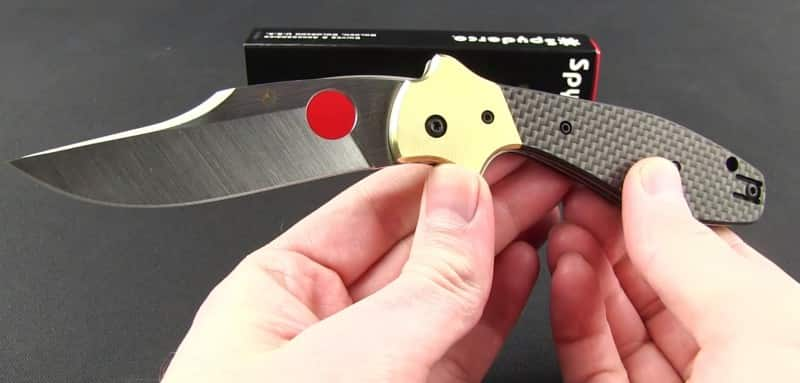 Retail price: $300
Street price: $180
Spyderco is known by its fans as the Cadillac of the knife world, producing some of the highest-quality blades in the industry outside of custom knives. They come with a hefty price tag, however, and the Schempp Bowie is no exception. Priced at about $300, this folder comes with a 3.72-inch blade in S30V, stainless steel liners, and G10 laminate scales. Designed by custom knifemaker Ed Schempp, this ergonomic Bowie is an excellent addition to Spyderco's Ethnic series, and a beautiful-looking knife to boot.
You can see an overview of the knife's features below.
What's Your Reaction?