4 Revolvers Used by Famous Lawmen and Outlaws of the Old West
K.J. Houtman 04.17.15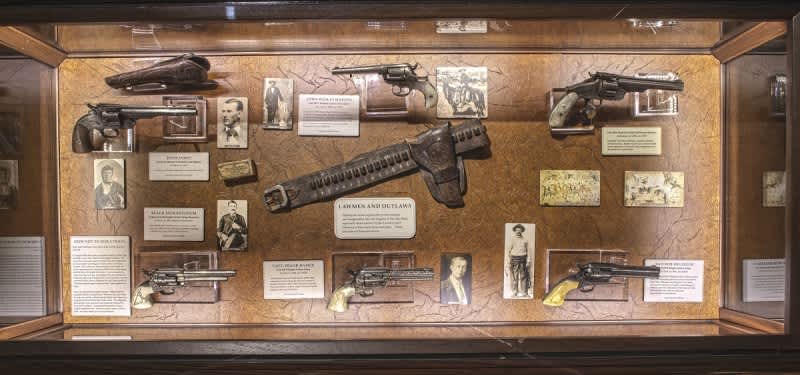 We love the lore around famous firearms. If Billy the Kid actually owned every gun a great uncle claimed to have squirreled away in the family safe, he would have carried a new gun everyday of his life. Some actually have the provenance—the paper-trail proof—to back up their claims, and when they do, they end up in museums or auction blocks. Here are four historically significant guns from the one-year-old NRA National Sporting Arms Museum at Bass Pro Shops in Springfield, Missouri. It is an incredible place to visit. Raconteur Jim Supica, Director of NRA Museums, shared the photos and stories behind the guns.
1. Jesse James' .45 Smith & Wesson Schofield revolver
Probably one of the most notorious outlaws of the Old West, Jesse James was indeed a robber and a killer, but he also became somewhat of a folk hero as he carried forward simmering hostilities after the Civil War. James rode with the guerrillas, or bushwhackers, on the Confederate side. After the war, he formed a gang with his brother Frank and robbed banks in former-Union territory. The press assigned a Robin Hood-style slant to James' motivations in the telling of his misdeeds, though one would be hard-pressed to find any evidence of the give-to-the-poor side of the equation.
The .45 Smith & Wesson Schofield revolver that James carried was known for its top-break action.
2. Tom "Black Jack" Ketchum's .45 Colt Single Action Army revolver
Probably the most famous of the Old West firearms is the Colt Single Action Army .45 revolver. The museum displays one such pistol connected to a macabre story of murder and mayhem. The US Army deemed the Colt SAA .45 its standard-issue military side arm toward the end of the nineteenth century; the firearm was nicknamed "the Peacemaker." Such a moniker points to good social media marketing even in the 1890s.
Black Jack, loosely affiliated with the Hole-in-the-Wall gang through his brother Sam, counted as friends notorious outlaws Butch Cassidy and Kid Curry. Sam and a few gang members attempted a train robbery on a particular stretch of track in New Mexico. Unfortunately, the "social media" of Black Jack's day failed him; unaware of the botched raid, Black Jack staged a hold up in the same spot a few weeks later. The result produced a wise conductor who didn't ask questions. Instead, the railroad man pulled out his shotgun and pelted Ketchum without slowing down. US Marshals found Black Jack wounded at the side of the tracks the next day. He soon lost his arm to amputation at a prison hospital in Colorado. Found guilty of felonious assault at trial in New Mexico, Black Jack Ketchum faced the gallows. The saga continued, as the hanging carried its own sordid drama.
Whether due to miscalculations on the executioners' part, or new weight Ketchum carried due to good hospital food in Colorado, we will never know, but the result is in the history books. When the trap door opened, Ketchum dropped and his body landed in one spot and his head in another. The image was one of the most popular postcards of the region for decades. Ironically, shortly after Ketchum's death, the Supreme Court declared execution for felonious assault on a railway unconstitutional.
It was bad timing once again for Black Jack Ketchum—he could have enjoyed good prison food for years to come.
3. John Wesley Hardin's .41 Colt Model 1877 double-action revolver
Perhaps less well-known than his contemporaries, John Wesley Hardin was nonetheless a stone-cold killer with a long string of brutal crimes in his wake. His "record" begins all the way back at the age of 13, when he stabbed and nearly killed a classmate. At age 15 he killed a man he lost a wrestling match to. He killed three Union soldiers sent to arrest him and over the next seven years, he claimed 30-plus killings. Eventually the Texas Rangers caught up with him in Florida, and he was sentenced to 25 years in prison. During his incarceration, he studied law and emerged 25 years later as a lawyer, but it didn't stop his killing ways.
This particular handgun has incredible provenance, as the gun's serial number was recorded in a court of law at Hardin's trial.
4. Bass Reeves' .32-30 Colt Single Action Army revolver
Note: This revolver currently on loan from the US Marshals Museum, courtesy of Judge Paul Brady.
The display case would not be complete without recognizing the honorable men (and their firearms) who worked hard to create a safe territory in the Old West. One famous lawman of the day was Bass Reeves. Born into slavery in 1838, Bass' freedom eventually led him to Indian Territory, where he mastered the skills of hunting and tracking animals. Judge Isaac Parker, known as "The Hanging Judge," deputized Reeves as the first African-American US Deputy Marshal west of the Mississippi River. He proved to be one of the very best in history.
Bass Reeves brought in outlaws of all stripes over a long career, and is credited with more than 3,000 arrests. He tracked criminals for many hundreds of miles to bring them to justice. This particular firearm is from a family descendant, a judge in the area of Fort Smith, Arkansas, and will eventually be featured at the US Marshals museum.
The Director of NRA Museums for six years now, Jim Supica is a well-known firearms collector and co-host of Outdoor Channel's NRA Gun Gurus. He oversees all three of the NRA Museums, which includes the NRA National Firearm Museum at the organization's headquarters in Fairfax, Virginia (celebrating its 80th anniversary this year) and a smaller Frank Brownell Museum of the Southwest at the NRA Whittington Center in Raton, New Mexico.
K.J. Houtman is the author of the award-winning Fish On Kids Books series, chapter books for eight- to 12-year-olds with adventures based around fishing, camping, and hunting. Her work is available at Amazon and local bookstores. Find out more at fishonkidsbooks.com.