The 5 Best Short-range AR Optics
Tom McHale 04.30.15

What's the "best" anyway? It all depends on the ranking criteria, right? Is the "best" car one that hits 60 mph in 2.9 seconds or one that can tow the lower half of South Dakota to Manitoba?
The same goes with optics, so as I own the ink until this article goes live and comments open, I'm going to define the selection criteria. To me, a great short-range AR optic must offer speed and just enough precision to hit something accurately inside of 200 yards, with a strong emphasis on less than 50 yards. Magnification features allowing me to see a gnat's eye color at 400 yards is irrelevant. Reliability is also a factor. If all you want is a range toy, then you can buy a cheap optic and take your chances. There's not a whole lot of risk other than having to rebuy it when it breaks.
I'm going to assume our "best" optics need to be suitable for home defense and/or competition. Both of those scenarios offer penalties if the optic won't hold zero or won't run when you need it to. After these criteria, things get subjective pretty fast, and that's OK. I'm going to offer up my picks, then you can tell me whether you agree or disagree, and why. Here goes.
1. Aimpoint Patrol Rifle Optic (PRO)
The Aimpoint Patrol Rifle Optic is purpose-built for the AR platform. Available with the QRP2 rail-grabber mount, it will return to the same zero every time. Mounting couldn't be easier. Turn the large gnarled knob until it clicks. It's got torque limiting built in so you'll get perfect mount tension every time. The height of the mounting base positions it perfectly for flattop ARs, and it will co-witness with fixed or flip-up front sights. The 30mm tube provides plenty of field of view. Learn more about the Aimpoint PRO here.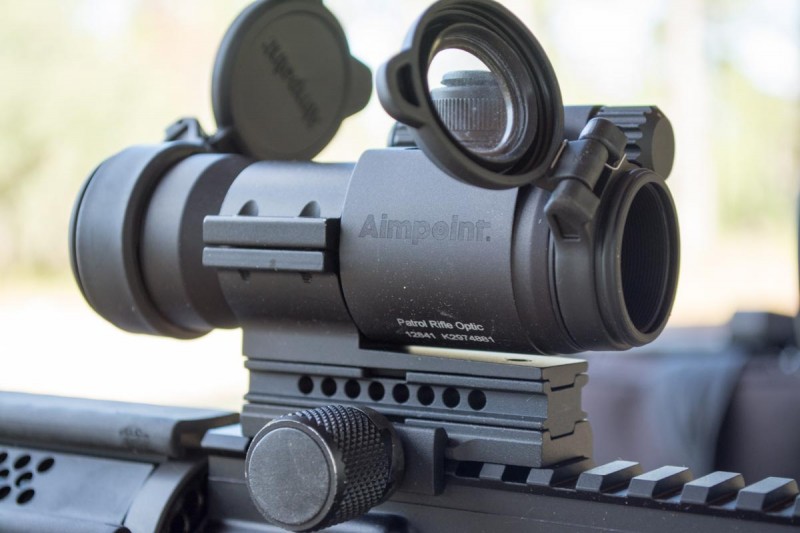 The best features, however, are construction and the "always on" capability. Aimpoints are built like tanks. Drop it, bash it, or dive to 25 fathoms (150 feet) and it will keep going. While you can adjust the 2-MOA dot intensity from off to very bright, you never need to turn this device off. It will run on a single battery for years. Yes, years. That's why the Aimpoint PRO lives on my home-defense AR rifle. No switches to remember or fumble with in the dark. The rear flip-up lens cap is also clear. You'll find that with both eyes open and the front cap closed, you'll still see the red dot on the target. It's some kind of optics voodoo.
Street price is about $425. If you want to save a few bucks, check out the new Aimpoint Carbine Optic (ACO) here. With similar features, but a fixed mount, you can pick it up for about $393.
2. Aimpoint Micro
In a very short list of five optics, Aimpoint gets two spots, and that's because I think it's the best red dot option out there, all things considered.
The Aimpoint Micro series currently comes in four options. The "H" series and "T" series only differ in that the "T" models have brightness settings compatible with night vision. The "2" models are new on the market and feature incremental improvements like dramatically improved glass over the "1" series. I mention both as you'll see all four combinations available for sale.
Like the PRO models, these are built tough and you can leave them on for most of forever before changing batteries. Unlike the PROs, they're small, hence the name "Micro." Depending on what mount you choose, these serve equally well on rifles, carbines, or bows. You can even get pistol mounts. I've put one on a Glock 17 with great success. The tube is also small enough to serve as a crude aiming device for short range shots. If you see your target through the tube, you're good to go. I keep an Aimpoint Micro T-2 on my Beretta 1301 Tactical shotgun always, you guessed it, turned on and ready to go.
Prices vary with mount options, but you can find the Aimpoint Micro here.
3. Trijicon ACOG
Yeah, I know. Trijicons are expensive. But at least it's for good reason. Our military buys them by the Humvee-load, but they're loaded with our tax dollars. If you're serious about guns, shooting, competition, and/or home defense, you need to start thinking about quality optics as more than an afterthought. When you mentally budget, don't be shy about spending half again as much as the cost of the rifle on a good optic. Rant over.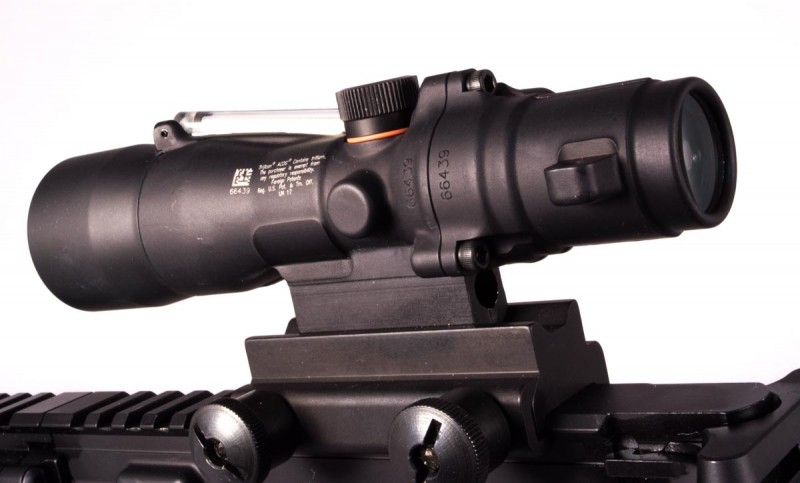 Now, why Trijicon? I know this is a "short range" list, but most Trijicons are short range red/amber/green dots with an attitude. For example, I'm currently using a Trijicon 3×30 model with a 300 Blackout ballistic drop compensation reticle. While slightly more svelte than the standard ACOG, it's quickly becoming one of my favorite short range optics. Like most ACOGs, it has dual illumination—a fiber-optic tube that makes the reticle glow in daylight and a tritium power source that makes it shine at night. While it's a different approach, it provides that "always on" concept that I like so much about the Aimpoints.
I can't pick a specific model for this list as there are infinity plus seven permutations of magnification, reticle color, reticle shape, and ballistic drop features, but I can pick some attributes. I prefer the 1.5x to 3x models for short-range application. The low level of magnification gives you great clarity and precise aim points without impacting the field of view. All of the ACOG models use the Bindon aiming concept and are intended to be used with both eyes open. Small, fixed magnification is simple, fast, and effective.
Prices are all over the map but plan on spending north of $1,000. After you use it a while, you'll be glad you did. Learn more about the ACOG here.
4. Hawke Optics Multi-Purpose Scope 1×32
This optic makes my list because it's an incredible value and shockingly effective on a carbine platform. It was originally developed as a crossbow scope, but some sharp and creative person at Hawke figured out that it would make a great AR optic. When offered the chance to use one for a while, I was like "Huh?"
Here's why I like it. It looks like a compact scope with magnification, but it's a true 1x design. Eye relief is very forgiving so it's fast to acquire the crosshairs and works beautifully with both eyes open. The reticle provides a lot more flexibility than a standard dot. Three thick bars at the 3, 6, and 9 o'clock positions guide you to the target and the open top half of the reticle gives you a clear picture. The clear area dead center has a primary "+" aim point and a smaller "+" just below. It's a short-range optic that still provides precision and the ability to map a couple of basic hold points depending on your choice of caliber and load. For example, I've used it on a 300 Blackout rifle and mapped the primary "+" to 100 yards with supersonic ammo and the smaller "+" to subsonic loads. This makes it one of the best scopes for an AR-15.
The price? Just $129 direct from Hawke Optics.
5. Leupold DeltaPoint
Like some of the others on this list, the "gold ring" folks are known for making a quality, rock-solid set of optics. When they moved to red dots, they kept the same attention to detail applied to their classic scopes.
With a a nice big viewing window, it works well on a carbine. It also is arguably the best choice for many optics ready pistols as the height lends itself to perfect co-witnessing with iron sights.
Oh, it's got motion-sensor technology too, so it turns on and off when you pick up your gun or let it sit for a while. By now, you know how much I like the "always on" feature, right?
It's gonna run you about $400 depending on mount options and if you can find one.  Check here for info on the DeltaPoint.
Honorable mentions
Picking just five short range optics is even tougher than accurately counting election ballots in southern Florida. So I'm cheating and adding some honorable mentions.
EOTech: It's hard not to list EOTech in the primary list, but my mean and nasty editor said five, and he gets cranky when I disobey. Like the Trijicon ACOGs, there are infinity options from which to choose. I particularly like the flexibility of EOTech reticles for longer-range hold points. Every mark on the EOTech reticles seem to correspond to a distance of significance, so read the instructions.
Sig Sauer Optics: I've only included picks that I've personally used a lot. I've used a couple of the new Sig models, but have not had the opportunity to make a proper evaluation. Early indicators are great, and I like the movement-driven power on and off as it provides that "always on" functionality I like so much. I'll get my hands on one or two and offer commentary later.
Burris FastFire: This is a solid optic at a great price point. It's got a million mounting options and works great on carbines or pistols. One of the carbine mounts even comes with protective wings on the sides to protect against life's hard knocks. Learn more about the FastFire here.
Those are my picks and I'm sticking to them. What say you?
Tom McHale is the author of the Insanely Practical Guides book series that guides new and experienced shooters alike in a fun, approachable, and practical way. His books are available in print and eBook format on Amazon.