Gun collectors and historians are eagerly anticipating Rock Island Auction Company's (RIAC) upcoming Premiere Firearms Auction, and it's not hard to see why. The auction, which runs from September 11 to 13, will put some of the rarest and more fascinating firearms in the world on the auction block. This includes guns with historical significance, hard-to-find antiques, and even early prototypes.
If you aren't excited about this auction, here are 10 reasons why you should be—some of them are select items up for bidding, some are entire groups of beautiful guns.

Lord Admiral Thomas Cochrane, 10th Earl of Dundonald, Marquess of Maranhão, was more than just the sum of his titles. He is best known as an accomplished and daring naval officer who earned a reputation during the Napoleonic Wars and afterwards. Today he is perhaps best remembered as the inspiration for the fictional characters Horatio Hornblower and Jack Aubrey.
Why does he have such a sterling reputation? One of the reasons is that, quite simply, Cochrane utterly embarrassed the French navy. Over a span of 13 months, Cochrane's HMS Speedy (a smaller warship called a brig sloop) captured, burned, or ran ashore 53 French military vessels, earning him the nickname "The Wolf of the Seas." His reign of terror only ended when three much larger French ships captured him in 1801.
After all that, you wouldn't expect him to later become good friends with the French King, Louis Philippe. A longtime friend of Cochrane's (and of England in particular), Philippe commissioned these pistols for the sailor in 1843.

This 1921 Thompson submachine gun may not be the most expensive piece in RIAC's September auction, but it certainly does have one of the most interesting stories. This particular Thompson may be associated with the 1933 capture of John Dillinger.
In May of that year, Dillinger was paroled from prison to visit his dying mother. However, after hearing that his mother passed shortly before he could return home, Dillinger instead went on a crime spree that lasted until his death in 1934. In September of 1933, however, Dillinger was captured and remained in police custody shortly before being rescued by fellow gang members. That is where this Thompson comes into the story.
Research conducted by RIAC's Joel R. Kolander indicates that it is likely the gun was used to capture Dillinger in 1933 and there was a good chance that it was used to escort him from Dayton to Lima. It is also possible that it was the so-called "Dillinger gun" kept by the Dayton Police Academy from 1946 to the 1970s.
"While certain aspects might never be known concretely about this gun, there is a ton of exciting provenance, action, and possibilities that envelope this supremely fascinating Thompson," wrote Kolander. "Just like the separation of chaff from wheat, the honing of myth from facts surrounding this American icon has left us with an extremely valuable assortment of history that should appeal to any firearms collector or investor."

Near the end of the Italian Campaign in World War II, this exquisitely engraved Walther PP was recovered from the headquarters of the Nazi SS general Karl Friedrich Otto Wolff. The gold-washed gun was engraved "H. Himmler," and since Wolff served as the Chief of Personal Staff to Reich Minister Heinrich Himmler, it is likely that the gun was a personal gift from the high-ranking Nazi official himself. As one of the fundamental players in the construction and supervision of the Nazi concentration camps, it is without a doubt that Himmler remains one of the most hated individuals in the Nazi regime.

Touted as one of the "most historically significant" M1 Garand rifles to ever be put up for auction, this Type 1 National Match M1 Garand was acquired by Kennedy during his time as a senator through the Director of Civilian Marksmanship (DCM) and recently received by the RIAC for auction.
In the 1950s the DCM—the predecessor of today's Civilian Marksmanship Program—issued rifles based on a lottery system, selling a few hundred to a few thousand firearms annually. One of the lucky few selected to receive a rifle just happened to be a young senator from Massachusetts—although Kennedy may have thrown his weight around to ensure that he did not receive a well-worn, run-of-the-mill gun.
Having served in the US Navy, it is likely that Kennedy had a chance to familiarize himself with the M1 Garand before his purchase. Kennedy was also a life member of the National Rifle Association, which meant that the M1 Garand was highly sought-after by the NRA to display in its museum. In the 1970s, the rifle was temporarily housed at the NRA Firearms Museum's exhibit for firearms owned by US Presidents and other famous figures.
5. Guns that belong in an art museum


Plenty of museums house rare, historic, or just downright gorgeous firearms. Based only on that last category, all of these guns deserve a place in a glass case somewhere.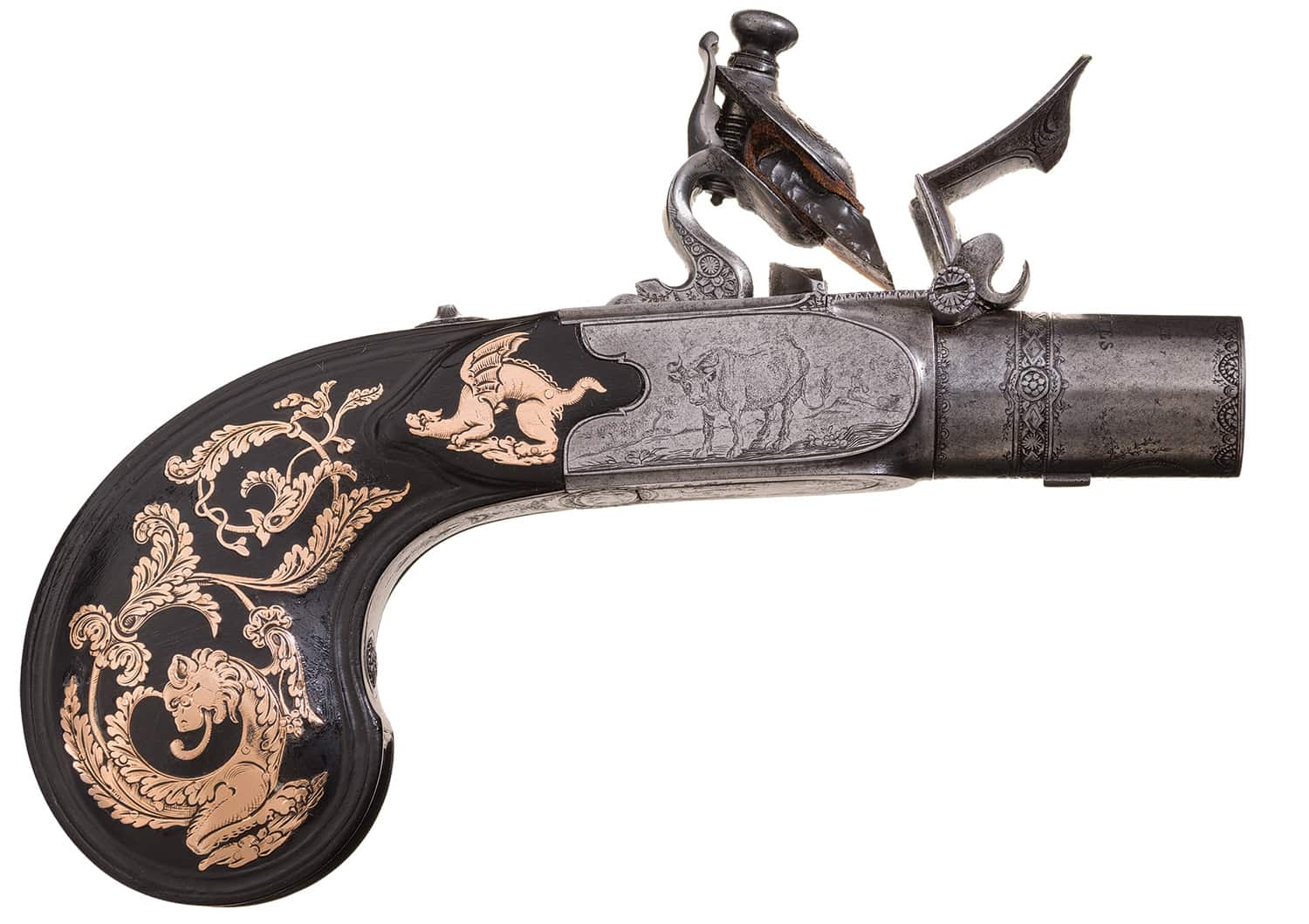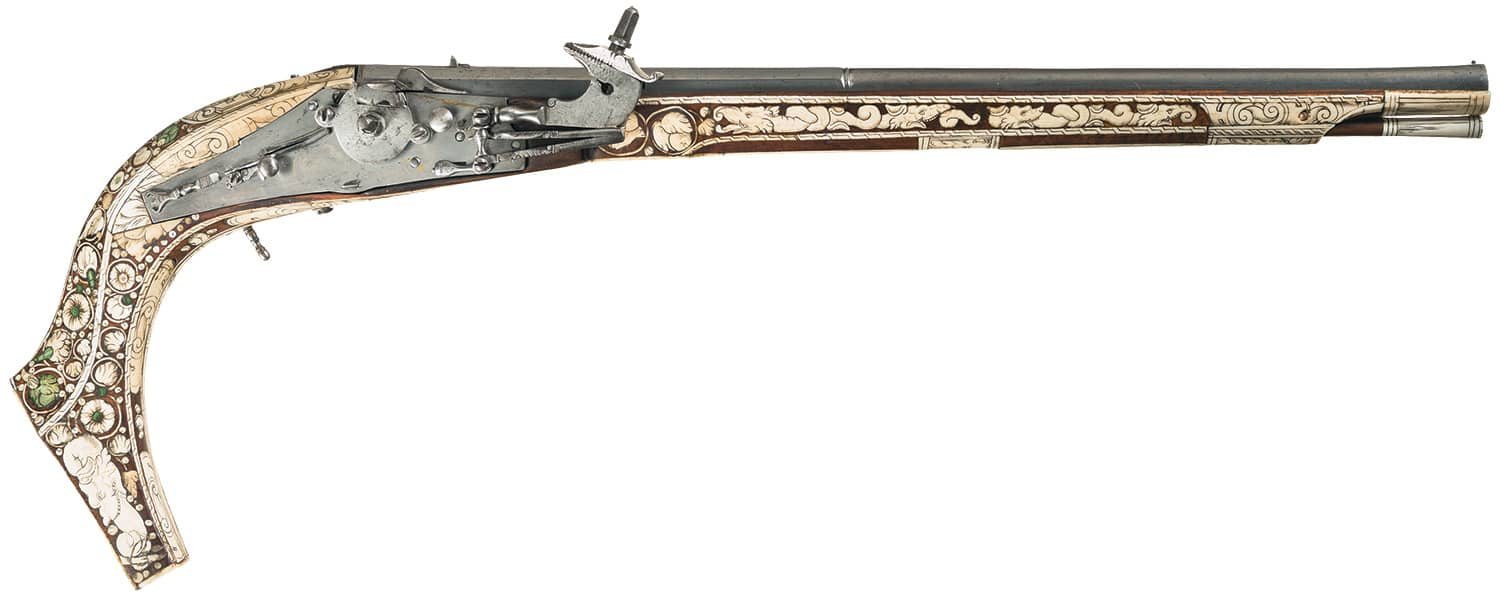 This Colt Single Action Army once belonged to cowboy star Roy Rogers and is engraved with no less than 30 different cattle brands. Roy Rogers was of course a legend in Western film, music, television, and radio. Rogers was honored with three stars on the Hollywood Walk of Fame and starred in over 100 films.

A fitting desk piece for the first Director of the FBI. These two bookends were made for John Edgar Hoover during his time as chief of the Federal Bureau of Investigation and sat on his desk until his death in 1972. Supposedly, the revolvers came from field agents and were turned into presentation pieces by the FBI crime lab. Although they have not been shot in decades, both revolvers are in very good condition.

Getting a case of déjà vu? That's because last year, one of RIAC's most anticipated lots was for a FG 42, also during their September auction. That one sold for about $299,000, much higher than estimated. This time around, another Fallschirmjägergewehr 42 is up for sale, and this one is perhaps even rarer than last year's piece.
Translated as "paratrooper rifle 42," this type of firearm was used by German airborne infantry during World War II. One of the most advanced (and complicated) firearms in the Nazi arsenal during the conflict; it is suspected that only 5,000 of these rifles were produced. Most were eventually captured and destroyed, but some managed to escape into the collections of enthusiasts. Keep in mind that when we say it's rare, it really is rare. Only about two dozen or so of these are believed to exist in the United States.

Unlike some presidents, Chester A. Arthur had the distinction of entering office widely disliked, and leaving the presidency with distinction and respect. That was partly because Arthur was not elected into office. The 21st US president was sworn in after the assassination of James Garfield. This beautiful V. Bovy double-barreled shotgun was presented to Arthur during his time in office and shortly before he retired due to poor health.
10. Thousands of other historic, antique, and rare firearms

Including:
350 Winchesters
600 Colts (100 first generation Single Actions!)
250 Foreign military arms
400 US military arms
800 antique firearms
850 sporting arms
60 Class III guns
and many more!
Check out RIAC's September auction here—you can bid online if you're so inclined. Let us know if you find any cool stuff we missed!
Images courtesy Rock Island Auction Company
What's Your Reaction?