If you want to take a trip of a lifetime to slam monster peacock bass in the Amazon rainforest, there are a few things you should absolutely know before you go. I recently went on a fishing trip to the Amazon and learned many of these things the hard way. These six things can make or break your trip.
1. Have the right gear or suffer the consequences
You are going to be in the jungle where the local bait shop doesn't exist. You either have the right gear or don't. That said, you don't need to bring an entire tackle shop with you.
Reels: You will be retrieving baits fast, so if you don't want to burn out before lunch a high retrieve-ratio reel like the Abu Garcia Revo Rocket is an absolute must-have. In addition, for punishing massive peacock bass, I recommend the Revo Beast for its drag system.
Rods: Almost all of your baits will be best thrown on a medium-heavy or heavy action rod. Bring three rods every day and keep one at camp for backup. You will want to have different baits strung up to make quick follow up casts.
Baits: You can bring everything you own, but I'm willing to bet you'll only throw woodchoppers, musky-style jigs (piranha will destroy material so bring plenty), X-Rap SubWalks, and jumping minnows. Swimbaits on schooling rigs can also be effective and lipless crankbaits or spoons are nice to have to catch piranha.
Line: Bring 80 pounds of braided line and a few steal leaders (for piranha) and you should be good.
2. Pack smart for daily battles
The right clothing, medicine, and gear can make or break your entire trip. There isn't a superstore so come prepared. Every morning when you head out it's nice to have a compact dry bag with all your essentials to enjoy the day and survive the elements. This bag should include first aid, sunscreen, reel lubricant, survival items (you never know), and pain meds and vitamin K from all the big fish you will be landing. Billy Chapman of Anglers Inn International offers his fishermen an Amazon Tough Bag for around $199 and I highly suggest you pick this up.
It's going to be 95 degrees almost every day, so don't be ignorant and be sure to pack lightweight pants and long-sleeved shirts. Pack your buff and pick up some sun gloves if you don't buy the Amazon Tough Bag. Be smart about sun protection or stay at the lodge with a sun burn while someone else catches your fish.
3. Travel prep and execution is vital
Don't leave for your trip and not know the details about your timeline, lodging, and transportation. Transportation is really critical and often overlooked.
Remember that Portuguese isn't Spanish. Do yourself a favor and try and learn a few simple phrases before and during your stay, because if you have a guide that isn't native to the jungle speaking perfect English you're probably doing something wrong. You also must get a visa to travel to Brazil if you live in the United States. The process is somewhat long, so apply four to five months out.
4. Don't cut corners on service, it's not worth it
Sure you can fish the Amazon for different prices, but don't be that guy jealous of another group that had Wi-Fi, premium meals, daily laundry service, and compete end-to-end service. Saving $1,000 for a lesser experience isn't worth it if your fishing boat breaks down, you are uncomfortable, or your safety is compromised. Go with someone who sells out every year and often to repeat customers.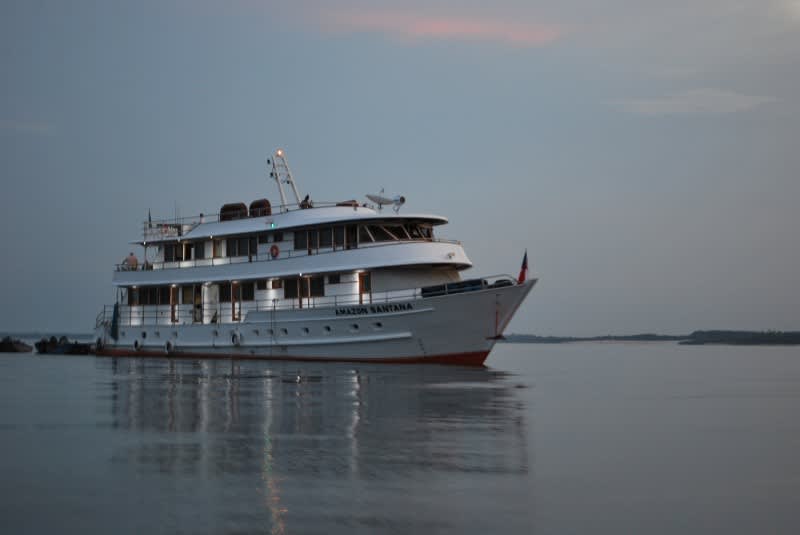 I fish with Anglers Inn International because they set the bar in the Amazon for top service. One of the options they offer is called the "mothership experience," which entails living aboard a three-level yacht traveling up the Rio Negro and pulling bass boats. Late nights on the rooftop drinking a beer watching shoreline stream past while smoking a cigar is unforgettable. You can also opt for the jungle lodge, allowing you to be deep in the jungle with access to Wi-Fi, air conditioning, and a swimming pool. The Rio Negro Lodge is a great spot to take on peacock bass.
5. Spend time in Manaus to eat and absorb
Manaus is a city of 2 million people that was built by river boats and has a fascinating dichotomy of new construction and abandoned buildings. From high-end malls to wild roaming dogs and crazy drivers, Manaus is exceptionally unique. If you don't eat at a Brazilian steakhouse while in Brazil, you are probably crazy! One of my favorites was Bufalo. If you want a killer hotel for a night in Manaus, then try Tropical and ask for their fisherman's rate.
6. Fish missed strikes
There is no shame in being at the back of the boat when fishing for peacock bass. Often a fish will strike on your buddy's bait and miss, thus giving you time to pick up the reward. Although both you and your buddy can be throwing woodchopper baits, it can be more lucrative to have a woodchopper paired with a subsurface bait pounding the same water. Work together with your fishing partner to share the upsides of double-teaming the same water—you will catch more fish.
What's Your Reaction?