Herald Hunts the World: Burkina Faso, Africa
Tim Herald 02.24.17

It's February and I'm preparing for my first safari of the year, to Uganda. As I begin locating gear and ordering insect repellent for the dreaded tsetse flies, I have to reflect on a trip I took last February that was certainly out of the box. A group of friends and I undertook a trip to the western Africa country of Burkina Faso (see map) in search of western savannah buffalo and roan. To say that the experience was different than any other would be a gross understatement, but after all, variety is the spice of life.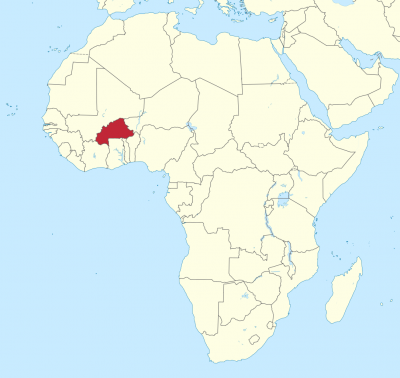 To begin with, an ISIS-affiliated group car-bombed a hotel and coffee shop frequented by foreigners and there was a short hostage situation in the capital city of Ouagadougou (pronounced wog-a-du-gu) a mere 10 days before our trip. We were close to cancelling, but I eventually talked to the Consulate in the U.S. Embassy there, and he made me feel comfortable enough to proceed with the trip.
I even went in a couple of days before the group to film the city and culture for the TV show "Cabela's Instinct," and we had no problem at all. The rest of the group arrived, and then we set off in a van without air conditioning on a journey of only about 200 miles that ended up taking us nearly 9 hours. The roads throughout Burkina Faso are riddled with deep potholes that look like a war zone (though that isn't the cause), but between slowing down to pass through villages and small towns every 20 miles and dodging the road craters, we could never build up speed to make any semblance of decent time.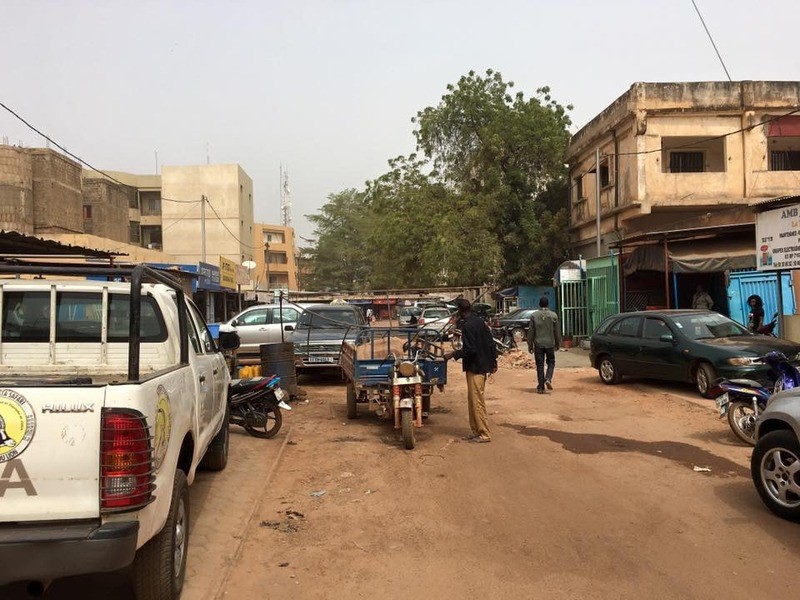 The temperatures during the entire trip were between 95 and 100 degrees, and the Harmattan Winds that blow in from the Sahara Desert just to the north have dust suspended in the air, oftentimes cutting visibility down to 150-200 yards. It was a miserable ride that ended well after dark.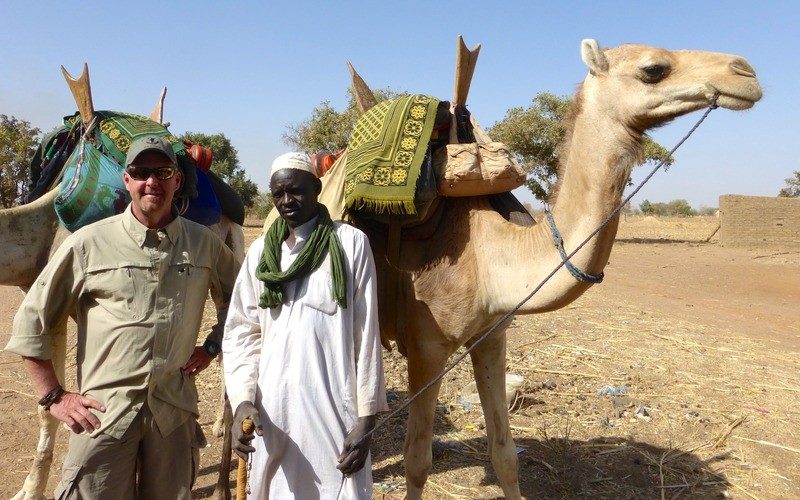 The next morning, we headed out to hunt. I must explain in Burkina you don't really get a professional hunter leading the way as you do on a normal safari. Instead you get a "guide" that is basically a head tracker, and then maybe a secondary guide. These guys speak only French and local dialects, so communication is a struggle. You have to decide whether or not to shoot a trophy because they want you to shoot almost any male animal you see, and if you were to wound an animal, you will sort it out yourself as these guys are armed with only a single-shot shotgun, which is generally wired together and used for shooting guinea fowl for lunch. This is not a hunt for a novice to Africa.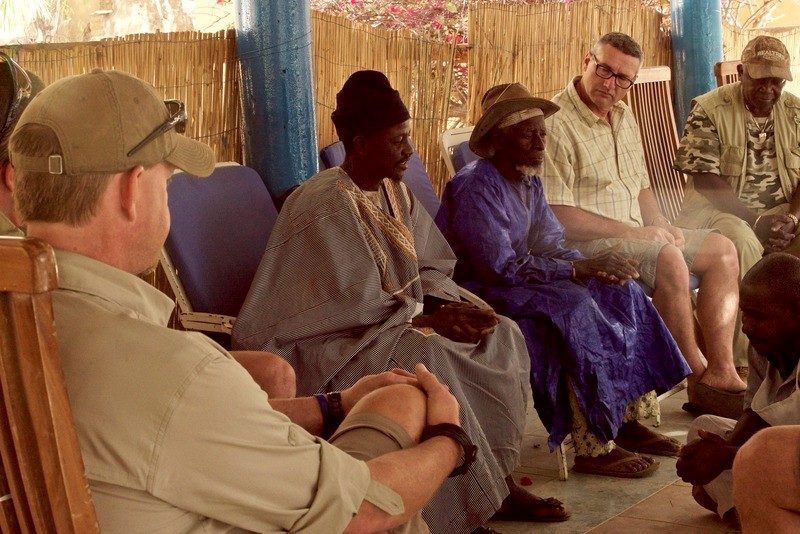 The first afternoon we stalked a roan bull inside 100 yards, and my guide, Oually, motioned for me to shoot it after he set up the shooting sticks. The bull didn't know we were there, so I looked him over a little. This was the first live roan bull I'd ever seen, but Skip Nantz, one of my friends in the group, had taken a great old bull in the morning that I got to see at lunch, and his bull looked much heavier and a bit longer than this one. Uncharacteristically, I passed on this one hoping to get an older bull later in the trip.
The second morning we spotted a large herd of buffalo in the distance from the truck, so we made a wide circle on foot to get the wind right, and then we began an approach. The herd was a couple hundred buff strong, so we would get in on part of the group, but only be able to look over a few animals, and they would move on. We were inside 40 yards a number of times, but just couldn't get a shot at a mature bull. I really wanted to try to get a red-phased bull if at all possible.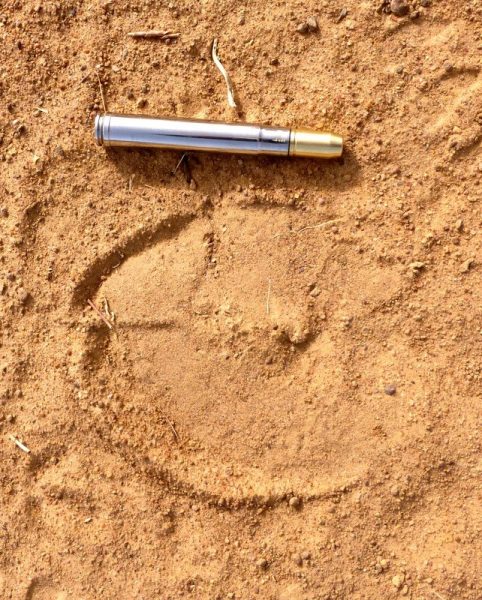 We played cat and mouse with the herd for hours, and once they stampeded away for seemingly no reason. That is, until a lion growled at us from the high grass less than 50 yards away. We weren't the only hunters in pursuit of the herd.
In the blazing hot of early afternoon, we finally got in front of most of the herd, and a string of bulls walked straight toward us. I leveled my Winchester Model 70 in .416 Rem and just waited as they cut the distance. At a mere 25 yards, I was able to put a good shot on the one red buff in the group, and he sprinted only 60 yards before piling up. He wasn't an ancient bull, but he was mature and was as bright red as they come. I was really pleased and felt blessed to have had the experience.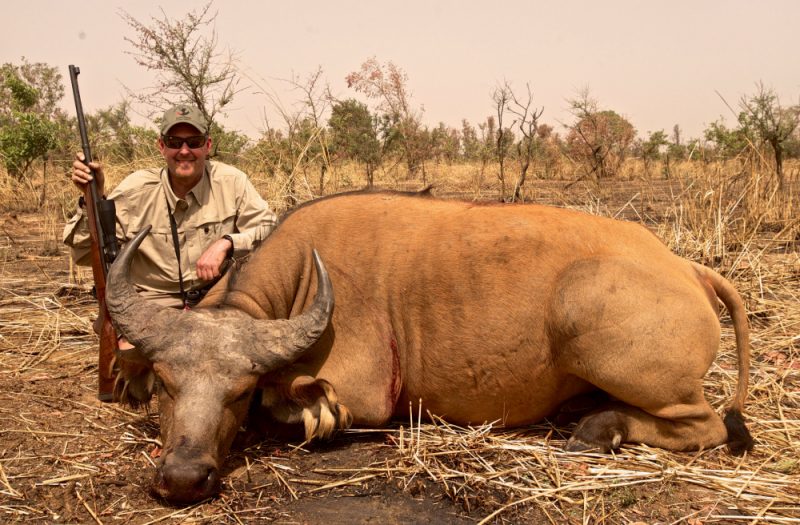 Back at camp, I learned that everyone was having similar luck, and we had a number of buffalo and roan in the salt.
On the fourth day about 9:30 a.m., my group spotted two bull roan together a few hundred yards out. We glassed them, and there was one bull that I immediately said I'd shoot without a second thought. The other just looked smaller, and I didn't pay much attention to him as I was focused on the heavy one.
We drove on for about a half-mile, got out, quartered into the wind and began stalking and trying to locate them. Oually found the tracks, but we didn't seem to be making much progress, when out of nowhere, up went the sticks – I had a bull broadside at 100 yards. His head was turned looking straight at us, and just as I clicked the safety off, he turned and took off. I knew that was our chance, and I had been too slow.
We slowly worked toward where he had just run just over a small rise, and soon the sticks went up again. This time he was walking quartering toward us with his head lowered in front a bit, and I could see it was the big bull.
When he cleared a dead tree, I punched a 360-grain CEB Raptor low in his right shoulder, and he took off, obviously hit hard. I was going to shoot again, but my guide ran somewhat out in front of me, so I got the barrel to the sky, and we walked toward where we had last seen the animal.
He was down but moving his head, so I put a finisher in him. He was done on the first shot, but I wanted no suffering. I was amazed how big and tough roan are; they are the second largest antelope in Africa behind eland. The bull took the .416 CEB through the heart and still went 75 yards.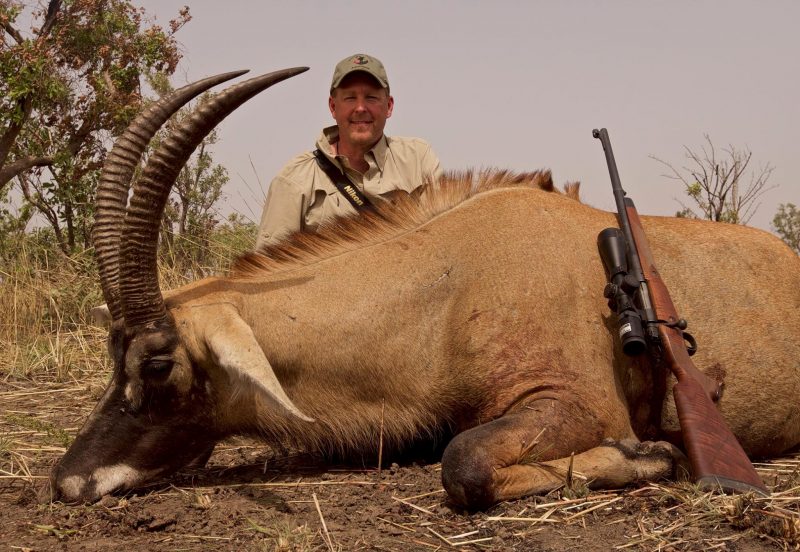 The bull was magnificent. I couldn't have told you if he was 24 or 29 inches (he ended up measuring 27.5), but I knew he had secondary growth (as all the bulls we took did), was heavy, scarred and old. He was perfect.
The other guys all got great animals as well, and though Burkina Faso is the most undeveloped country with many logistic and organizational problems that I have ever been in, I must say once you enter a hunting area, it is great.
This isn't the place to come and try to shoot a lot of trophies, but if you want to take savannah buff, roan, kob and a few other species, it is a high-quality hunting destination that offers incredibly priced hunts. I'm sure glad for the experience and adventure.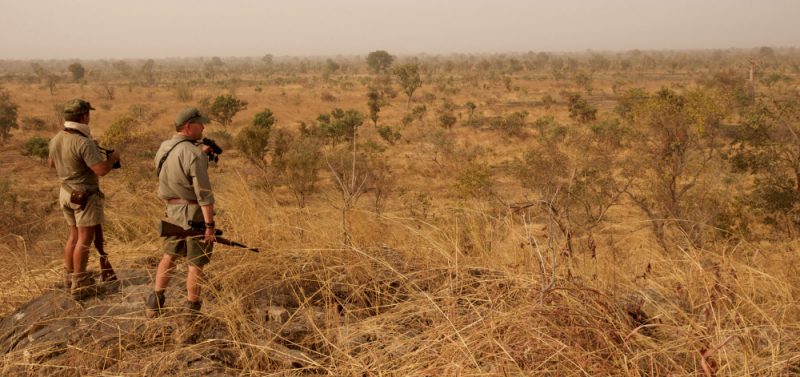 Sidebar: Firepower for BIG Game
Though savannah buffalo are not as large as their Cape buff cousins, they are still big, dangerous and formidable animals. Roan are huge antelope and can weigh 600-700 pounds, so I chose a big gun for this hunt.
I took my Winchester Model 70 Safari Express rifle topped with a Nikon Monarch 7 2.5X10 scope, and shot 360-grain Cutting Edge Bullets (CEB) Safari Raptors. I like the ability of the Monarch 7 scope to go up to 10X if I need to take a bit longer shot at antelope, but it is nice to crank it down to 2.5X when hunting buffalo. The scope has a super wide field of view and can quickly acquire the target. The Monarch 7 line has incredibly clear, full multicoated glass that is great in low light, and has served me well all over the world on numerous rifles and calibers.
About any ammunition I have tried through my Winchester .416 has shot really well. The gun sure isn't picky and is inherently accurate, but I prefer CEB's Safari Raptors for buffalo and all other dangerous game except elephant. The Raptors are solid brass, and after they enter an animal, six pedals sheer off and travel outward in a star shape. This shrapnel causes incredible trauma, while the back of the bullet stays intact as a now jagged solid, and penetrates as such. You get the best of a soft and a solid, and these bullets are simply devastating. I have used this setup on a number of buffalo, hippo, kudu, brown bear, etc., and the results are always amazing.  I just don't believe in going under-gunned.
Editor's note: Tim Herald is an owner and hunt consultant at Worldwide Trophy Adventures (WTA). To book this or any other high-quality hunt anywhere in the world, contact Tim at [email protected]. WTA's services are free; WTA is paid directly by the outfitter, and your hunt cost is the same whether you book directly with an outfitter or through WTA.