Africa Adventure, Part 1: Nile Buffalo and Uganda Kob
Tim Herald 03.30.17

I just returned from a 3-week trip to Uganda in equatorial Africa. Obviously, Uganda isn't a regular hunting destination as of now, but in the annals of safari history, the country played a major role, especially in the days of commercial ivory hunting. W.D. "Karamojo" Bell derived his nickname from the Karamoja region of northern Uganda, and he was one of the most important authors and hunters to ever walk on tacks in Africa.
I visited three different areas of the country, and each was a separate hunt unto itself, so this will be a three-part series chronicling this epic adventure. In the first installment, I'll cover our hunt in the Aswa Lolim area situated on the Nile River where we pursued Nile buffalo and Uganda kob.
Friend Kendall Kilbourne and I set out on this adventure together from Kentucky, and we planned to hunt together on the trip with PH and safari operator Christian Weth. After a bit of a delay for delayed luggage, we made the 6-hour drive from Uganda's capital city, Kampala, on the shores of Lake Victoria, to Aswa Lolim. As stated above, we were hunting near the Nile River, and famed Murchison Falls National Park.
The park is estimated to have 55,000 Uganda kob, a beautiful antelope similar to a double-sized impala, and that with Nile buffalo was our major draw.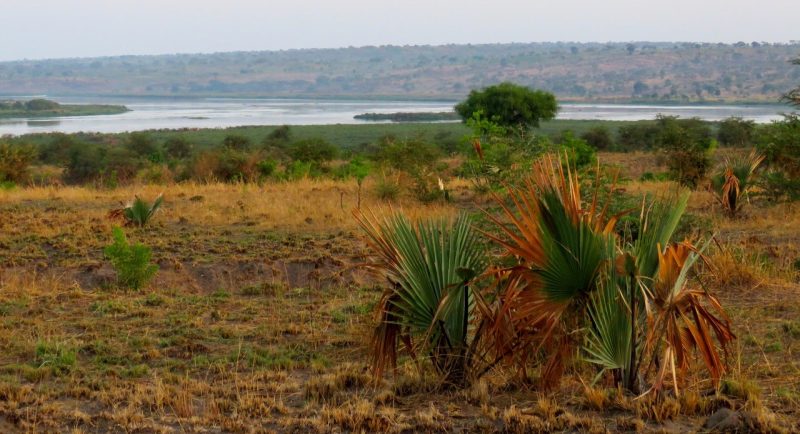 The first morning, we hadn't been out of camp for 10 minutes when one of the trackers spotted a big kob ram among a small herd on a hill above us. We drove on down the dirt track a while, got out and made a stalk with the wind. There were scattered palms and bushes for cover, and after being on and off the shooting sticks three times, Kendall finally got a 150-yard broadside opportunity.
He was using my Gunwerks 7mm topped with a Nikon Monarch 5 5X20 scope that shoots literally one hole at 100 yards, so it was s chip shot, and he downed the ram on the spot.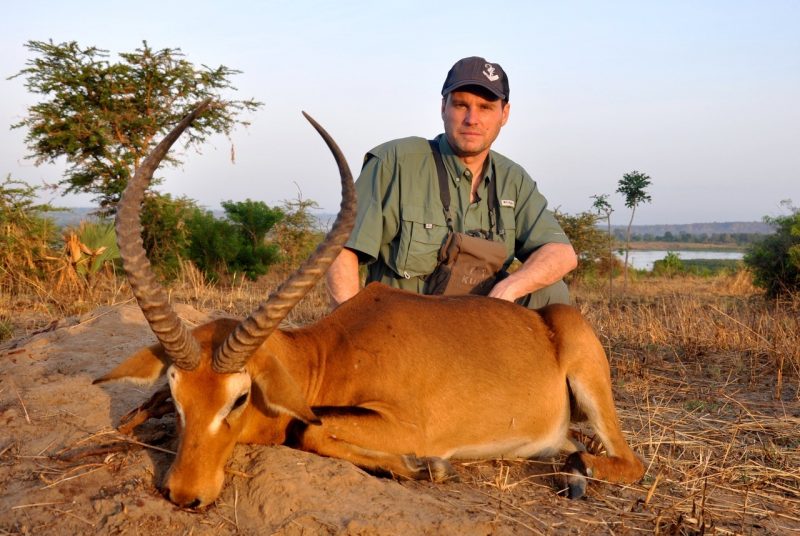 Neither of us had any idea that kob were so big (pushing 200 pounds), or that they were so beautiful with red to blonde coats, and many black-and-white markings. Kendall's ram was considered a very big trophy, so it was an excellent way to start the trip.
Over the next 2 days, we approached a number of Nile buffalo bulls, but Kendall wanted a really old and worn bull, and we saw one the first day that was almost completely flat-horned and very smooth. Kendall was hoping we could find him again.
Nile buffalo are a subspecies of African buff closely related to Cape buffalo. The most defining characteristic is that the horns don't drop down to the jaw line like many Cape buff, and currently, they are only huntable in Uganda. They are huge bodied and cantankerous just like their Cape cousins.

Just after daylight on the third hunting day, we spotted two bulls on a ridge feeding, and after glassing them, we determined that one of the bulls was the trophy that Kendall hoped to tag.
We circled to get the wind, and the buff got into the thick brush, and we lost them. It was a game of cat and mouse, as we would see them moving ahead of us or on the next hill across a gulley, but we couldn't seem to close the distance.
Finally, we got on the same level and could see them moving to our left, and we made a dash using a small hill for cover, and we got out in front of them. When the lead bull stepped out into a clearing, Kendall hit him with his .416 Rem in the shoulder, and the bull went about 15 yards and began to stumble. Kendall put another in the huge beast, and down he went.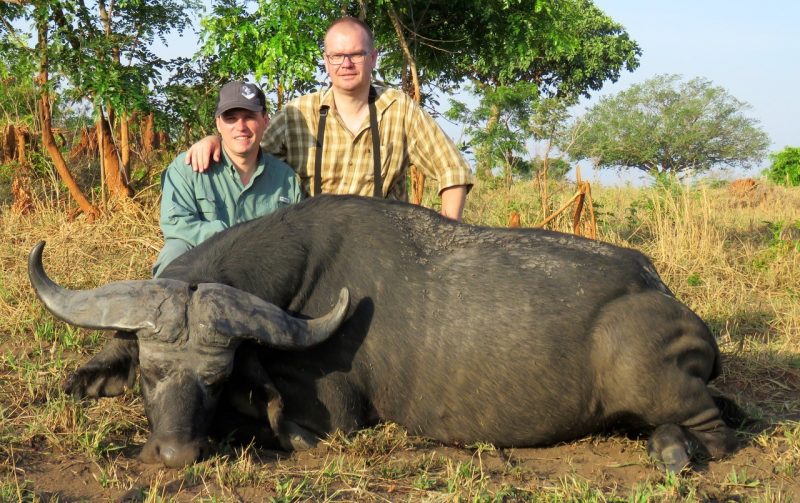 The bull was the epitome of what a shootable buffalo should be. He was ancient, past breeding age, with worn tips and horns so polished they were almost completely smooth. He was perfect, and Kendall had a great trophy in the salt.
We had seen literally hundreds of kob while buffalo hunting, but I didn't want to slow down the buffalo quest. So, with Kendall's bull down, we went into full kob-hunting mode. Finding a nice kob wasn't a problem, but with so many around, I saw no reason to shoot something that wasn't really big.
There was a certain valley with scattered trees and anthills where we regularly saw kob, hartebeest, waterbuck and the occasional buffalo. We decided to walk the valley and see what we could turn up. We found a group of kob rams together, and as we moved in closer, kob seemed to materialize everywhere.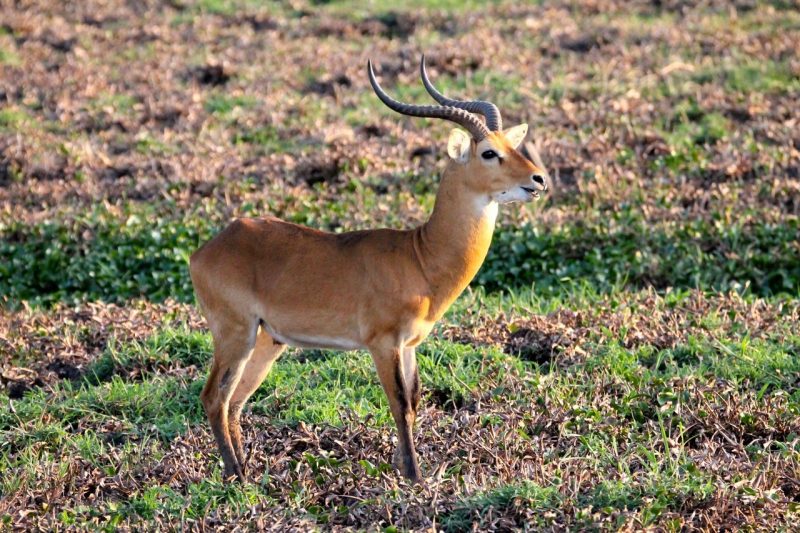 Christian and I looked at a number of nice rams, but nothing I was too excited about, and then we glassed another bachelor group and one of them had horns with a major drop as he looked in our direction. We both knew that we should make a play.
We were lucky in the fact that there was a huge fallen tree between us and the rams that we could use for cover, so we cut the distance to 120 yards, but we couldn't find the big guy.
Christian finally spotted him feeding behind a termite mound, but there was no shot. After what seemed like forever, the big ram finally fed out to the right and gave me a good broadside shot. I leveled the Monarch 5 crosshairs on his shoulder, and soon after, we were laying hands on his magnificent horns.
He was larger than I thought, and I was very pleased to have taken such a beautiful animal. That concluded our hunt in Aswa Lolim, as we both had buffalo tags in Karamoja, so we packed up that evening for an early departure the next morning. Little did we know we were about to enter buffalo heaven. (To be continued . . . )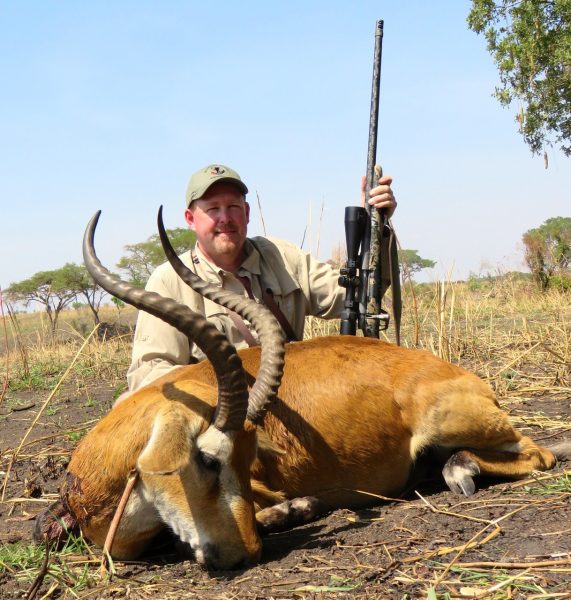 Optics in Africa
I think most people really downplay the importance of optics in Africa. I, for one, think a great binocular is extremely important on a safari. Yes, you need to be able to pick apart brush to find the animals you are hunting. Yes, you need to be able to judge trophy size of horns, age and many other factors before you squeeze the trigger, but you also need good optics to fully enjoy a hunt in Africa.
One of the great joys of hunting the Dark Continent is the variety of animal life that you see, so whether you want a closer look at the bright and colorful parrot that just flew over, or you want to get an up-close view on a giraffe that is a few hundred yards ahead, or if you are determining whether a buffalo bull is fully hard-bossed, you need great binos.
You can do a ton of walking on safari, so my dilemma has always been size and weight versus clarity and field-of-view when it came to binos for Africa. My problem was recently solved by the introduction of the Nikon Monarch HG line.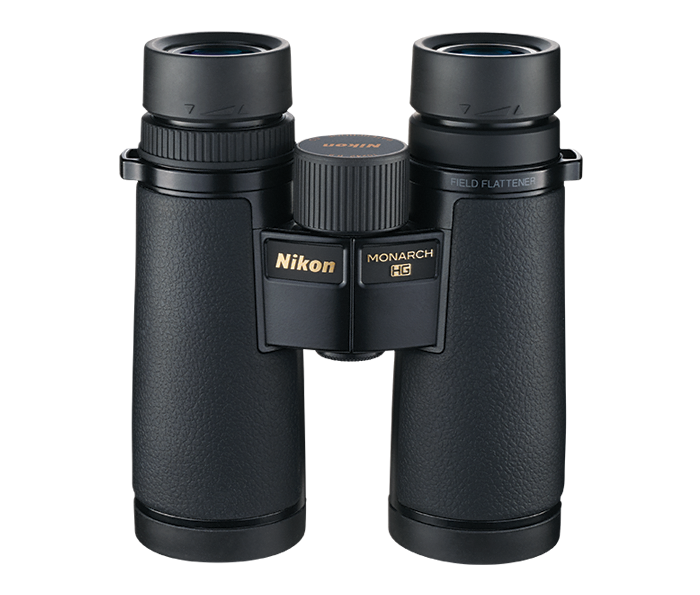 I chose the 10X42 (above) because I didn't want to give up magnification, but I would class this unit as a mid-size that performs like a full-size binocular. Providing optimum strength, impact resiliency and weight reduction, the slim magnesium alloy body is further enhanced with rubberized panels to provide a sure grip in any conditions. To ensure long-term optical acuity, Monarch HG objective and eyepiece lenses are protected by scratch-resistant coatings, while interior lenses are shielded from fogging with an extreme waterproof rating that provides fog-proof integrity, even at altitudes to 16,000-foot equivalent. This is a seriously tough bino for even the most extreme hunts.
What you can see during a hunt is obviously of paramount importance, and Nikon engineered the optical system of the Monarch HGs around its ED (Extra-low Dispersion) glass and high-quality multilayer coating that is applied to all lenses and prisms for brighter, higher resolution viewing. Additionally, Nikon's field flattener lens system works in conjunction with MONARCH HG's extraordinarily wide field-of-view (6.9° in the 10X42 model) to provide a sharp, clear view to the lens periphery.
If you are on the go and don't want to sacrifice quality viewing for weight and size, you owe it to yourself to check out the new Nikon Monarch HGs. My bino is already packed for my next adventure.
Editor's note: Tim Herald is an owner and hunt consultant at Worldwide Trophy Adventures (WTA). To book this or any other high-quality hunt anywhere in the world, contact Tim at [email protected]. WTA's services are free; WTA is paid directly by the outfitter, and your hunt cost is the same whether you book directly with an outfitter or through WTA.