Quebec: My Favorite Destination for Spring Bass — and Bears
Dave Maas 06.26.17

I've had the good fortune in my outdoor writing and editing career to travel across the United States and Canada in pursuit of a wide variety of fish and game. And whenever one of my buddies asks me to describe my favorite destination for a certain species, I'm often challenged to pick just one because there are so many fine choices.
As I get older – and certainly a bit wiser – I've started to appreciate the outstanding value of a combination adventure that includes both fishing and hunting. Of all the combo trips I've had in the last 20 years, one that should be near the top of your bucket list is a visit to Quebec.
You can click here to see the wide variety of outdoor adventures available in Quebec, but let me tell you about a specific fish/hunt combo destination I had the pleasure of visiting in June 2017.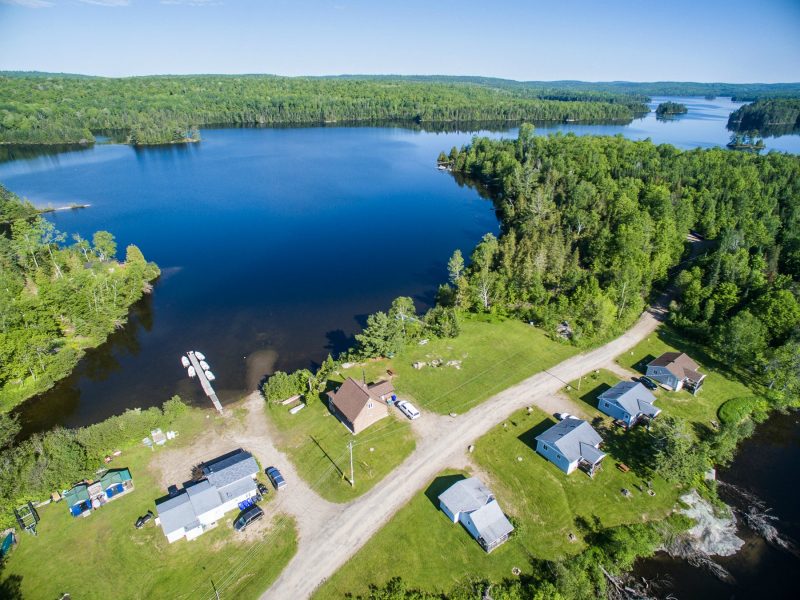 Outfitter Rob Argue is owner of Eastern Canadian Outfitters (ECO). From mid May through June, Rob hosts anglers and black bear hunters at his camp on the shore of Lac Mer Bleue, a 2.5-mile-long lake located an easy 1 hour and 50 minute drive north of Ottawa, Ontario.
Lac Mer Bleue is almost 300 feet deep, crystal clear and home to good numbers of smallmouth bass, walleyes, northern pike and lake trout. My friend Matt Addington and I also caught several largemouth bass during our 1-week visit to ECO, but our focus was smallmouth.
Important planning note: Rob offers fully guided black bear hunts, but the fishing on Lac Mer Bleue is DIY (do it yourself), which is exactly the way I like it. You simply tell Rob you'd like to fish, and he'll have one of his many 14-foot aluminum boats with 9.9-hp outboards ready to roll for the duration of your stay.
And here's the best part: There is NO public access on Lac Mer Bleue. Yes, there are several small vacation cottages on the lake, but I can tell you from first-hand experience that almost none of cottage owners must fish. Matt and I were there during a week of mild fishing weather in June (warm, light winds), and we saw one boat on the lake on a Saturday morning. On every other day – even Sunday – we had the entire lake (2.5 miles long, 1 mile wide) entirely to ourselves. It is no exaggeration to say the lake is your own private honey-hole when you book with Rob Argue and ECO.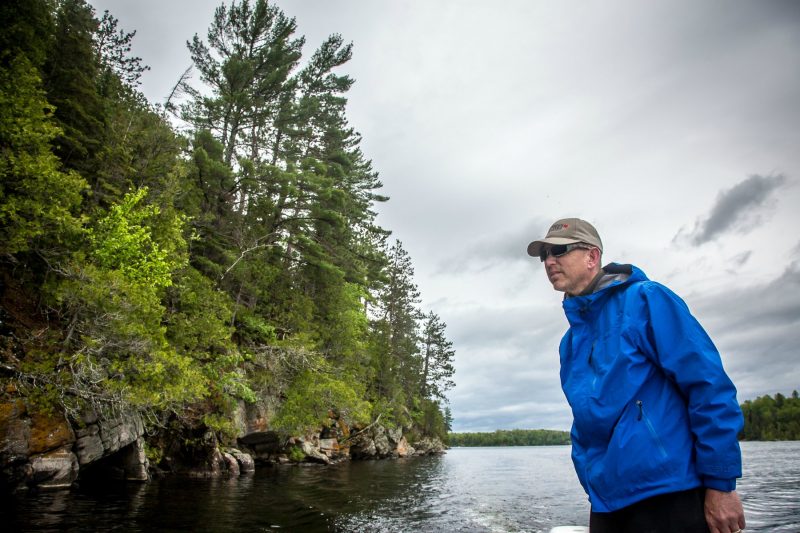 Matt and I had a blast pursuing shallow-water smallies on Lac Mer Bleue. The fish were easy to spot in the clear water, and our technique was simple: cruise the shoreline at slow speeds with the 9.9-hp, and when a smallmouth was spotted, we'd stop, kill the outboard and then cast. Of course, at times we spotted a smallie too late due to cover, waves, glare, etc., so we simply made a mental note of its location using shoreline structure as a guide, then circled back and drifted over the spot, casting to the area to entice a strike. In most basic hunting terms, we were spot-and-stalking smallmouth. Fun!
This is no exaggeration: I've targeted smallmouth in many Midwestern states, as well as many parts of Ontario, but I've never seen smallies as aggressive as those in Lac Mer Bleue. And the daily weather conditions (sun vs. clouds, etc.) didn't seem to matter.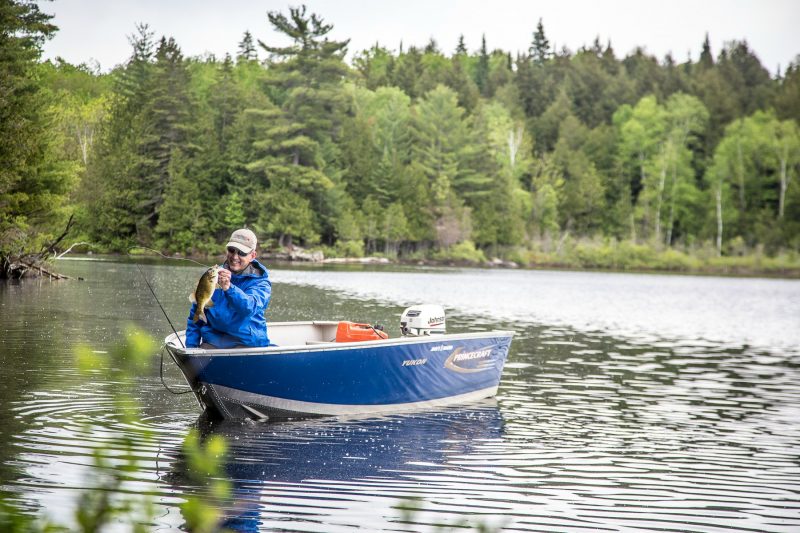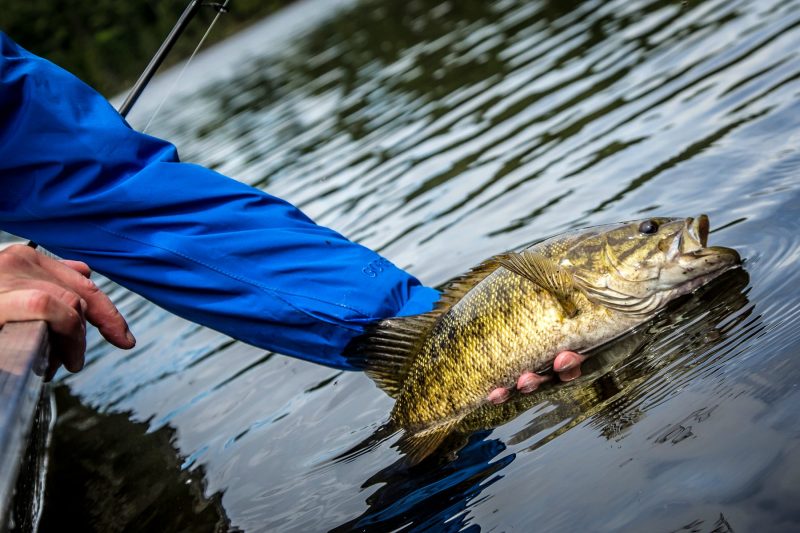 When I asked Rob if this was common, he simply nodded and said, "Yeh, the smallmouth on Lac Mer Bleue are ferocious. Across the road on Lac Lacroix, they are quite a bit tougher to catch. The biggest difference is Lac Lacroix has a public access."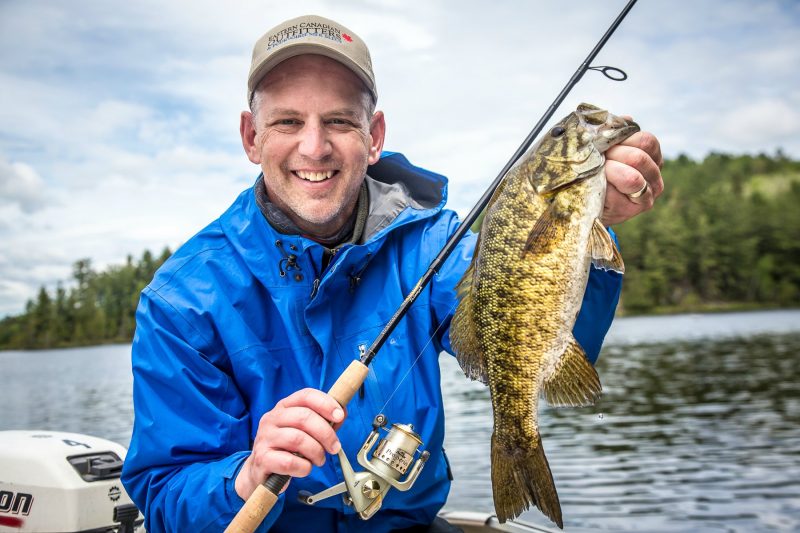 I'll save my bear hunting report for a follow-up story in a couple days, but know this: I can't think of a better way to spend a 1-week vacation than hammering big smallies during the morning and early afternoon, then sitting on a black bear stand during late-afternoon and into evening.

And while the thought about sleeping in late the following morning will certainly cross your mind, trust me on this one – you'll set your alarm clock so you don't miss the fast-paced smallmouth action waiting for you outside your cabin!