One of the best parts of any big game hunt is the planning and preparation. Sure, some parts of the process might seem like a hassle – updating a passport for example – but I truly enjoy researching possible destinations, outfitters, available species, etc. I also enjoy choosing my gear in the months leading up to departure.
This was certainly the case as I prepared for my spring 2017 black bear hunt to Quebec. After I'd researched where to go in Quebec, and settled on an outfitter (Eastern Canadian Outfitters), the next step was choosing my rifle/scope/ammunition.

One thing I knew from previous experience is that shot distance would be close on a baited black bear hunt, so "reach out and touch them" magnum cartridges weren't required. And I also knew that most shooter black bears in Quebec weigh 150-250 pounds. Do they get bigger? Certainly. But facts are facts – my chance of encountering a 400-pounder would be slim.
So, the more I considered my options when it came to a rifle cartridge, glass and ammo, I was really looking for a combo that would not only work for Quebec black bears, but also whitetail deer throughout most of their range. After all, mature whitetail bucks – even corn- and soybean-fed ones in the Midwest – rarely exceed 250 pounds.

After careful consideration, I opted for a Savage Model 11 bolt-action rifle in 308 Win. Specifically, I chose the Model 11 DOA Hunter XP (MSRP of $684), which is a combo package (photos above) featuring a Savage Model 11 rifle and a factory-mounted and boresighted 3-9X Bushnell Trophy scope.
The Model 11 is built to provide on the legendary Savage 110 action and features a button-rifled barrel, detachable box magazine and user-adjustable AccuTrigger. As I said previously, I opted for the 308 Win., but Savage offers this package in 15 popular cartridges, which covers everything from varmints to the biggest of big game. The Model 11 DOA Hunter XP has a 22-inch barrel (overall length of 41.25 inches), black synthetic stock, matte blued barrel and Weaver Grand Slam Rings.

I've used Bushnell riflescopes for many years, and they've always proven to be outstanding. The 3-9X Bushnell Trophy that comes on this combo features a fast-focus eyepiece, finger-touch adjustable windage and elevation controls, shooter visible power change ring, and the DOA 600 drop-compensating reticle.

As for ammo, I learned about the new Non-Typical Whitetail loads offered by Federal Premium at the 2017 NRA Show and was interested in giving them a try. Non-Typical Whitetail rifle ammunition is reasonably priced and designed specifically for diehard deer hunters. It uses premium Federal components and has an optimized, soft-point bullet with concentric jacket for pinpoint accuracy and lethal wound channels. When sighted-in dead-on at 200 yards, the Non-Typical 308 Win. bullet impacts 2 inches high at 100 yards, and only 8.8 inches low at 300 yards. Muzzle velocity is 2,820 fps. At 300 yards, bullet velocity is 2,007 fps, with 1.341 foot-pounds of energy. This combo would not only be deadly on close-range bears, but in-the-distance deer, too.
Pre-Hunt Shooting Session
Because the Savage Model 11 combo comes boresighted from the factory, getting on paper was easy. Like I do during any sight-in session, I first shot a bullet at only 20 yards. The 150-grain Non-Typical bullet impacted 4 inches below the bull's-eye at 6 o'clock. I didn't mess with the windage adjustment, and dialed the elevation turret to raise impact. Shot No. 2 hit the target 2 inches below point-of-aim, which is about perfect for 20 yards. (At point-blank range, bullet impact shouldn't be dead-on, otherwise you'll be off-the-paper high at 100 yards. At 20 yards, you want bullet impact to be below the bull's-eye by 1.5-2 inches, about the same distance as the measurement from the center of your scope to your gun barrel.)

After hanging a large target at 100 yards (my favorites are the Champion VisiColor Real Life Big Game Targets shown above), it was time to get dialed in and test for accuracy. My first shot struck the target 2 inches left and 4 inches high, which proved that my initial scope adjustments at close range had been on the money. I moved the elevation and windage adjustments of my Bushnell Trophy scope to compensate. Note: At this point in the sight-in process, I don't worry about shooting three-shot groups and then making scope adjustments; that will come a bit later. If I have a super-solid rest (sand bags front and rear) and I'm "clean" with my technique, I feel confident in adjusting the scope after making only one shot.
Bullet impact for shot No. 2 at 100 yards was dead-on in elevation, but 2 inches right of the bull's-eye, so I adjusted only the windage. Bullet impact for shot No. 3 was outside the bull's-eye at 3 o'clock by 1 inch. I turned the windage turret to compensate for that inch and then settled in to carefully fire a three-shot group.
Finding a new bull's-eye on the target, I slowly and methodically squeezed off three shots. My dad, whose Wisconsin backyard range we were using for this sight-in, said after seeing bullet impact for the first shot in his binocular: "Wow. That looks dead-on. Two more of those and you're good to go."
Bullets Nos. 2 and 3 also punched the paper very close to the bull's-eye. I'd shot a neat little triangle that sat about a half-inch above the bull's-eye. You could cover the three bullet holes with a half dollar.
As we stood at the target backstop, Dad exclaimed: "I know you're going after bears, but this rig will be deadly on deer."


I wish I could conclude this story with photos of me and my rifle with a massive bruin from Quebec, but the black bear gods didn't bless me with one. (Click here to read details of my adventure.) I did see one borderline bear and decided not to pull the trigger. You can watch the smartphone video below and decide for yourself – would you have pulled the trigger?
This fall, I look forward to using the Savage Model 11, Bushnell Trophy scope and Non-Typical ammo for Wisconsin whitetails – that is, assuming my dad doesn't call dibs on the deadly combo during our predawn breakfast on opening morning!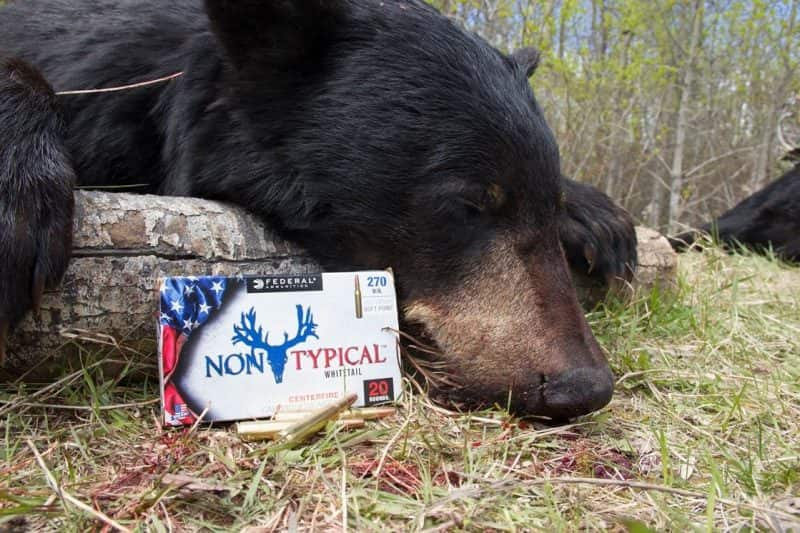 Quebec images by Matt Addington
What's Your Reaction?