I recently returned from a week-long adventure to Eastern Canadian Outfitters in west-central Quebec. While my reason for choosing this particular outfitter was based largely on their past success with black bears, I'd be lying if I didn't admit to the fact that their smallmouth bass fishing played a big role in my decision. (Click here to read about the amazing fishing!)
Of course, the trick with any away-from-home trip is packing enough gear for your adventure, but not getting hammered in the wallet with overweight luggage charges from the airlines.
Case in point: For my Quebec hunt/fish combo, I needed to carry a rifle and all the other gear needed for a black bear hunt and fishing trip. To be specific, I chose to pack the following items (this is not a complete list):

Savage Model 11 rifle with Bushnell 3-9X Trophy riflescope (above)
Federal Premium Non-Typical Whitetail 308 Win. ammo; three boxes

Bushnell Trophy Xtreme rangefinder (above)

Bushnell 10X42 Engage binocular (above)

Bushnell RUBICON headlamp (above)
Primos Trigger Stick Bipod
Primos Twin Cheeks cushion
A wide variety of hunting clothing from SITKA Gear
LaCrosse Grange rubber boots

Cabela's Rainy River GORE-TEX rain parka (above) and pants

Two, small Plano tackleboxes filled with fishing lures (above)
Two St. Croix travel rods: one Triumph spinning and one Legend Trek baitcasting
Fishing reels and extra line
Personal items


As you can see, this is a lot of gear. Thankfully, this Quebec trip wasn't my first rodeo (as they say), so I had a good idea of how to pack. First, I placed my rubber boots, tackleboxes, fishing rain gear and some additional clothing in the bottom compartment of my large Cabela's Alaskan Guide wheeled duffel bag. After that was filled, I began filling the duffel's top compartment. To ensure my Triumph Travel Rod arrived in one piece, I placed it in the middle of the duffel bag and packed clothing all around it. I even placed the Primos cushion on the very top of the duffel for added protection. I own one of those handy-dandy luggage scales (buy one!) and stuffed my duffel until it weighed exactly 48 pounds.
Why 48 pounds? Because the airlines will charge you a hefty fee (often $80-$100 each way!) for a hefty bag, which to them is one weighing more than 50 pounds. I like to give myself 2 pounds of wiggle room for peace of mind.
Now this is where you need to listen closely: How you pack your hard-sided gun case is critical. On this trip, I used a Pelican gun case that's filled with tight-fitting foam inserts. I cut out foam in the shape of my scoped rifle. Tracing the outline in chalk works well, then you cut out the foam with a sharp fillet knife. Don't worry if it looks pretty; you won't get extra points for artistic ability. I also cut out foam for my shooting sticks, bino, rangefinder and ammo. Cutting tip: It's best if your gear fits tightly into the foam, so make the cutouts smaller than you think you'll need and then progressively make them larger as required.

As the photo above shows, this gun case packing method ensures my gear will arrive in good condition, and it reduces the amount of weight in my wheeled duffel and my carry-on bag. When my gun case was fully loaded with gear and the TSA-approved padlocks were snapped shut, it weighed 35 pounds – again, less than the magic number of 50.

My carry-on was a medium-size Camelbak backpack that I used in the treestand during my hunt. For my trip to Quebec, it contained many personal items, as well as a bit of clothing that wouldn't "make weight" in my rolling duffel, and also a Stealth Cam DS4K scouting camera with batteries (below). My loaded Camelbak carry-on weighed 22 pounds.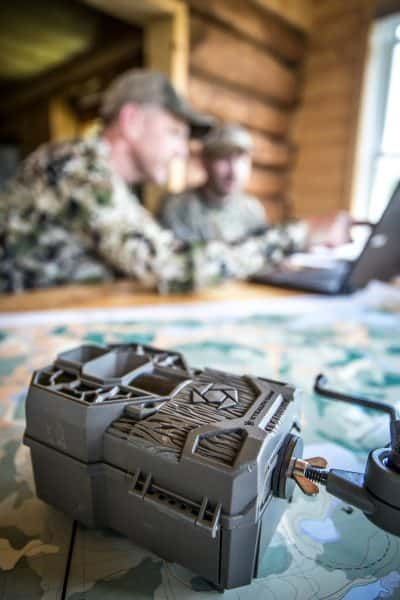 The final piece to the puzzle was my St. Croix Legend Trek baitcasting rod. It comes in a durable tube, but this crazy-good rod is so precious to me that I didn't want it leaving my sight. For that reason, I carried it on the airplanes. Actually, the rod tube base fit perfectly in an exterior pocket of my Camelbak, so I had my hands free while rolling my large duffel and gun case through the airports to the rental car desk, etc. One interesting note: A TSA agent asked if the black St. Croix case contained a fishing rod or a pool cue. I said, "Fishing rod," to which he replied, "Good, because you can't carry a pool cue onto a plane." Who knew?
So, in total, I traveled with 105 pounds of luggage and didn't have to pay a dime in overweight baggage charges. Of course, I still had charges for two checked bags each way, but it's a small price to pay for having the ability to both hunt and fish on a fantastic Quebec adventure.

Important Forms for Your Firearm
Two important notes when traveling with a rifle from the United States to Canada on a big game adventure:
You'll need to complete form 5589, called the Non-resident Firearm Declaration, and pay a $25 (Canadian funds) declaration fee. Wait to sign and date the form until you're in the presence of a Canadian Border Services Agency customs officer. You can fill out the other data on the form (personal info, type of firearm, gun serial number, etc.) at home before leaving for Canada. Click here for all the specifics and to print the form.
Depending on the United States Customs and Border Protection official you speak to upon returning to America, you might be asked to show him or her CBP (Customs and Border Protection) Form 4457. Click here to view and download/print that form. This is a "Certificate of Registration for Personal Effects Taken Abroad." Or stated more simply, it proves that you left the U.S. with an item and didn't buy it in Canada. There is no cost, but it's a hassle because you need to visit a U.S. Customs and Border Protection office before your trip, with your cased firearm in hand, then have a CBP official sign and date the form after he or she verifies that the item in your possession (your hunting rifle) matches the description on the form.
In Minneapolis, Minnesota, (the nearest large city to my hometown), there's a CBP office at the airport. If you don't jump through this hoop and complete this form, a CBP official upon your return to the U.S. could say you must pay duty (tax) on your firearm because you can't prove you left the U.S. with it in the first place. In my experience, it's only those CBP officials who feel a bit self-important who threaten you with paying a duty. (After all, you have paperwork from the airlines that shows you checked a firearm as luggage when departing the U.S. to begin your adventure!)
Images by Matt Addington
What's Your Reaction?