E2 Bass Blog: Taking a Break from Bass to Search for T-Rex
Edwin Evers 07.14.17

I love to fish, there's no two ways about it. If I could, I'd go fishing every day and never get tired of it. Still, there's one thing, my family, that comes ahead of everything, including fishing. So, when, like now, there's a break in the Elite Series schedule, I try to make the most of it with my wife and children, even if it means spending an Oklahoma afternoon with my son, Kade, in 110-degree heat as we dig for dinosaur bones in a wash-out gully on the farm.
Here's the story: Like a lot of 8-year-old boys, Kade is crazy about dinosaurs. He knows all their names, and even more amazing, can pronounce each one correctly. On a family trip to Dallas, Kade and I decided to visit the dinosaur exhibit at the Perot Museum of Nature & Science while my wife, Tuesday, and our daughter, Kylee, went shopping.
We not only saw all sorts of fossilized dinosaur bones and skeletons, but we learned how paleontologists extract fossils, and all about the kinds of places they expect to find them. And a lot of those spots looked just like the wash-out back on our farm. Right then, Kade and I decided we should look for dinosaur bones back home, so before we left the museum, we stopped at the gift shop and bought a kid-size pick-axe, brushes and set of excavating tools, which look a lot like the tools your dentist uses, if you ask me.
Of course, Kade (photos below) wasn't going to be satisfied with searching for the bones of any old dinosaur. He was after a fossil from a Tyrannosaurus Rex! And that's how we ended up in the gully on a hot July afternoon.
We got there about 11:30 in the morning and dug for a good 4 hours, with the dream of collecting a T. Rex fossil. Even with the heat, Kade didn't want to stop. It was like pulling teeth, but I finally talked him into calling it a day and go swimming to cool off. We ended up with a little bag of bones — or, what we thought were bones; a lady at the museum told us if we found something that stuck to your tongue, it was a bone. Well, it was so hot . . . and so dry out there that everything we tried stuck to our tongues, so we weren't sure what we had.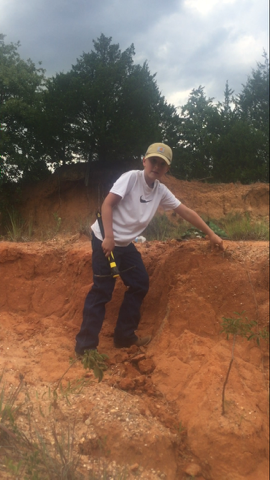 Later, we took the bag to Mrs. Haggard, a woman who had taught geology at the local high school. She told us that a lot of what we had was rock, but she classified each one and told us all about them. We also had some shell fossils from tiny snails and clams, but sadly, no T. Rex fossils.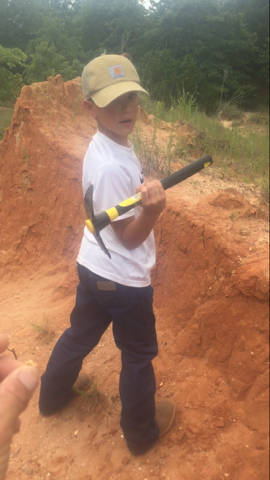 That's okay, though; we'd spent time doing something Kade loved, and that's what really matters. And I'm sure we'll go back and do it again real soon; I just hope we can pick a cooler day.
I must admit that I'm getting a little eager to get on the water again after this long lay-off, however. Very soon I'll be heading to the HUK Bassmaster Elite tournament on the St. Lawrence River, and that's quickly followed by the Bassmaster Elite on Lake Champlain. I've been organizing my tackle and gear, and getting ready to catch northern bass. Wish me luck!