Guide Spotlight: Brenden Windsor of Aikens Lake Wilderness Lodge
Tony Capecchi 08.10.17

Meet Brenden Windsor, the fishing wizard.
The 21-year-old phenom (photo above) from Steinbach, Manitoba, was born to fish. He had a fishing rod in his hand by age 2, lived among polar bears as a teenager, and by age 20 had 15,000 followers watching his fishing videos online.
No wonder Aikens Lake Wilderness Lodge, a luxury fly-in resort in eastern Manitoba, snatched Windsor up as a guide this spring. I had the good fortune of having Windsor as my guide during a dream trip to Aikens this July.
Better yet, my dad was with me, and we were far removed from the burdens of work and city life. Only one problem: Weather conditions for walleyes were brutal — not the faintest trace of a breeze, not a cloud in the sky, and temperatures well into the 80s by mid-morning. Can you say dog days of summer?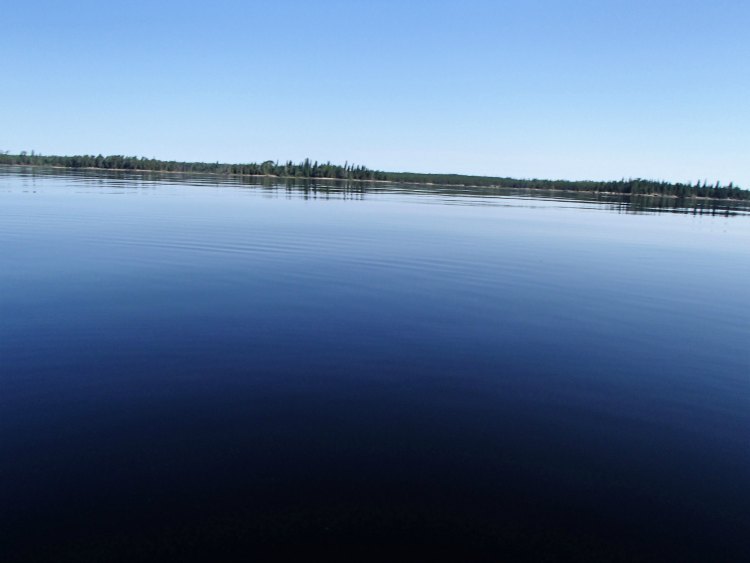 Let's face it: Even at ideal locations, less-than-ideal conditions can negatively impact the bite. Fortunately, Windsor was up for the challenge.
"If you're hot and sluggish, the fish probably are, too," Windsor said, "In those conditions, I go to the simplest of all methods: lead head jig, minnow, dead stick. Maybe a cisco on another dead stick holding completely still."
That's the exact approach we took, with a key caveat Windsor recommends in tough-bite conditions: long-shank hooks on all jigs.
"The hook sits back further in the minnow, so when the fish bites it has more of a chance to get the hook," Windsor said. "It also keeps the minnow on the hook better."
We went straight to a mid-lake reef in 28 feet of water and then dropped our plain grey jigs to the bottom and held them still. Several minutes later, after a nearly imperceptible bite, my dad set the hook on what turned out to be a 24-inch walleye.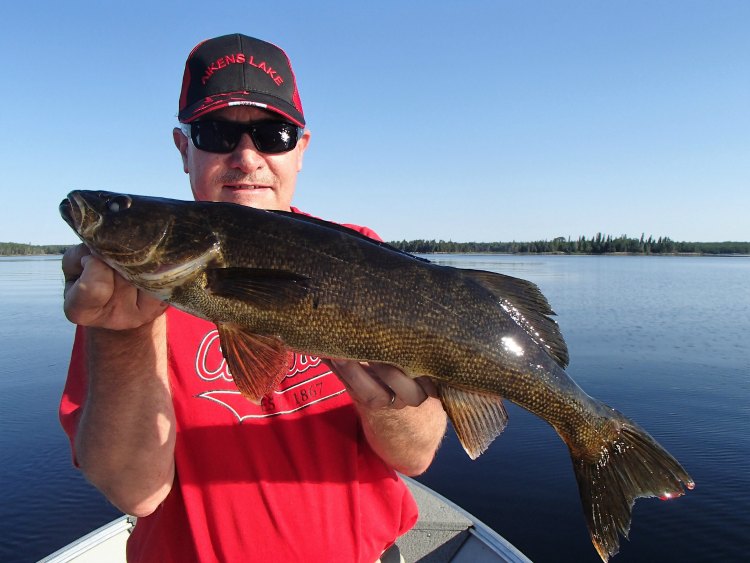 A few minutes later, a 25-incher came via the cisco rig and pulled out enough line during the fight we initially wondered if we'd hooked a pike (OutdoorHub Managing Editor Dave Maas caught multiple trophy pike at Aikens this summer, so giant pike were on our mind). Throughout the morning, the bite was a bit slow — due to the stifling heat and glass-calm lake — but it was steady, and nearly every walleye we caught was over 20 inches, with the biggest topping out at a fat 25.5.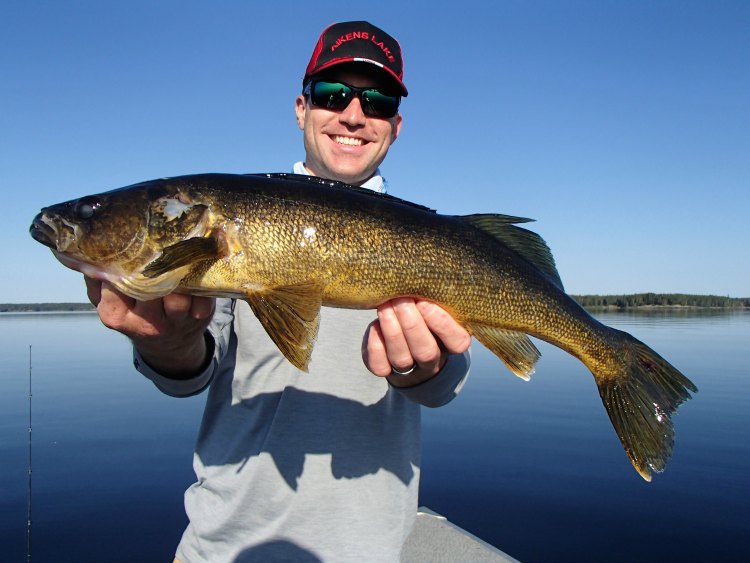 Another approach Windsor takes in hot weather is to fish moving water, so we did just that after a few hours on the productive reef. Fishing the Gammon River near the scenic falls produced a handful of pike, as well as a smaller walleye for shorelunch. (Aikens carefully manages it trophy fishery, releasing all walleyes over 19 inches and all pike over 30 inches.)
"If the bite is tough in the heat, go to moving water," Windsor advised. "Fish there are often more active — for one thing, they have to exert at least some energy to hold themselves in rapidly moving water, so they can't be entirely lethargic."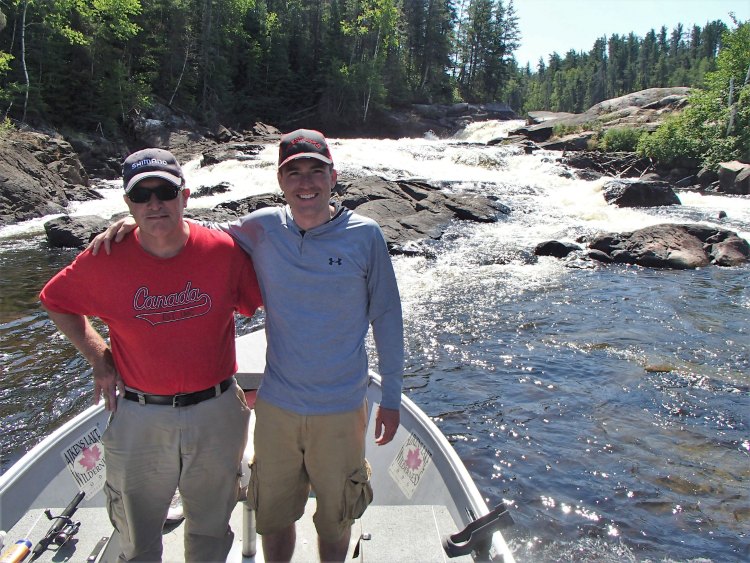 Windsor's instincts served us well in the heat. His dad, a Manitoba conservation officer, taught him the fundamentals of fishing, but much of Windsor's expertise today is self-taught.
"It was trial-and-error, developing your instincts and doing what feels right," said Windsor, who's caught 165 Manitoba Master Angler trophy fish across 11 species. His single best night consists of single-handedly catching 26 Master Angler channel catfish on the Red River near Winnipeg. "Being in nature, it comes to you after a while. You get thoughts on what might work, and just how crazy is too crazy to try something if you're not catching fish."
Much of his dad's career has been near Winnipeg, but for several years he was stationed in Manitoba's famed Churchill region, at the country's northern tip on Hudson Bay — land of the polar bears. Initially, Windsor stayed back with the rest of his family in Steinbach, roughly 30 miles southeast of Winnipeg, while his dad did conservation work in Churchill.
But going into 11th grade, Windsor wanted to immerse himself in the extreme wilderness environment, so he moved to Churchill with his father and spent a year among the white bears. There, he hunted, fished and took a security job where polar bears were his top threat.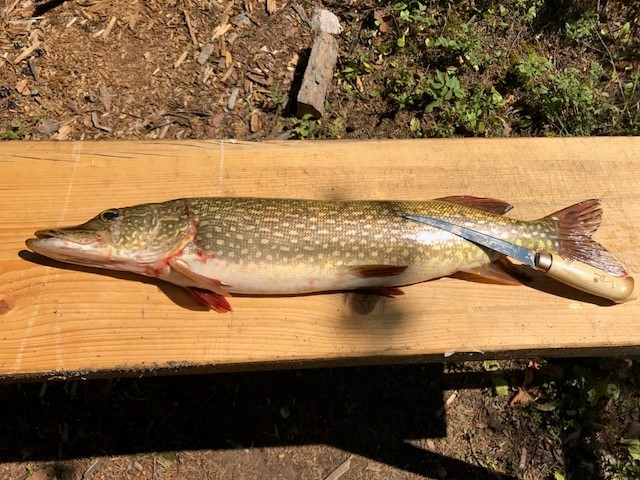 He also sharpened his skills of cooking various fish and wild game, an ability my dad and I got to enjoy first-hand. For variety, we kept a walleye and a pike for shorelunch, and Windsor prepared the fish two different ways: half with beer batter, half with an egg-and-cracker crumb batter. (Do you shy away from keeping and eating northern pike because of the dreaded Y-bones? Watch the video tutorial at the bottom of this article of Windsor showing how to properly fillet a pike.)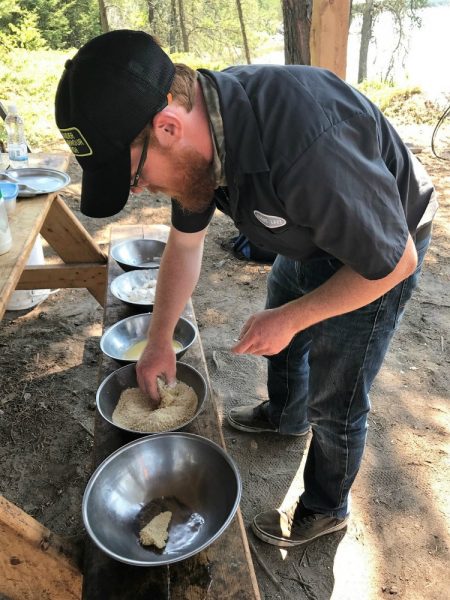 As good as Dad and I felt eating the delicious shorelunch, Windsor felt even better, having produced another memorable day for his clients.
"The level of excitement and appreciation from someone you guide is amazing," said Windsor. "I feel more satisfaction guiding a trophy than catching one. Being a guide is a great job."
For more information on Brenden Windsor and Aikens Lake Wilderness Lodge, visit AikensLake.com.
Editor's note: Since age 18, Tony Capecchi has produced media for national television, magazine and radio outlets such as NBC, CBS, ESPN2 and The History Channel. OutdoorHub is proud to have Capecchi writing a Guide Spotlight series throughout 2017, showcasing the best guides he's encountered in his world travels.