A Wet and Wild Trip Though Europe: Part 1, Estonia — Moose, Brown Bear and Raccoon Dog!
Tim Herald 10.09.17

I just returned from a unique two-stop trip in Europe. The first stop was to Estonia to check out an outfitter that I'd heard about from some reliable sources, and then I was on to lead a group of clients on a hunt in the Transylvania region of Romania.
Friend David Hollingsworth and I went to Estonia for only 3 days. David had a moose tag, and I had tags for moose, European brown bear and raccoon dog. We knew 3 days was short, and we didn't expect to kill much, but it was more about trying the outfitter, seeing the area, etc.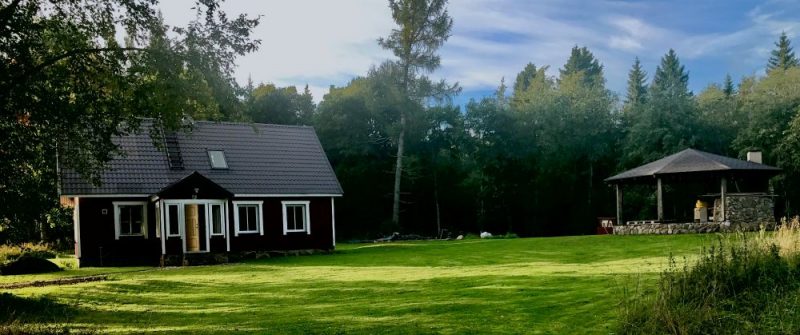 We didn't shoot much at all, even though the outfitter was good. He has a great area full of moose and bears, but we experienced rain and wind every day and every night, with very few breaks. Bears quit showing up on trail cameras even at night, and moose action was almost nonexistent because calling wasn't effective with all the rain and wind noise.
During the last morning of the hunt, we finally got a break in the rain for a couple of hours, and we did get a bull moose to answer our calls. After the bull got going, he grunted nonstop as he closed the distance, and I thought for sure David was going to get a shot.
The bull was 300 yards out and closing fast when I felt a puff of wind hit the back of my neck, and I knew the game was over. He surely winded us, and we never heard him again. We stayed and called for another 30 minutes, but the bull got a whiff of humans, and that was that.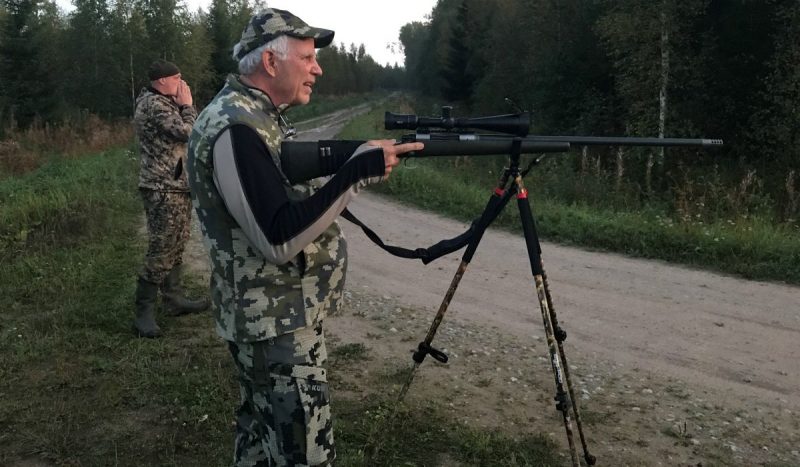 One evening I sat in an elevated blind situated in an opening in the forest. It was baited with grain for bears, but the weather was terrible, and I didn't think bears would be on their feet. Just before dark, I saw an unfamiliar form slip in to the opening, and on closer inspection through my Nikon Lazer Force 10×42 bino/rangefinder, I saw a very large raccoon dog.
Most people have never heard of this unique animal, and I had only through reading about them in a Craig Boddington article years ago. I had done some research and was hoping to get a chance at one. The raccoon dog has no real relation to an actual raccoon, although their heads are strikingly similar. They are indeed canids (dog family) and are more closely related to foxes.
They climb trees like a gray fox, and are found throughout much of Asia and into northern Europe. Raccoon dogs are omnivorous, and their weights can range from 6-22 pounds.
When the big raccoon dog began feeding, I decided that I would probably never get another chance to take one, so I made the shot and dropped him. It was drizzling and almost dark, so I waited until the next day to take photos. The big male weighed more than 20 pounds and was just a beautiful — a unique creature that I felt fortunate to pursue.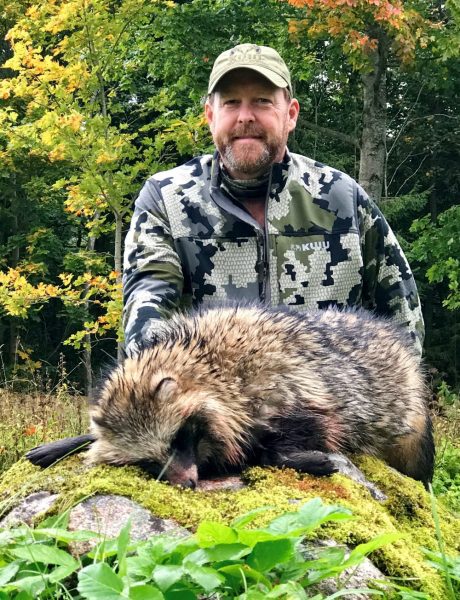 That ended up being the only animal we took on the hunt, but again that is just because of weather. I'd love to go back to Estonia and do a combo bear and goose hunt. They hunt three species of geese, and shooting 50-100 a day is pretty normal. Sounds like fun!
David and I packed up and flew down to Romania where we met three more Worldwide Trophy Adventure WTA clients/friends, Bert Moore, Eric Nicholas and Jim Sheehan. But space is too short here to cover details of that hunt. Stay tuned to OutdoorHub for part two of this amazing European adventure!
Sidebar: Wet Weather, No Problem — Just Wear KUIU
Like I said, it rained every single day of this trip in Estonia (as well as the next adventure to Romania), but I never got wet, and knowing I would stay dry and comfortable got me out in the field each day.
I have just switched all my hunting clothing over to KUIU, and I truly believe it is hands down the best gear on the market. It is incredibly light, breathable, and the raingear kept me bone dry.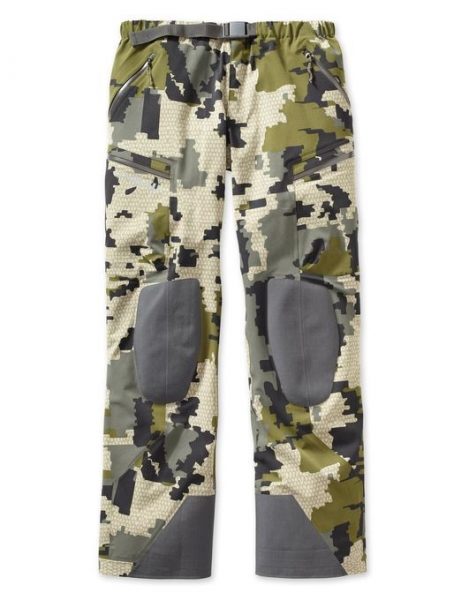 I used the Ultra NX rain jacket and Yukon rain pants on this hunt, and can't recommend them any higher. They weigh almost nothing, so the few times it wasn't raining, they didn't add weight to my pack and took up little space. They were breathable, and even when climbing, I didn't get sweaty. Some of the guys were wetter from sweat than the rain in their raingear, but I didn't have that problem at all.
My KUIU gear would dry within a few minutes when I hung it up in camp, and that made a big difference when I was packing between locations and coming home. Both pieces really performed like high-quality hunting gear, not just rain gear. The two-way stretch in the jacket and four-way stretch in the pants allow mobility and comfort that I have never had in raingear, even in steep and rough terrain. I was thoroughly impressed and can't wait to try out KUIU's cold-weather gear on a mid-Asian ibex hunt I have planned. I expect it will perform flawlessly.
Editor's note: Tim Herald is an owner and hunt consultant at Worldwide Trophy Adventures (WTA). To book this or any other high-quality hunt anywhere in the world, contact Tim at [email protected]. WTA's services are free; WTA is paid directly by the outfitter, and your hunt cost is the same whether you book directly with an outfitter or through WTA.