My annual pilgrimage began with a 3-hour flight from my home in Minnesota to the 2018 SHOT Show in Las Vegas. For someone who loves his job and has a passion for hunting, shooting and the outdoors, I knew that the next 5 days would be a lot of fun. But in all honesty, it's a heck of a lot of work, too.
I'm not looking for sympathy, because I know many of you reading this would pay a good deal of money just for the chance to attend this one-of-a-kind industry-only event. After all, it's the biggest show of its type in the world, so I'm always careful to tell my hunting buddies that "I get to go to the SHOT Show," and not "I have to go to the SHOT Show."
If the title to this article caught your eye, then I better get right to it before you begin snoring like the guy sitting two seats away. (I think he had too much to drink while trying to forget about what happened recently to Minnesota's beloved Vikings. Ouch!)

SHOT Show: 3 Things I Love
1. Industry Day at the Range: My 2018 SHOT Show experience officially began this morning when I boarded a bus in route to the Boulder Rifle & Pistol Club to attend what most of us writers/editors simply call Range Day (below). As a hunter, I was more interested in seeing the new guns, ammo and other gear being shown for targeting game, but I still have an appreciation for the large quantity of products showcased with a law enforcement theme. Range Day began at 8:30 a.m. and wrapped up just minutes ago at 4:30 p.m., so there was plenty of time to visit multiple shooting stations. Ammo was unlimited (picture pallets of ammo!), so unless there's a line of guests waiting to shoot a new rifle, handgun or shotgun, you can pretty much keep pulling the trigger. Not gonna lie, it was awesome.

So, just how big is this event/range? More than 200 companies exhibit on Range Day 2018, and depending on exactly how you count, there's at least 30 active shooting stations. That said, on most of these stations, a half-dozen persons or more can be safely firing at the same time, so it's not an exaggeration to say that at any one time, there's hundreds of visitors pulling the trigger. Ear protection is a must 100 percent of the time. You put on ear muffs or insert ear plugs the moment you step off the bus, and you keep them on even while eating lunch in the hospitality tents. It's loud — constantly.

2. Honor and Respect for the U.S. Military: Of course, in addition to showcasing everything imaginable for hunters and law enforcement, you don't have to look far to find current and former members of the U.S. Military. SHOT Show does a good job (in my opinion) of not getting bogged down in partisan politics, but it makes no apology for its pro-military stance. In fact, it's the booth appearances by former members of the military that draw the longest lines.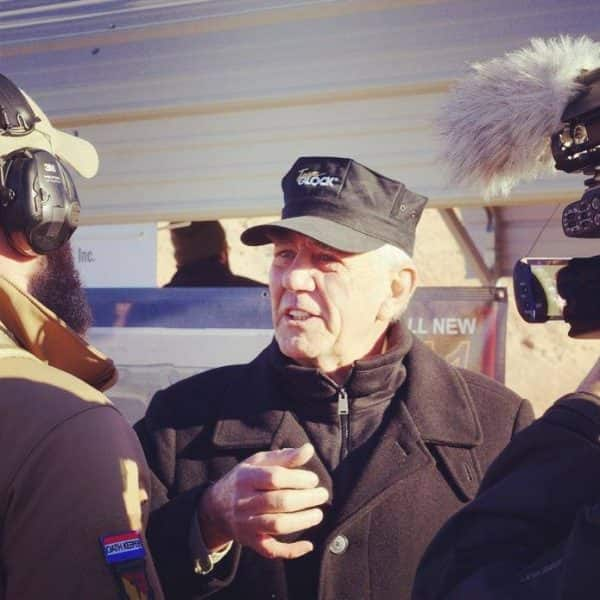 3. Made-in-the-USA Products: I understand that in today's world, companies often must look overseas to find cost-effective ways to manufacturer certain products. That said, I can't help but stop and talk to those company owners and staff members who have found a way to proudly put "Made in the USA" on their gear. I like to showcase those companies and products on OutdoorHub, and during the next week at SHOT, I look forward to finding even more items made by American workers on American soil. I'm happy to report that I found a good number of USA-made products during 2018 Industry Day at the Range.

SHOT Show: 1 Thing I Hate
Instead of saving the best for last, I'm saving the worst. Perhaps "hate" is too strong a word, but I wrote it, so I'll own it. The one thing I hate at SHOT Show is the never-ending trend toward taking longer and longer shots on animals with rifles and archery equipment. You hear it when listening to manufacturer's reps as they talk about their latest long-range rifle or optic, and you certainly hear it when so-called experts are boasting about the recent record-book animal they tagged with either gun or bow.
Animals aren't paper, steel or foam targets, and we as hunters have no business pushing the limits on shooting at them. So, how far is too far? In my opinion, if an animal takes an unexpected step while you press the rifle trigger or release an arrow, and that resulting step can result in a less-than-perfect hit, then you have no business shooting. Period.
Now, I know what you're thinking: That means gun hunters wouldn't shoot beyond about 250 yards on game, and bowhunter would be limited to about 30 yards. Exactly.
It sickens me to see "marksmen" guess-timate the wind and then take 600-, 700- and even 800- yard shots on big game. If their wind call is wrong, or if the animal takes a step while the shooter is pressing the trigger to the rear, the result is a gut-shot animal. And of course, these errant shots end up being cleverly edited out of the TV show.
Let's remember — it's called hunting. If you want to puff out your chest and impress your buddies, try this: If you spot a big bull elk at 600 yards, instead of going prone and pulling out your wind meter and smartphone ballistic app, see if you can sneak inside of 60 yards before sending the bullet on its way.
Bowhunters: If the buck you've been pursuing all fall steps onto your food plot at 55 yards, in my opinion, he's won that battle. I don't care if you can hit a poker chip repeatedly at the range at 60 yards, and a softball-sized circle at 100. If the buck takes a big stride just as you squeeze your mechanical release, then the result will be ugly.
Improvements in gear is fantastic, but that doesn't mean we must continually extend our shooting range. It's okay not to shoot. It's okay to come home empty-handed. It's called hunting.

Images by Dave Maas
What's Your Reaction?