Along with Mossberg's model 500, the Remington 870 is perhaps the most popular pump action shotgun in the world.  Both have a wealth of aftermarket products to make them wonderfully versatile and are very reliable scattergun platforms that the market has to offer.  Remington's contribution, however, often comes in at a bit more of a MSRP premium than the Mossberg and this is often seen as a sign of its superior quality.
While it is true that Remingtons tend to "rattle" less than their competitors, a feature many deer stalkers can understandably appreciate, those using a shotgun for tactical or clay sporting purposes often opt for the Remington.  Thus far it appears this is because quality and dependability, once found, are simply features on which both company and consumer will not compromise.
Remington Arms started in New York in 1816 when 23 year old Eliphalet Remington chose to make his own rifle for a shooting competition.  While he did not win the competition, he did win the attention of his competitors and received multiple orders for similar custom rifles that very day.  The rest, as the lazy writers like to say, is history.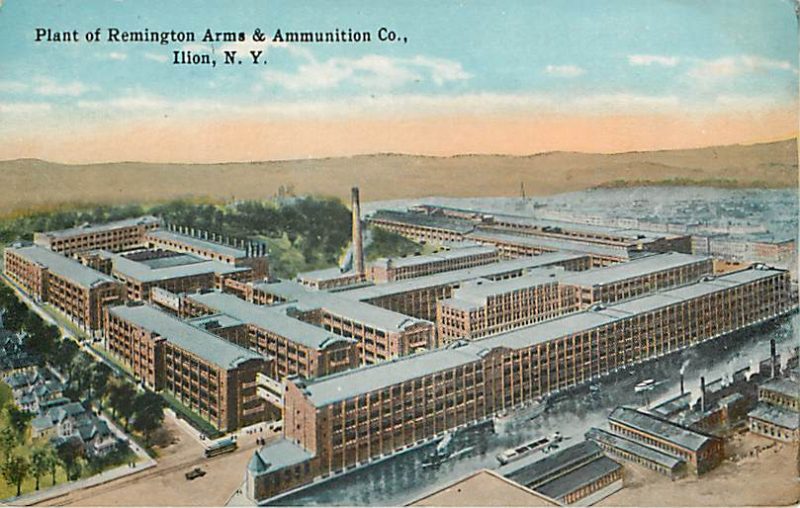 Remington began manufacturing pump action shotguns at the turn of the 20th century.  The movement away from reliable double barreled models was probably encouraged most by law enforcement wanting more than two rounds.  This trend was certainly encouraged by America's involvement in World War I where, not having invested much in rapid firing guns and learning of the benefits of fire superiority from the muzzles of German guns in the trenches of France, the US Army issued …shotguns.
While the legality of their use in combat was questioned under certain principles of the Geneva and Hague Conventions, their effectiveness in battle was not.  Remington's contribution to the effort, the Model 10, was introduced as a sporting gun in 1908 and quickly reconditioned for military use.  While quite fetching with its wooden heatshield, the "trench gun" version of the 10's were less favored than Winchester's popular Model 1897.  Both were easily converted for war, but Remington's action proved finicky when it came to getting dirty and prone to breakage in the rough use of hellish combat conditions.  This research led to the 10 being rereleased with improvements in 1930 as the rechristened Model 29, but other models were in the works.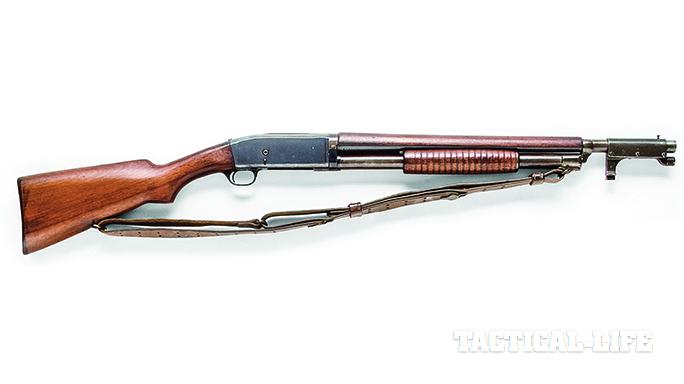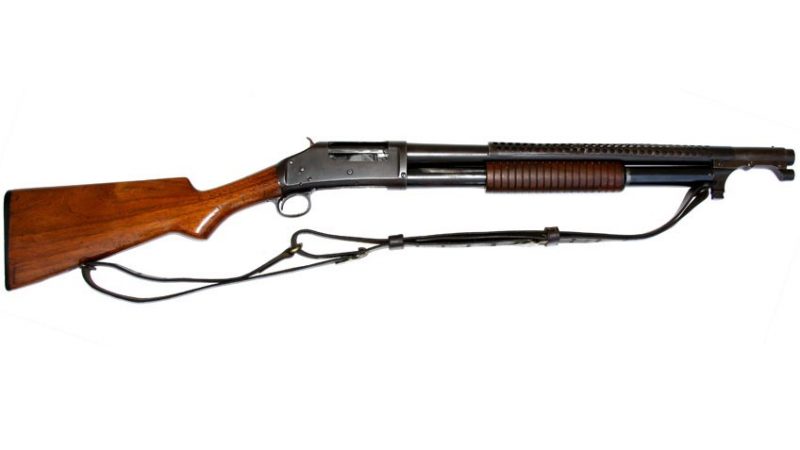 John Browning designed Remington's Model 17, which was also a bottom fed and eject pump action.  Thus far Remington only produced bottom eject models which were equally comfortable for both right and left-handed shooters.  Introduced in 1915 it faced too many production issues to be made for use in the war.  It was also only available in 20 gauge – a blessing for recoil sensitives but a nightmare for logistics – so battle testing was never likely anyway.  Never the less the Model 17 served as a stepping stone for Remington in making a more durable and effective shotgun: Remington's Model 31.  Further this design also inspired Ithaca's 37 and Browning Firearm's BPS; both of which are sought after by southpaws to this day.

While the Model 31 was commercially well received, it was not exactly commercially successful.  Remington won some contracts with the Federal Bureau of Investigation which was buying up lots of arms in the age of Prohibition and the bank robbers of the 1930's, production barely exceeded 200,000.  While Winchester, their primary competitor, remained ahead of the sales curve with their old Model 1897 and their Model 12.  Remington, wanting that position, returned to the drawing board for something new.
In 1950 Remington introduced a new model shotgun: to make a more maintenance accessible receiver, the bottom ejection feature was dropped in favor of a right-side ejection port.  The action was strengthened with two transfer bars to reduce binding in operating the action.  The barrel was easily removable for both cleaning and replacement of different lengths and types.  The fire control group shared several features and components with Remington's 760/7600 series of pump action rifles encouraging shooter familiarity as well as streamlining costs.
What sold the gun to consumers, however, was its reliability.  The Remington 870 can take a lot of abuse and simply continued working.  Part interchangeability – in addition to sharing parts with the 760/7600 rifles, it also shared parts with the Remington 11-87 semi auto shotgun – meant it was also easy to work on by laymen with a copy of the schematic.  It was a shotgun made for rough use and easily adaptable to any purpose from sporting to police to combat with the same receiver.
While it may have taken Remington almost half a century to find a pump shotgun that was a commercial success, find one they did: with nearly a million guns sold every decade for thirty years, sales then doubled between 1983 and 1996 to seven million when the "Express" was released.  It was meant as an alternative to the original "Wingmaster" with a lower price tag.  Another thirteen years sold another 3 million guns.

By that point, Remington had produced many variants of the 870 in 12, 16 and 20 gauges with 28 and .410 gauge versions introduced for a time in 1969.  Around the same time the Mark 1 variant was adopted by the US Marine Corp that had a 12ga 21" barrel and matching length magazine tube for a 7+1 shot capacity.  It also had a mount to accommodate the standard issue M7 bayonet.  The model is still general issue.
Another service variant – outside of hunting applications – is the Police model.  Issued with a stronger extractor and sear and latch springs, it is chambered for up to 3" shells and has a shorter forearm to allow inspection of the loading port, even with the action open – standard length models can block the port in that position.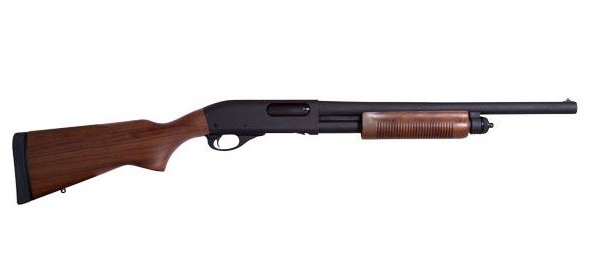 Today, besides the great many sporting variants for hunting, skeet and trap, the two most interesting if not popular variants include the Modular Combat Shotgun (MCS) which is capable of quickly adapting grips and barrel lengths for different applications and the Tac-14.  The Tac-14 physically appears as a sawed-off shotgun with birds-head grip and 14" barrel.  However, as this is manufactured this way,  the ATF does not consider it a shotgun or a pistol, therefor falling under the designation of "other" on the Federal 4473 Form.  While the ATF has ruled it not a classified Any Other Weapon (AOW), individual states may differ.  While its compactness leads to experiences of increased recoil, its also lends itself to more options of storage and carry with proven action reliability.  Plus, it's cute.
In 2020 the Remington 870 will celebrate its 70th anniversary – the 4th and most recent generation of Remington pump actions – and shows no sign of slowing down.  In fact, the design has been copied both under and out of license since the patent expired.  If imitation is the sincerest form of flattery, it is also the market standard of technological success.  There are plenty of choices for pump action shotguns in the world, yet the 870 maintains a popular lead with shooters who know they have choices.  It took some tweaking, but history proves Remington found a commercial and field-tested winner.