Catfish are among the most difficult kinds of fish to catch. It's not that they're all that difficult to bait or to lure.  It's that then you do catch them, they can be very difficult to reel in. Thats why the perfect fishing rod for catfish is vital.
Catfish are powerful fish that aren't going to be reeled in without a fight.  They can also grow to be of great sizes depending on the subspecies, with some attaining lengths of several feet and weights of several hundred pounds.
For this reason, you will need to use fishing rods that are made specifically for catfish.
Qualities To Look For In Fishing Rods For Catfish
There are a number of factors that you will need to look for in fishing rods for catfish.
These include:
THE LENGTH
You're going to want a longer fishing rod for catfish, one that at least six feet long (seven to nine feet long may be even more preferable).
Even though this may be a longer fishing rod than what you are typically used to, the benefit here is it will give you much greater control when attempting to reel in your fish.  The larger the catfish especially, the longer the fishing rod is going to need to be.
BUILD MATERIAL
Fishing rods for catfish are typically made using two materials: graphite or fiberglass (or in some cases a combination of the two).
Any of these options will certainly work for cat fish, though they are hardly the same thing either.  For instance, fiber glass is very durable and strong, but graphite rods will help you to detect vibrations in the event of a small nibble.
Fishing rods that combine both materials into one may be a better choice because they give you the best of both words, and are therefore often the first choice for professional anglers.
POWER
When you buy a fishing rod for catfish, first find out what rating it has for power.  Fishing rods can be rated for medium, heavy, or medium heavy power.
Generally speaking, for catfish, you'll want a fishing rod that is rated for medium heavy power at the minimum.
3 Best Fishing Rods For Catfish
Now that we know what to look for in fishing rods for catfish, let's dive into three specific fishing rods that possess those qualities:
EAGLE CLAW CATCLAW CASTING ROD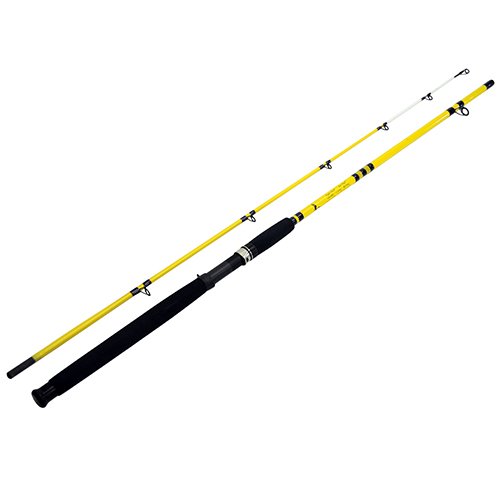 The Catclaw Casting Rod from Eagle Claw is designed to be very user friendly while simultaneously being strong enough to reel in a large sized catfish.
It's built out of aluminum oxide with a graphite reel seat to give you proper balance and durability.  The EVA foam handles are equally as comfortable as they are adept at giving you a firm grip.
Total length of this rod is eight feet, which is on the larger side even for a fishing rod meant for catfish, but on the other side of things it's also priced much more cheaply than many of its competitors as well.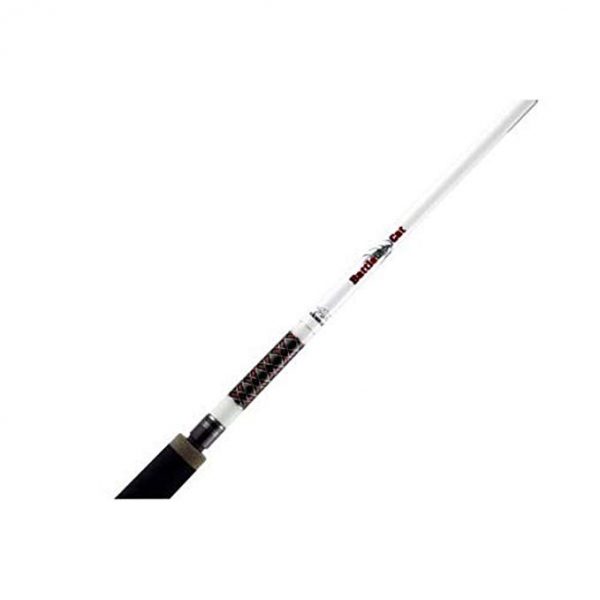 The Okuma Battle Cat is a professional catfish rod that is designed to catch the largest catfish imaginable.
To this end, it's built out of a very strong and durable E glass rod with stainless steel guides.  The grip is built using an EVA material that makes it easy to hold onto the rod in slippery conditions (which is bound to happen when you're near the water).  This rod is also very sensitive so you can detect vibrations from smaller bites.
On the other hand, though, this rod is also on the higher end when it comes to cost, so you can expect to pay a premium price for a premium product.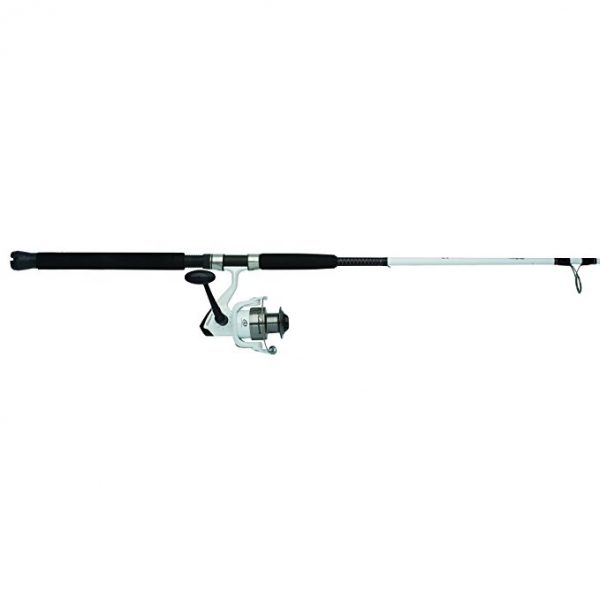 The Catfish Spinning Combo is one example of several fishing rods for catfish in the Ugly Stik line.  The Catfish Spinning Combo in particular is built for durability, and to this end comes installed with two stainless steel guides that make it easy to cast, as well as over sized knobs to give you more control when attempting to reel in your catch.
The major negative aspect to this fishing rod is the fact that it's on the larger side of things, so transpiration (such as in a vehicle or through the woods) may be more difficult.