Have you just purchased a bow? If so, there are a number of bow accessories that you are going to need to buy for it as well, and that's what we're going to talk about today.
From an arrow rests such as the X-TremeFC arrow rest to a bow press such as the Xpress bow press to bow sights and TruGlo quivers and wrist slings, you're going to have to spend more money on things that go beyond the bow and the arrows.
Here are the top bow accessories that you need to pick up for the upcoming season:
Arrow Rest
An arrow rest is absolutely necessary for compound bows. The arrow rests hold the arrow and guide it from the bow as it is fired, which helps you make more accurate and precise shots.
One of the most popular types of arrow rests is the drop away arrow rest such as the kind made by New Archery, which holds onto your arrow until the drawn string has been released. When the string is released, the rest drops away because the string pushes it away.
Another type of arrow rest is the containment arrow rest, such as the X-TremeFC arrow rest, which holds onto your arrow in place in any situation. As a result, the arrow remains fully secure.
Bow Sights
Assuming you're not Robin Hood or an equivalent shooter, you're most likely going to need bow sights.  As with firearms, sights on your bow will really help to improve your accuracy.
That being said, not all sights are created equally, and some are meant for competition use while others are more for hunting use.
A good all-round sight, however, would be the RedHead Kryptic bow sight. This gives you three different bright fiber optic pins that make it easy to sight in at three different distances.  You can choose the distances yourself, but most bow users would go with twenty and then thirty and then forty yards.
Quiver
The best type of arrow quiver to have will be one that attaches to the side of your bow like the TruGlo Tru-Tec arrow quiver, which holds up to five aluminum or carbon steel arrows.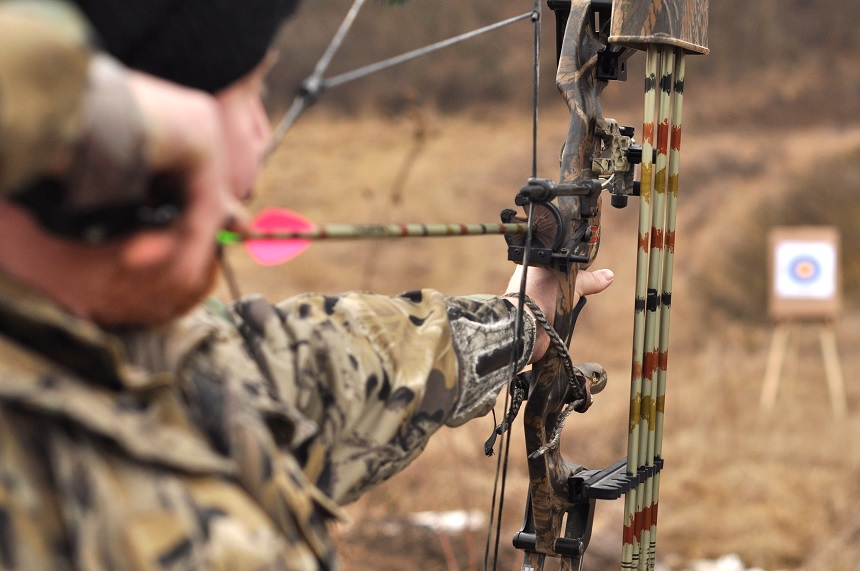 You'll also want to make sure that your quiver has a hood to keep the arrows covered, and you'll also want to make sure that it can accommodate both broad heads and field points. Making sure that the quiver can attach very securely to your bow without any wiggle room at all will also be critically important.
Two more qualities to look for in an arrow quiver will be for it to be vibration free and lightweight. The last thing you will want is a quiver that's only going to slow you down and one that's going to make a lot of noise while you're out hunting.
Wrist Sling
A difficult technique for novice bow hunters to master especially is gripping the bow loosely enough. Yes, you want a tight grip, but not tight enough so that your accuracy is thrown off.
This is where having a wrist sling would come in handy, as it allows you to gently grip the bow while still getting a firm hold to make a relaxed and accurate shot. The more comfortable and gentle you are when holding your bow, the more accurate your shot will be.
So, there you have it. From the XTremeFC arrow rests to the Xpress Bow Press to the RedHead Kryptic Bow Sight to the TruGlo quiver to a wrist sling, these are the top additional accessories that you are going to need for your bow.
Bow Press
The next accessory you are going to need is a bow press, which is designed to flex the limbs of the bow so tension is removed from the string and cables, allowing you to work on maintaining the bow. An example of a bow press you could buy is the Xpress Bow Press, which is one of the finest on the market.
Bow presses are easy to us. To use one, you simply need to press the end of one of the bow's limbs into the presser finger while holding the bow horizontally. You can then crank the hand wheel to compress the fingers against the limb of the bow.