Bond Arms Derringer, a unique choice for concealed carry
Terry Nelson 09.26.18

In the last couple of years I've had the opportunity to test a handgun that I have had little previous experience with–the derringer. I crossed paths with the folks from Bond Arms in the fall of 2016 at a media event in Florida and again in Fort Worth, Texas in fall 2017 including a factory tour with owner Gordon Bond. A homegrown company based in Granbury, Texas, Bond Arms builds derringers with a wide variety of options. Although, a derringer is not my first choice for a carry gun, I admit there are certain carry circumstances where the derringer fits the bill perfectly. The derringers built by Bond Arms are top notch and would be my choice if I had the need to carry this type of handgun.
Perhaps one of the greatest assets of the Bond derringers is the fact that you can easily switch barrels, and calibers, in a matter of a minute or so. Bond Arms graciously provided their Backup model in 45 ACP and 9mm for testing. Along with those two additional barrels were provided: 45 Long Colt/410 and 22 Magnum. Additional barrels are an added option for all Bond Arms Derringers.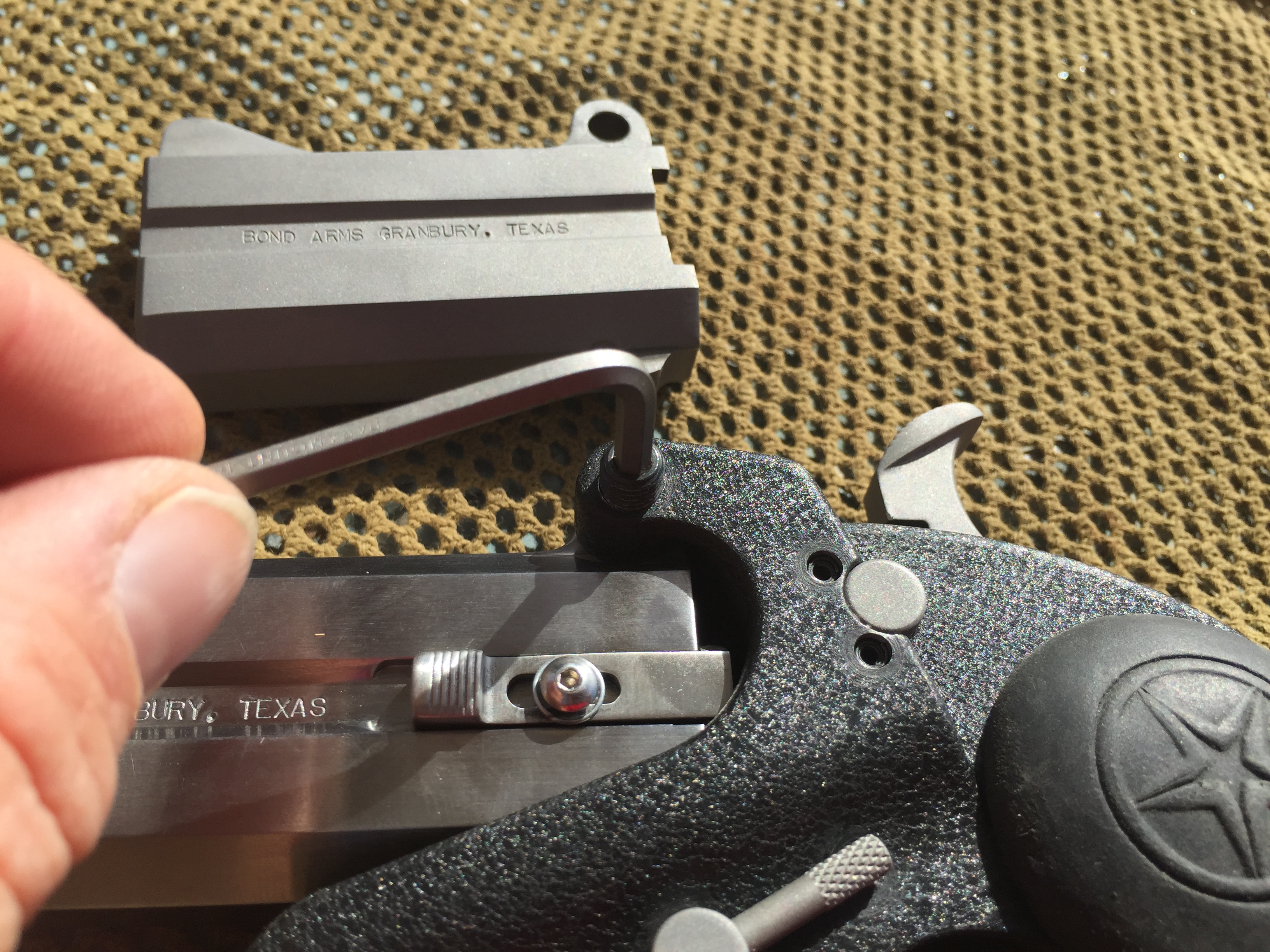 The Backup has a tactical look, with a gray bead blasted textured frame in a 2.5-inch barrel and black rubberized grips. These derringers are an over and under barrel two shot system and while the company does make models without a trigger guard, I liked the fact that the Backup model has one.
At 18.5 ounces, the Backup has some heft which is good considering the recoil felt from 45ACP exiting a 2.5-inch barrel. While not excessive, the recoil is noticeable but manageable with both the 45 ACP and the 45 Long Colt/410 in a 4.25-inch barrel. The 9mm and 22 magnum calibers were both very easy to handle when it comes to recoil. A nice option offered by the company is an oversized black rubberized grip that I would highly recommend for use with the larger caliber barrels.
In my testing at 7 yards, all shots from both the top and bottom barrel from all four barrels on the Backup model were within defensive accuracy standards, easily within an eight inch target area.
Bond has a wide variety of barrels from 2.5 to 6 inches in both a bead blasted matt and stainless finish. In addition they now offer Mag-Na-Port brand barrels for .357/.38 and .45/410.  In all, there are 18 different calibers and over 36 barrels to choose from. This hammer fired derringer also has a cross bolt style safety and a pronounced front sight. Additional barrels/calibers vary in price from $130 to $375 depending on barrel length and finish.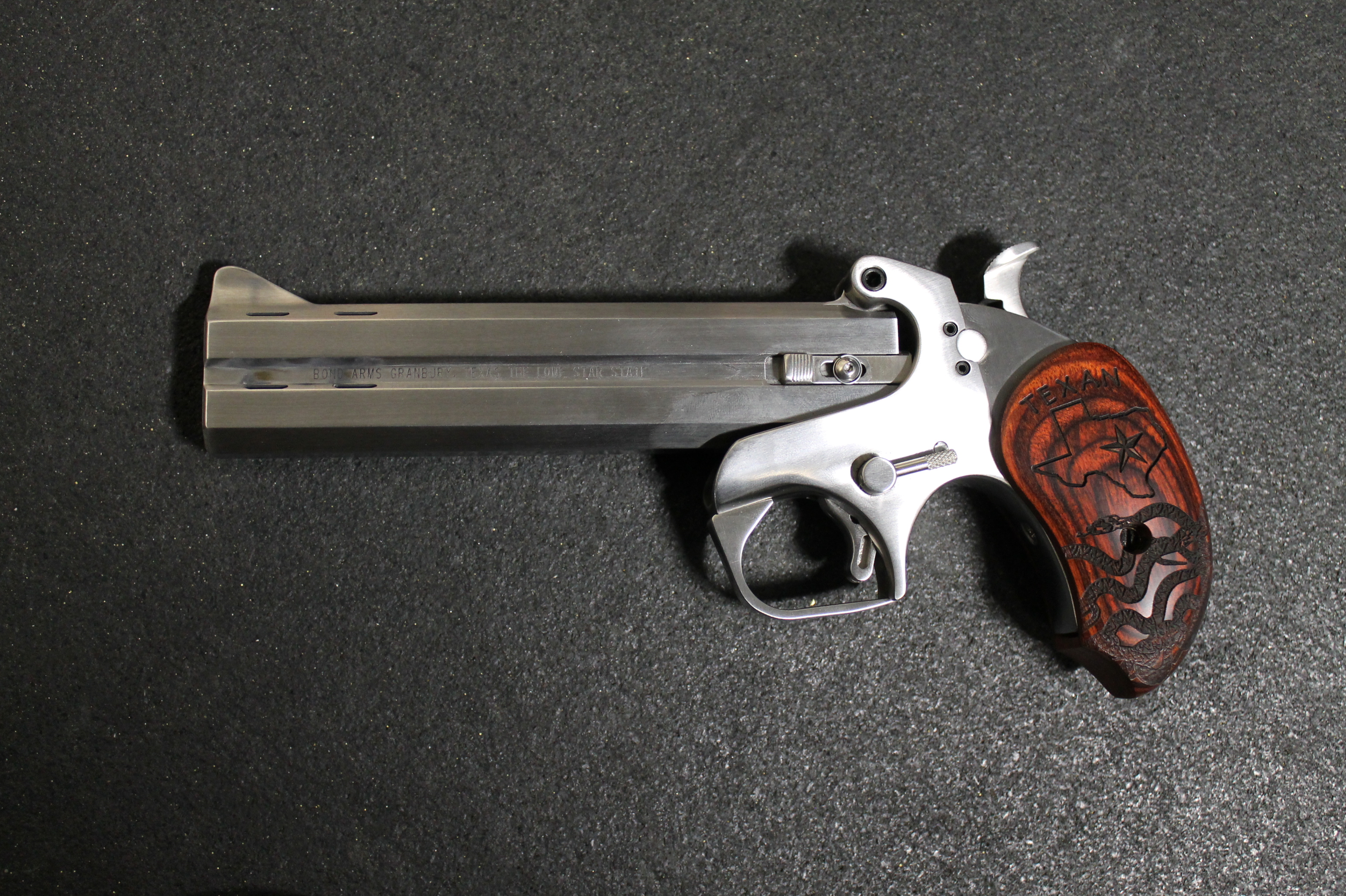 Some advantages of a derringer, which by the way is one of the oldest gun designs in the world, are fairly obvious. Concealability, ease of carry and convenience being some of the most straight forward. The ability of changing barrels and calibers with a Bond Derringer in an instant cannot be over looked either. The company offers a variety of nice leather holsters as an added option for all of their derringers.
Some folks may consider having to manually cock the hammer and defeat the safety before firing of the derringer platform a disadvantage. Also, if utilizing pocket carry for concealment, hammer snag could become a concern in getting the gun into play. The shooter must be cognizant of the short barrel options and keeping hands and fingers out of the way when getting the derringer out and firing in a hurry.
MSRP on the Bond Arms Backup is currently $490. As a pocket or last ditch gun, Bond Arms Derringers provide an alternate choice for folks that may not be able to carry a small revolver or semiauto. It is perhaps one of the most overlooked options for concealed carry today. Bond Arms now also offers a very compact 9mm semi auto, the Bond Bullpup 9 worthy of consideration. You can check out this company at bondarms.com