Saskatchewan Trophy Pike – Everything you need to know about hooking a northern monster
OutdoorHub Reporters 02.07.19

Back-trolling into an old oxbow of the Cree River, I stood on the front casting deck and quickly scanned the calm water for torpedo-shaped pike hugging the bottom or edges. The slack water was much warmer than the main channel, and the pike liked to sit in the sun to help them digest big meals as quickly as possible. For a big fish, it was like stopping in at the spa after a day of hard work.A huge shadow lurked near the bank, and I bristled with excitement.
Gingerly stripping line off my reel, without taking my eyes off the prize, a calculation was made to offer the fish a meal it just couldn't refuse. A fluent back cast allowed me to place my fly prominently in front of the unsuspecting fish. My flash-eyed whistler, with long strands of hair and flashabou pulsed in the water as I stripped it forward. The sudden and seductive movements awakened the predator in the toothy monster below, and its tail swirled to push it forward.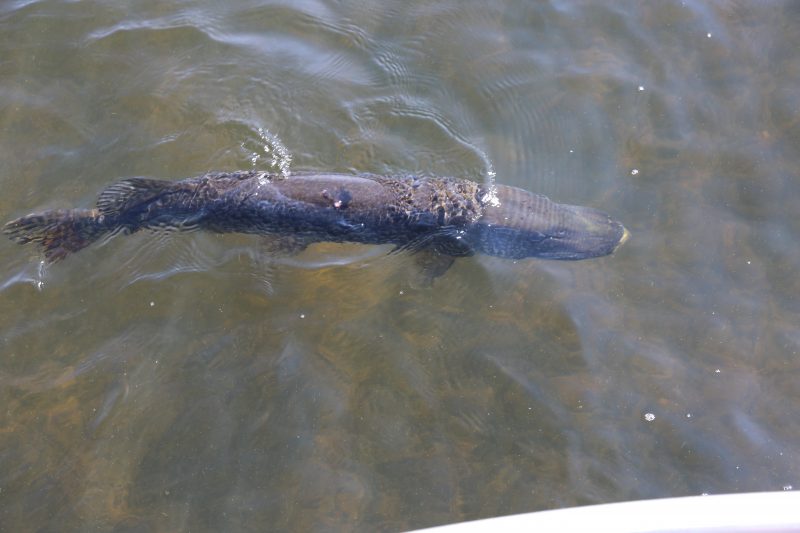 Trying to control my breathing, I stripped line as if I didn't know the fish was in hot pursuit. The monster pike was under the fly in no time and emerged behind it with mouth gaping open. In one fluid motion, the pike inhaled the fly and swirled to head back to her favorite lounging area. Lifting the rod tip tightened the slack out of the line, and the rod bent in a magical arch that let the fish know it was hooked.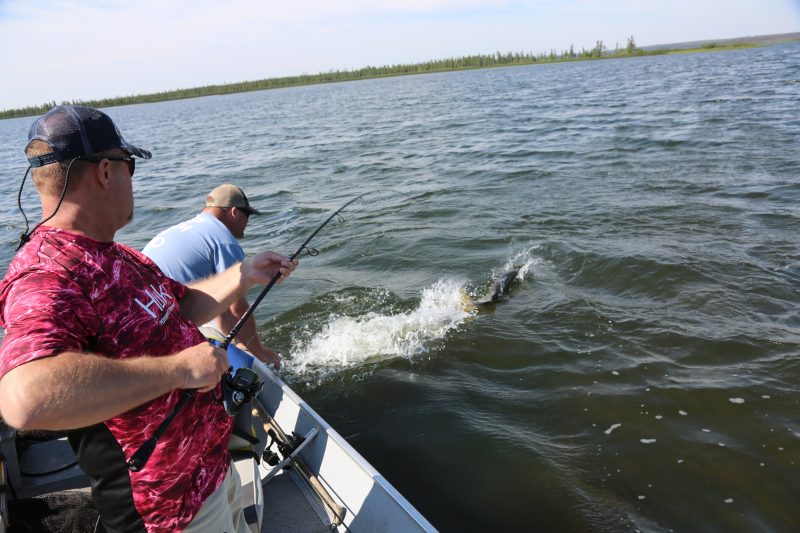 The small, quiet water exploded into a flurry of activity. The big fish darted from corner to corner with reckless abandon to dislodge the hook. The water was pummeled into a frothy swirl as the fish got into the shallows and used its tail to power across the surface. Patience and a tight line eventually brought the fish boat-side, where we took a few pictures, obtained an accurate measurement, and sent the old girl back into her watery kingdom.
To say catching trophy pike is an angler's thrill beyond expectation is an understatement. The exhilaration and heart-racing action are rekindled every time you think back to the incredible experience.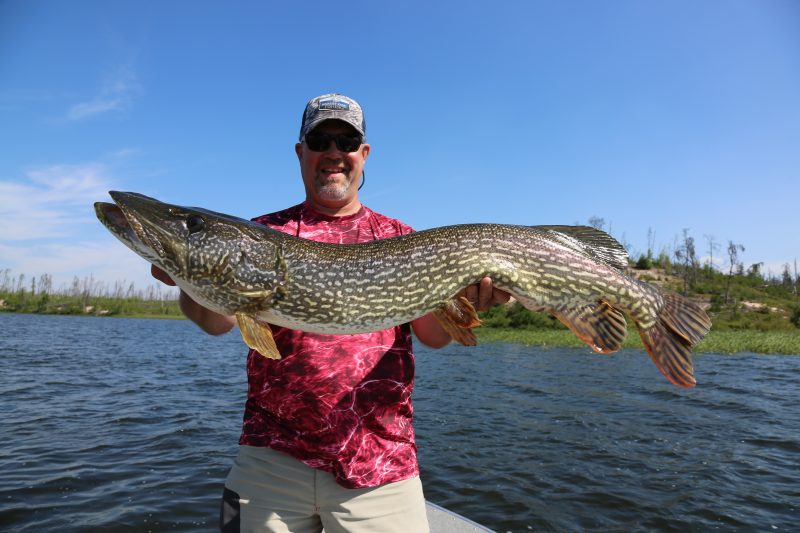 Saskatchewan is a province in Canada located north of Montana and North Dakota. It stretches over 251,000 square miles, between the U.S. northern border and the 60th parallel, or border between Saskatchewan and the Northwest Territories.
There is an old joke that Saskatchewan is easier to draw than it is to spell or pronounce. The etymology of the word "Saskatchewan" is derived from the Cree name for the Saskatchewan River, which was "Kisiskatchewanisipi," meaning "swift-flowing river." Over time, this eight-syllable name was shortened to Saskatchewan. To an angler, the meaning of the word relates directly to fish. From spring spawning to ice fishing into the winter, Saskatchewan has more water than an angler could fish in a lifetime.
Water is life, and Saskatchewan has lots of it. There are roughly 100,000 lakes and rivers in the province, with about 23,000 square miles of freshwater waiting to be explored. There are thousands of camps, lodges, parks, and boat launches in some of the most remote wilderness most people will ever experience. Catching fish is usually not a problem, but there are a few secrets to targeting the big ones. Here are a few things to consider when hunting trophy pike.
Flowing Water
Flowing water is a magnet for big pike. Creeks and streams flowing in and out of lakes are natural staging and feeding areas for northern pike. Don't let initial assessments fool you, in most instances, the locations didn't look like great fish habitat, but with a little exploration, it doesn't take long to find out that the shallow, moving water attracts big fish.
Most outlets are shallow, and the flowing water carves a defined channel in the bottom, often exposing rocks. The shorelines are usually shallow and have some form of emergent vegetation. Casting into the water exiting the lake it usually doesn't take long to determine if fish are there. Pike position themselves to take advantage of the moving water and react quickly to bait that flashes past.
Fish the deep-water channel, if noticeable, for actively feeding fish. However, most fish only feed for short periods during the day and then spend most of their time along the flanks of the outlet in water that isn't moving. Deep zones with boulders can be dynamite, and the shallow fringe along the shore with emergent vegetation can also be very productive. If there is a deep-water area in the main lake adjacent to the outlet it is always worth fishing.
The unique thing about flowing water is that it will hold big pike throughout the entire angling season. Big pike are cold water creatures that don't tolerate shallow, warm water during the summer months. Most of the time the big fish are located in deep water drop-offs adjacent to good feeding areas. The flowing water helps provide the oxygen and temperature range that these big fish are seeking. Having an abundance of readily accessible feed is likely the biggest calling card for pike at the top of the food chain.
Most lakes in Saskatchewan are located in the Canadian Shield, which means there is lots of exposed granite, and obscure shorelines. It is common to have areas within a lake that form narrows and simple wave action will force water to flow through these funnels. Windy days would be the best times to fish these areas and having details on the waterbody you intend to fish will increase your odds of finding big fish.
If at first you don't succeed, make sure you try again. Hit the prime location and if you catch a couple of big ones, return to the same spot two or three times a day allowing new fish to cycle in and out. A hot spot is a place trophy pike will return to when hungry, so you need to be there when the right fish is lurking below. Being persistent and working the prime spots at different times of the day can mean the difference between success and thinking the spot doesn't hold fish.
Anyone that likes to fish rivers will be able to relate to the importance of timing. Rivers are the ultimate flowing water fish attractant but finding the right spot can be difficult. Pike will laze around in the calm water behind rocky points or shallow backwater areas until they want to start feeding. Moving to the edge of the current line or the confluence of another creek or river allows the fish to target prime feeding locations, fill up, and return to the quiet calm waters they usually call home. Targeting old oxbows and exploring rocky points and shoals can put you on fish that are resting but finding prime feeding locations can provide explosive action.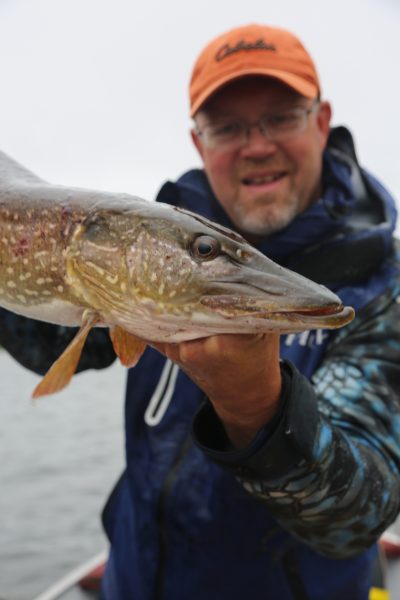 They Like it Cold
Summer is prime time for catching trophy pike. The cold-blooded creatures can digest food fast, meaning they actively feed more often than any other time of the year. Preferring cold water, big pike often sit in deep water, moving up to productive shallow areas to feed. Finding prime feeding areas adjacent to deep water hangouts will keep you catching fish all summer.
Weed beds are another great type of structure to find trophy pike. The shade produced by the leafy vegetation is enough to keep the water at preferred temperatures. Working the edges of large weed beds by casting or trolling can generate explosive action.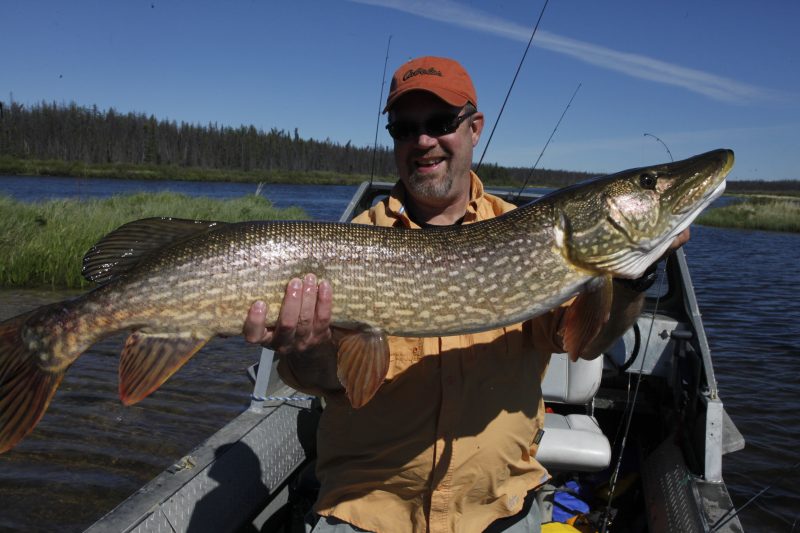 Tackle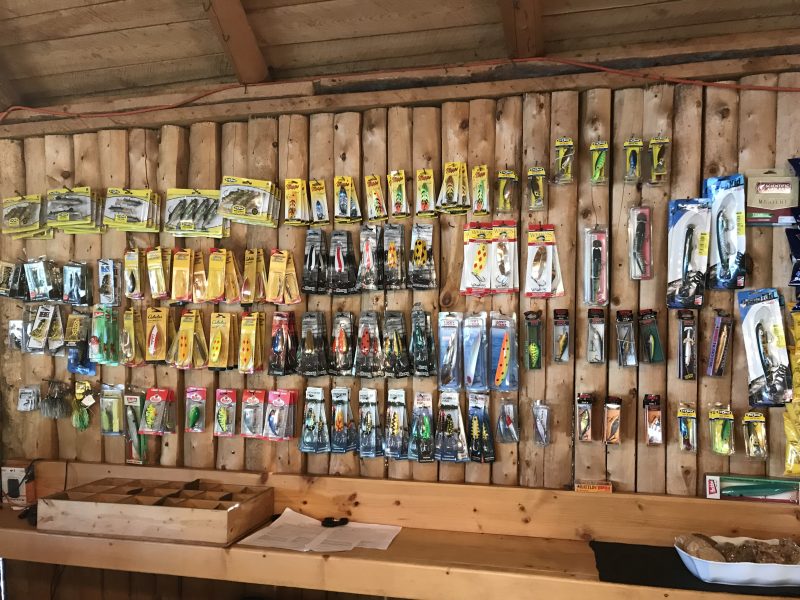 Spoons have always been a favorite for anyone hunting big pike. They have all of the fish attracting qualities that can trigger a big pike to strike. The color, flash, and vibration generated by a spoon swaying back and forth in the water will bring pike from a distance. And, part of the fun is trying to figure out if the local fish want the biggest spoon in your tackle box or if the heavier ones are more of a trigger.
Use jigs if the action slows down. Make sure to use enough weight to get you to the bottom, and soft plastic bodies in white, purple and yellow are good bets. Fish the bigger soft-plastic bodies with a twister tail for best action.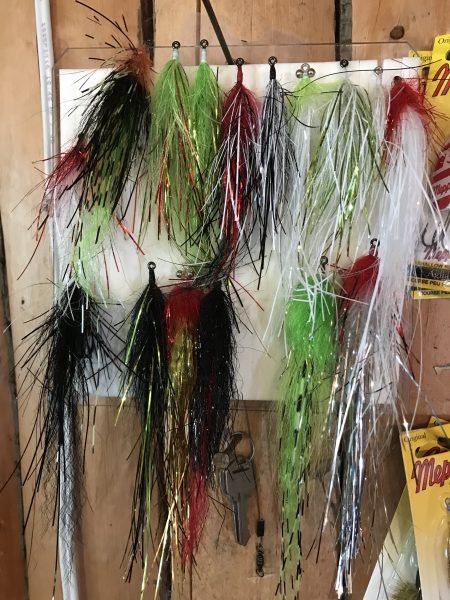 Spinners are often overlooked by anglers but are big fish catching weapons. If you ever need to wake things up, try a big Mepps spinner.
The shallow water areas adjacent to flowing water often hold lots of baitfish. Crankbaits that imitate small whitefish and perch can be outstanding. The Rapala Husky Jerk or Original Floating Minnow are always great pike options.
Fly fishing enthusiasts will love the arm-stretching action trophy pike provide. There is something about a big pike fly that naturally draws the attention of big fish. Make sure to use a rod with lots of backbone, as big pike test all tackle to the breaking point. Backing on your reel is a must, and polarized glasses will help you sight fish, to make things even more exhilarating.
The only problem with fishing trophy pike in Saskatchewan is picking a single location. There are hundreds, if not thousands of destinations where you will catch trophy northerns.
Tourism Saskatchewan has a great website, where adventure-seeking anglers can explore their options for a do-it-yourself trip or a fully-guided package. To check out all the options, go to www.tourismsaskatchewan.com.