Hunt Quebec – Anticosti Whitetails – Part 3: The Hunt
Andy Husek 02.20.19

This fall, I spent an amazing week on a remote island located in the Gulf of St. Lawrence off Quebec's northeastern coast. The quarry was something very familiar to me – whitetail deer – however, hunting Anticosti whitetails – the most northeastern population of this animal – would prove to be very different than what I am used to here in my Midwest hometown.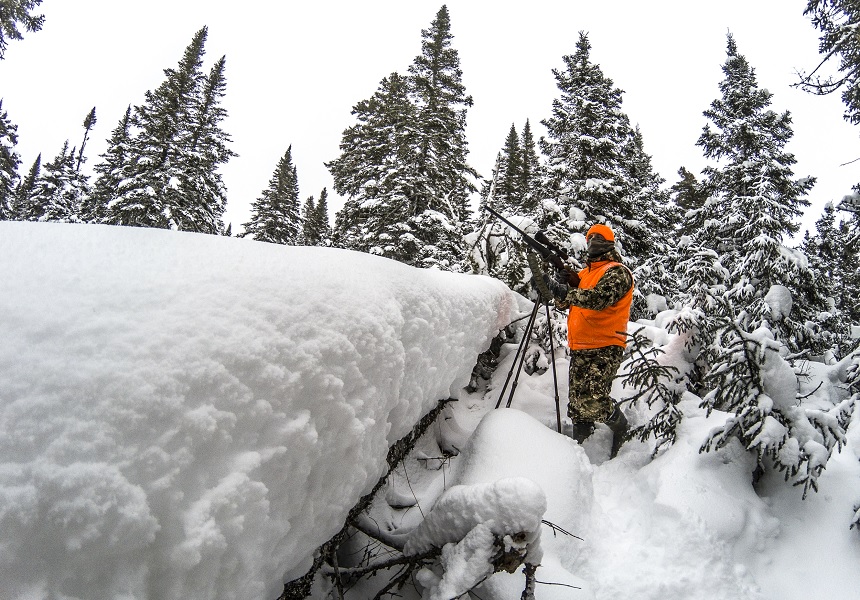 On day 1, we were greeted with about a foot of fresh pow, 5-degree Fahrenheit temps and sustained 40 MPH winds. A beautiful day for hunting right!? Well, when you embark on an out-of-state, or even out-of-country hunt, you can't control the weather and you can bet I was not just going to sit around the lodge all day long.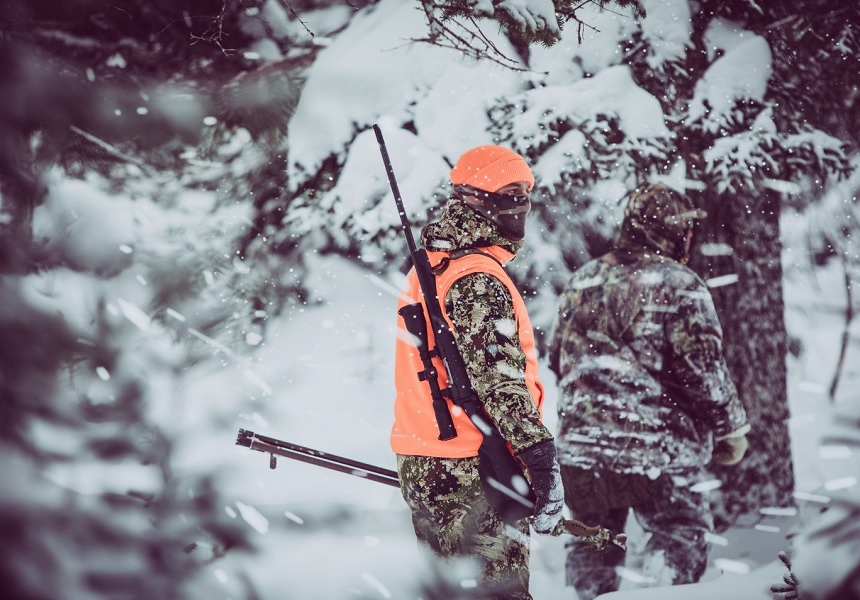 However, there would be no going to the ocean to hunt the beach – the sea, she was angry that day! Our best bet was sticking to the thickest timber we could find that got us out of the wind, and try to cut a fresh buck track.
That pretty much sums up the first day.. We saw a lot of deer but were offered no shot opportunities. The wind had the deer very spooked, well most of them.. there were some curious ones who seemed unsure why us humans weren't curled up on the couch watching TV!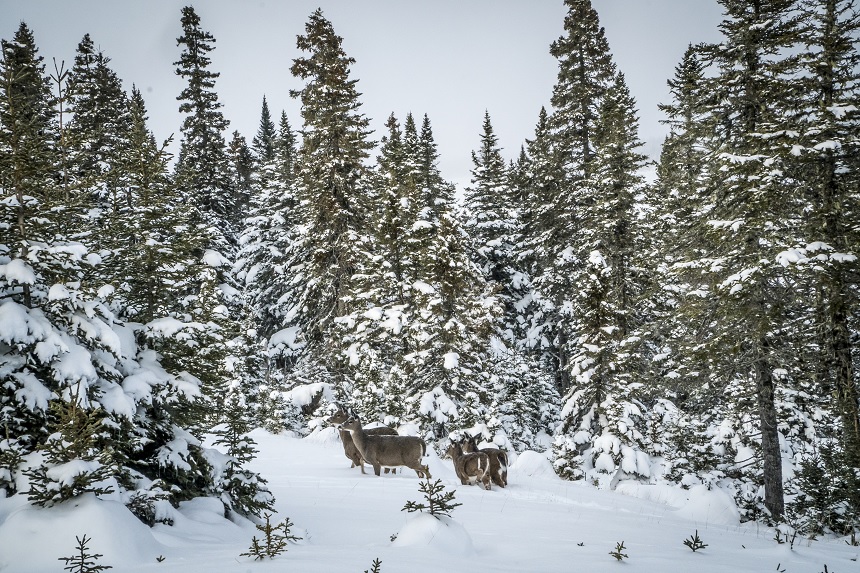 My guide, Bert, assured me this weather was very much not the norm, and that better days were surely on the horizon.
Boy was he right.
Day 2 was still cold and crisp, but the wind had died down to absolutely nothing. While the sun was just starting to peek up over the horizon, it almost felt tropical, compared to the previous day.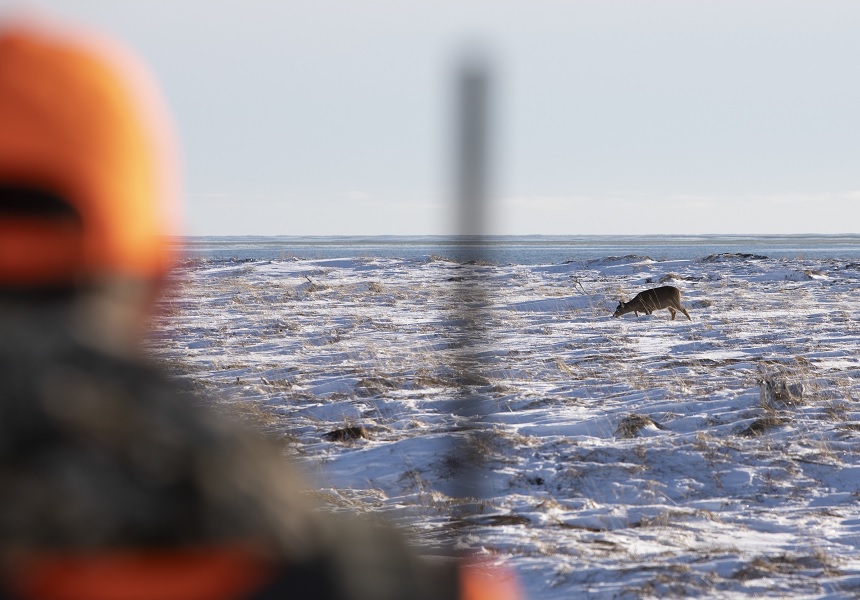 Now, I've become quite accustomed to sitting in a treestand well before daylight trying to intercept deer moving from feeding patches to their nocturnal beds. But that all went out the window when pursuing Anticosti whitetails. We weren't even leaving the lodge until it was already daylight!
With no natural predators on the island, these Anticosti whitetails definitely had a different mindset than the deer I'm used to chasing back in Michigan – They appeared totally calm and cool even when traveling more frequently during daylight hours.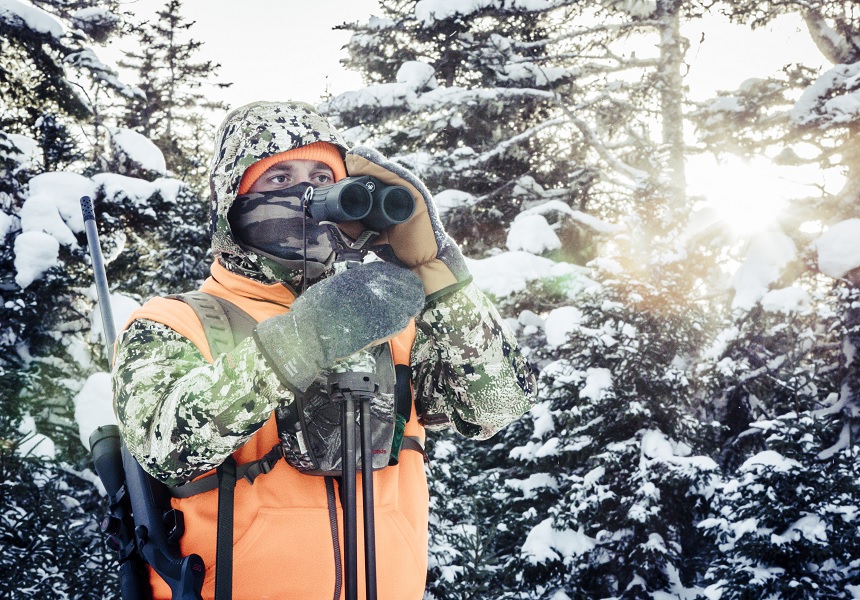 On this day, we were hunting a thick swamp, and according to Bert, it made no sense to go stomping around in the dark when we would not even be able to see or shoot.
No arguments here!
Once we arrived at our designated sector for the day, we began to slowly creep down the well-marked trail looking for fresh tracks in the snow and trying to find a buck to track or maybe even call in with the grunt tube or rattling antlers.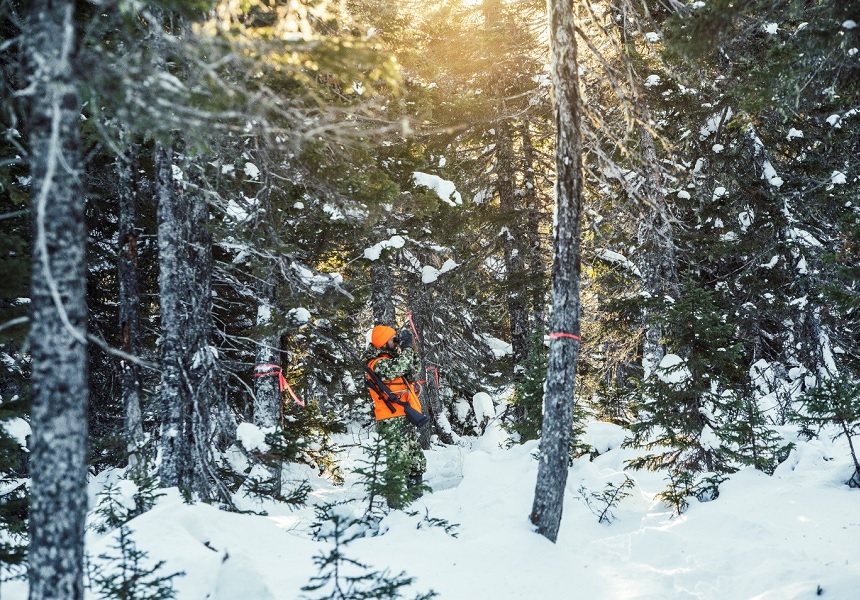 We had already seen several deer on the drive in, and not long after getting into stalking mode we came face to face with a beautiful buck. Unfortunately, he saw us at about the same time we saw him, and we were frozen in an all to familiar staring contest. Luckily, he either didn't know what we were, or curiosity got the best of him. I positioned my sticks, raised my rifle and took a quartering-to shot – I was very confident with the Savage 6.5 Creedmoor I had in my hands at such a short distance.
What happened next was unlike anything I have ever seen on any hunting show or video..
After running through a small fir tree causing an explosion of snow, this buck leaped straight-up in the air, and crashed to the ground, landing on his back.
This would be his final resting place. I was thankful for the harvest, and entirely in awe of what had just happened.
You can watch this encounter unfold in the video below:
After snapping some photos and taking him back to the meat house, we finished the day still-hunting through more timber encountering even more Anticosti whitetail. It's unbelievable how many deer there are per square mile on the island, and if you take your time and hunt the wind, you could spend very little time pondering when your next encounter will be..
At one point when we stopped to let out a couple calls, we had deer coming and going as if it was rush hour traffic in Metro Detroit, it was almost comical!
With one of my two tags filled it was time for some sightseeing, and taking in all that Anticosti has to offer.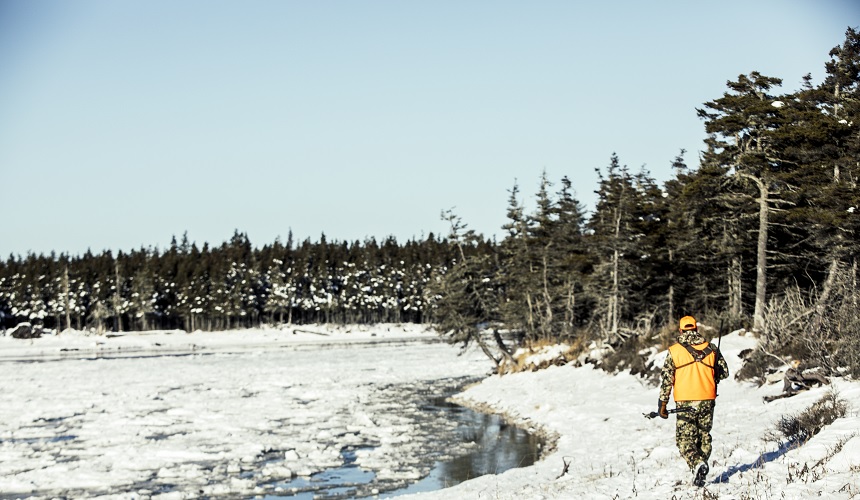 We spent days 3 and 4 on the beach, though this was a far cry from your typical beach vacation scene.
This was the driving force of my excitement for coming to Anticosti island; the thought of hunting whitetails as they migrated out of the swamps to eat kelp on the ocean shore for the winter.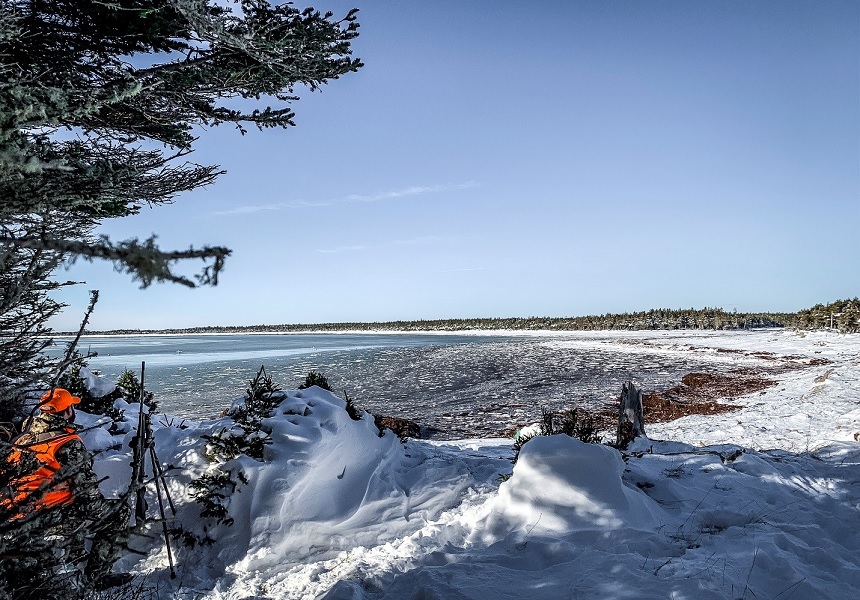 I spent the next two days stalking up and down the beach, using the kelp to soften my footsteps, and the ice and terrain to hide me from feeding whitetails. The seemingly never-ending supply of deer amazed me, and the topography allowed for perfect stalking conditions. I could have done this for an entire week and never hunted the same land. Words cannot do justice to how magnificent this experience was, so I will just let the following pictures do the talking for me: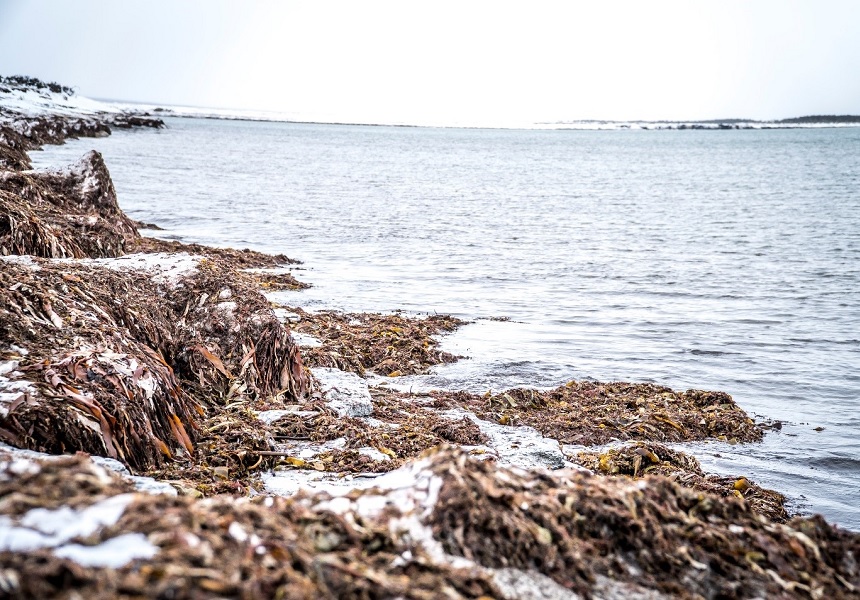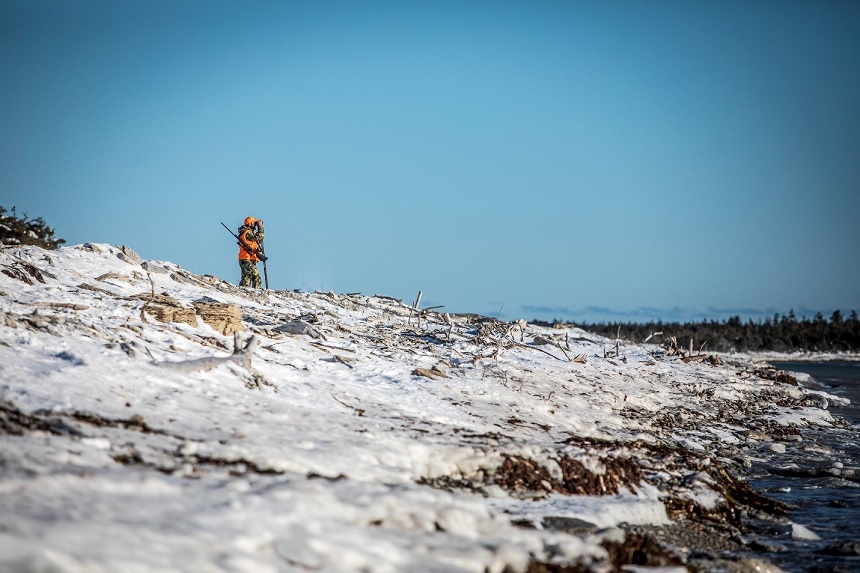 Before I knew it, day 4 was ending, (the last day) and I had not even raised my rifle to look at a buck since the one I shot on the morning of day 2. There were plenty that I could have looked over, and even potentially shot, but I didn't want the experience to be over, so I just kept hunting.
I wanted to make sure this special place was etched in my memory so I would never forget it!
With about 20 minutes of shooting light left and a long drive back to camp, I decided to close the final chapter on my Anticosti Island trip. A great old swamp buck melted out of the bog on his annual migration to the beach for winter refuge. I settled the crosshairs, squeezed the trigger and now have a buck story to tell at deer camp for years to come.
I had successfully filled my 2nd tag, and my Anticosti whitetail hunt was officially over.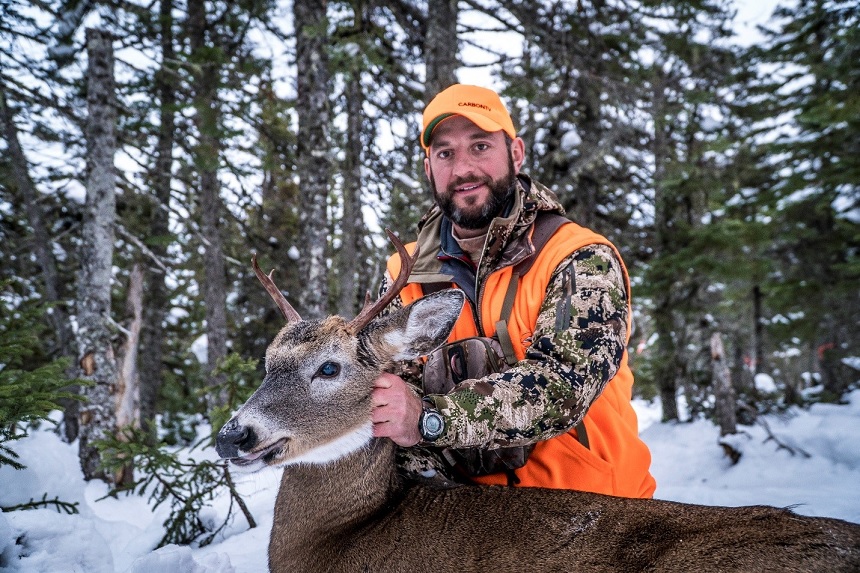 I had already planned on donating all of the meat to my guide, since I can get plenty of whitetails back home, but little did I know upon informing him how visibly shaken he would be. Turns out, Bert has 5 sons, and in addition to those five sons, and their wives, he has 9 grandchildren with a couple more on the way! 8 boys and one girl. He lives in a small village about 8 hours east of Quebec City. His family lives solely off of wild game meat harvested by hunting. These two deer would go a long way to making sure that he and his family were well on their way to being prepared for a long winter, especially since Bert was going for knee replacement surgery the day after we returned and would be laid up for the rest of hunting season.
Here's another picture of the first buck taken on day #2:
(This is the same deer seen in the featured image above)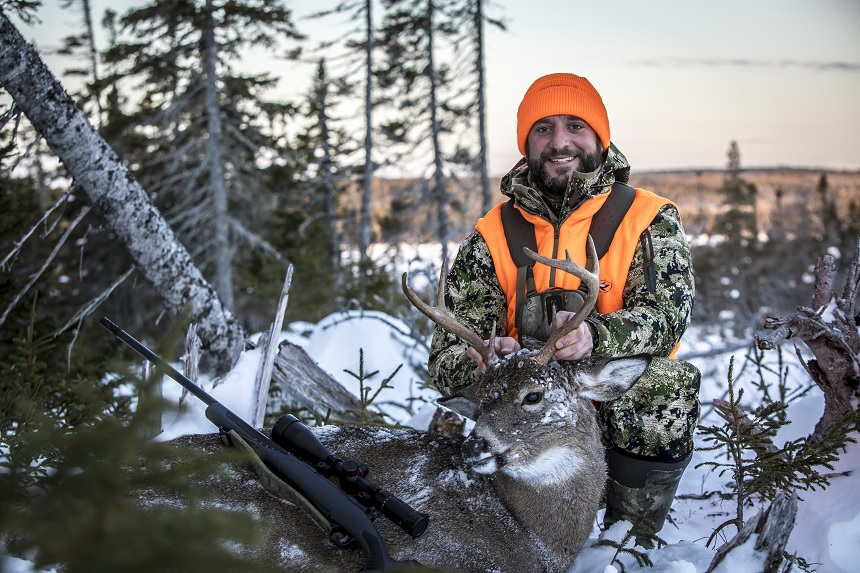 It took two days to travel from the island back home to Michigan, but it was welcomed down time for me to reflect on all that I had just experienced. I got to do what I love in a distant, sequestered place I had never been to before, and may never have the chance to get back. I got to see sights that many people only see online, and was able to help feed a family that is separated from mine by thousands of miles, but closer in spirit than words can ever describe.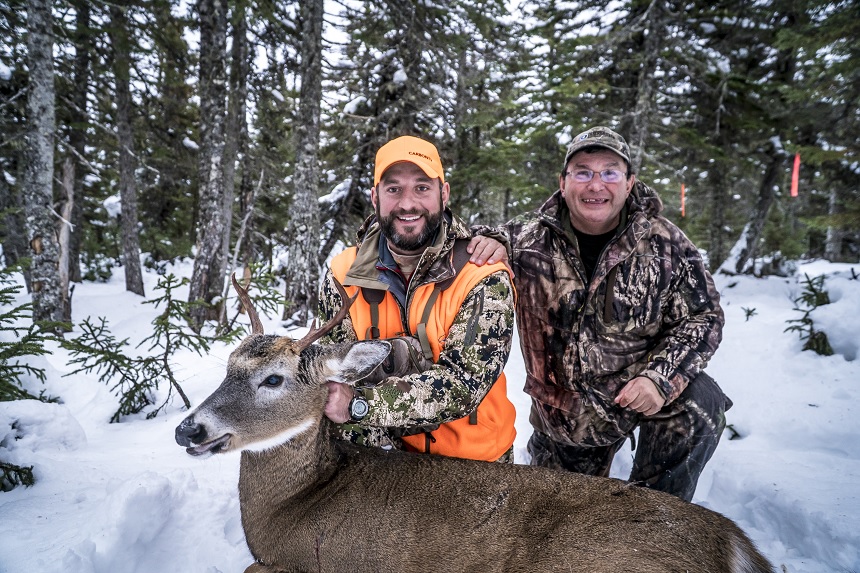 If you ever have the chance or desire, I highly recommend getting in touch with Safari Anticosti through the Quebec Outfitters Association website and booking a trip. It not only is a superb hunting operation, but I can almost guarantee that you will get lost in the adventure and experience; the actual hunting may just end up taking a back seat.. at least for a day or two!