Saskatchewan Fly-In Fishing – if this isn't on your bucket list, it should be
OutdoorHub Reporters 03.19.19

Saskatchewan. The place always seemed so far away for me. The name conjures images of a vast, wild landscape where the great plains stretch forever before the land transitions to boreal forest and rocky and rugged Canadian Shield. Here, clear and pristine lakes that dot the province's north are teeming with fish while potholes all across the prairies hatch more ducks than anywhere else in North America. Here, white-tailed deer grow massive bodies and big antlers and black bear roam the forests in large numbers.
After taking my first trip there in 2016, I realized it wasn't as far away as it seemed.
The reason for the journey was to film in the northwest corner of the province at Tazin Lake Lodge. The highlight of the trip was a mammoth 56-pound lake trout caught on camera, but the most exciting experience of the week was using a fly to catch lengthy northern pike. This opportunity cracked the door open to the province and in the years that have followed, I've kicked it down with multiple trips each year targeting different game.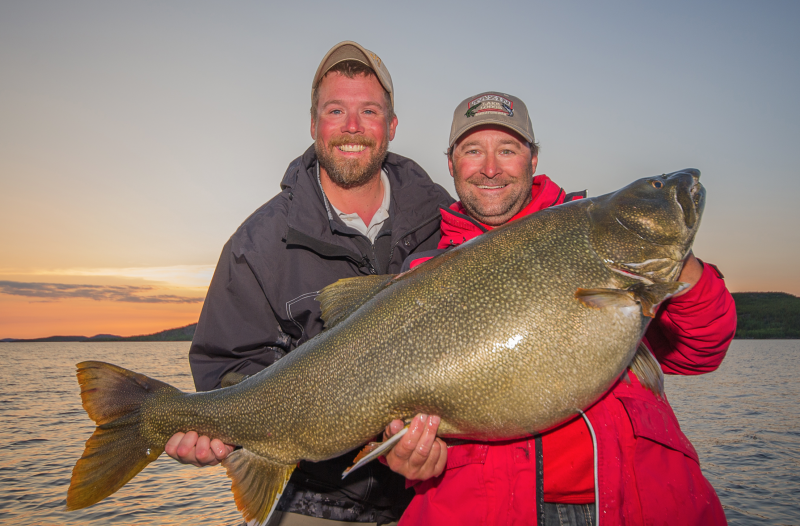 Being a novice with a fly rod, I opted for a spinning reel/streamer combination during that first trip. It would change my perspective on tactics for toothy predator fish forever. Utilizing the stealth and finesse of the fly was deadly on trophy pike and quickly became my favorite way to fish for them. As an angler who spent his formative years casting spinner baits while thumbing a bait-casting reel, this was a massive shift in perspective.
"It's unreal," Trevor Montgomery, owner of Tazin Lake Lodge said about fly fishing for pike. "It's more effective than conventional tackle in the right conditions and offers a better fight. On average, the guy fishing with fly gear will catch more pike than a guy fishing with normal tackle."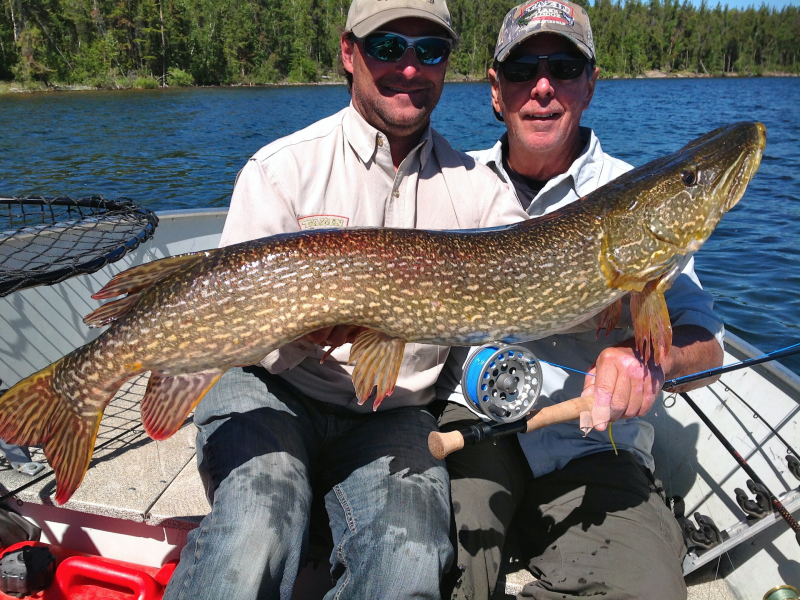 He has the technique perfected and has caught enough 40"+ pike across Saskatchewan, that the challenge of the fly rod is an allure. Any water body that holds big fish can produce fast-paced action. Anglers can target the shallow, crystal clear bays as they warm in the spring to sight fish for giants.
Last summer, Montgomery guided 71-year-old Stephen McCarthy at Tazin Lake. McCarthy grew up in New Jersey, the son of a WWII combat veteran who lost a leg in Germany. Despite the injury, the veteran's passion for the outdoors never waned.
"It slowed him down some, but that just made it easier for a young son to tag along," McCarthy explained to me about his father. "My introduction to fly fishing came when I was about 8 or 9 years old."
The pair would wade rivers and streams, with the younger McCarthy practicing on hand-me-down fly gear. As he grew older, he went on to fish all over the United States and learned the ins and outs of casting techniques and fly-tying. As the years went by, life got in the way and the fly rod began collecting dust.
Fast forward to 2017 when McCarthy booked his first trip to Saskatchewan with 3 goals in mind:
Catch a pike over 40"
Catch a pike on a fly rod
Take a good picture of a pike with a big streamer fly in his jaw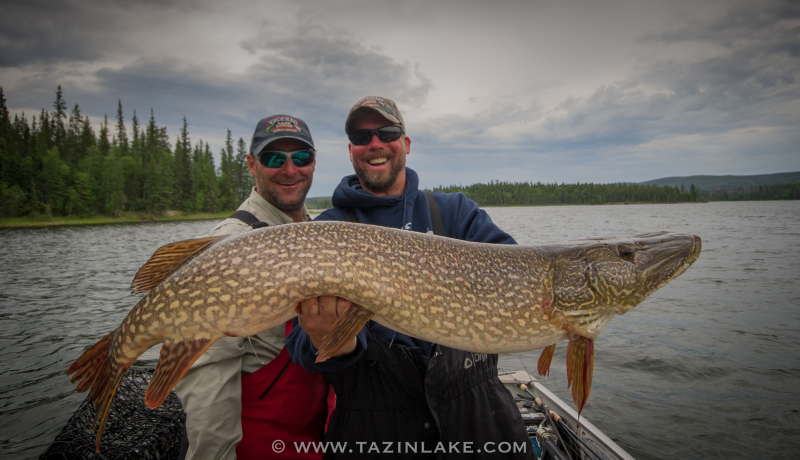 With Montgomery as his guide, casting spoons and spinners produced healthy numbers of pike. As the wind died down and the water clarity improved, he suggested McCarthy make the switch to the fly rod.
"It was the best fly fishing day of my life," McCarthy said.
He quickly had boated around 15 fish within the 28 to 36-inch range before setting the hook on a giant.
"Then it happened," McCarthy remembered. "A log-shaped pike came off the bottom and took the fly. She made three long, fast runs before I got her boat side."
The tape ran from tip to tail before ticking off the 45-inch mark.
"Never in my dreams did I think I would land a 45-inch pike on fly equipment. I had not had a fly rod in my hand for 30 years!"
His day wasn't over yet as he landed 3 more trophy pike that day, including an even bigger 46.5-inch fish.
Big pike or "jackfish" in Saskatchewan aren't the only targets to chase with a fly rod. While those large pike intrigued me at first, a different species available caught my eye: tiger trout.
With respect to the bright colors of a rainbow and reddish spots along the brook, the tiger trout may be the most striking fish in the water. The tiger trout is a hybrid between the brown trout and the brook trout that occurs naturally in the wild and is also part of a successful stocking program.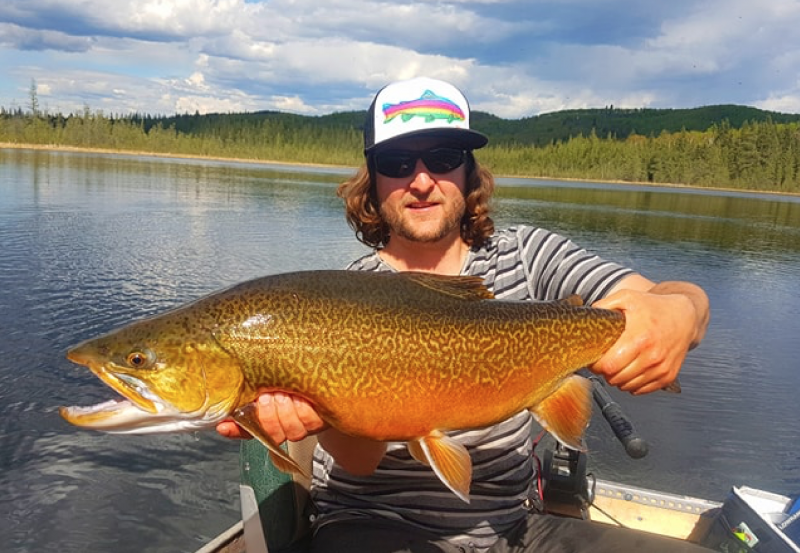 A variety of other stream trout species are readily available in Saskatchewan's rivers, lakes and streams including browns, brookies, rainbows and the other hybrid, the splake. They're easy to find and all are susceptible to the charms of a fly angler.
"It is an untapped resource as the province is not considered a fly fishing destination," said Kendall Ker from Northern Waters Fly Fishers club. "As a result, it is not overfished by fly fishers."
Even if it were, with nearly 1.7 million fish stocked in 134 bodies of water around the province, fishing opportunities abound.
With endless opportunities, easy travel and little pressure, Saskatchewan is a must for any fly angler. Tourism Saskatchewan makes planning a trip easy, visit to www.tourismsaskatchewan.com to learn about where to go, what you need and more.