Becoming a Long Range Shooter
Ben Ryder 07.24.19

Ever since I first began my journey with firearms many years ago, I dreamed of learning how to shoot accurately at long distances. As someone who was not raised around firearms, my education in the shooting world has been full of research, as well as a great deal trial and error. I can vividly remember the day I decided to head to the range for my first time; I walked in by myself, rented a 1911, and walked up to the line with only the brief instruction provided by the range master. I was a horrible shot, but I was also hooked at the same time. From that point forward, I knew that firearms were going to be a major part of my life.
Over the years, I've attended a number of different training courses that covered your basic fundamentals, all the way up to force on force training focused on real world scenarios. I've had plenty of eye-opening moments along the way serving as subtle reminders that training really never ends, not as long as I want to be proficient with a gun.
Even though I always had the itch to take my long-range shooting to the next level, I have yet to take the plunge. Here in Michigan, we aren't necessarily blessed with the open country that a western state has, therefore, finding a decent spot to learn and practice is a challenge. For me, though, if there's something I really want to do, it will eat at me until I figure out a way to make it happen. This year, I decided learning to shoot long-range was on my list – no matter what. Once I made that decision, I knew exactly who I was going to call to make it happen.
I picked up the phone and called Jim at Deliberate Dynamics (DDI) in Salt Lake City, UT to figure out what we could do. Having trained and worked with DDI and some of their instructors in the past, I knew this was where I needed to go to get some of the highest levels of training available to civilians. Many of the instructors at DDI learned their skills as Marine Corps Snipers or as competitive shooters and they share their knowledge with students in several of the courses they offer every year.
For this outing, we've been set up with two instructors who possess the aforementioned experience.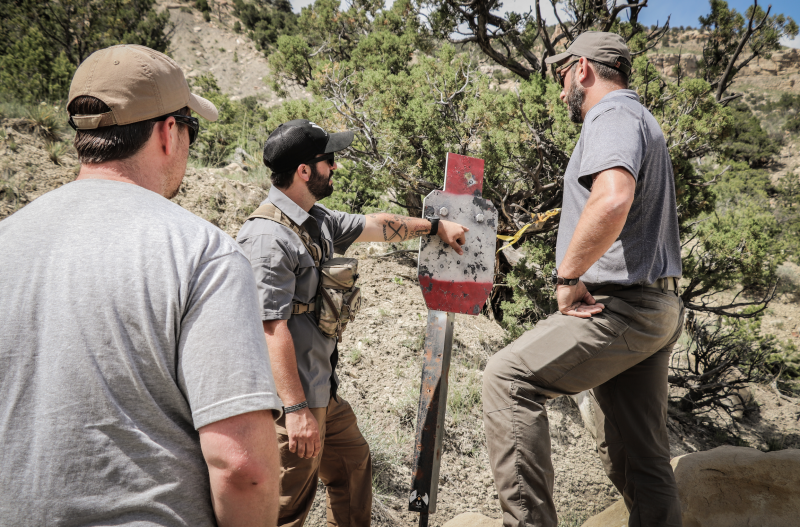 The course setting is in the mountains about two hours south of Salt Lake City. The plan is to spend 3 days honing the skills required to become precision shooters. The curriculum we'll be following covers everything from scope manipulation, to moving targets at long distances – this takes serious skill!
Bottom line, we want to hear any tips these guys have up their sleeves.
With the trip details hammered out, it was time to decide what gear we wanted to take with us. The essentials were easy; we'll go with 5.11 for apparel and bags, and Vortex for the optics. The real question came down to what type of rifles do we want to shoot. Having had great success over the years with the 110 line of rifles, we decided to go with Savage for our firearms.
Ultimately, we decided to go in two different directions for the specific models we will take with us. Andy, who will be going a number of hunts this year – including a moose hunt in Newfoundland & Labrador – wanted to get dialed in with the rifle he will be using on those trips.
That rifle is the new 110 High Country chambered in 300 Win Mag.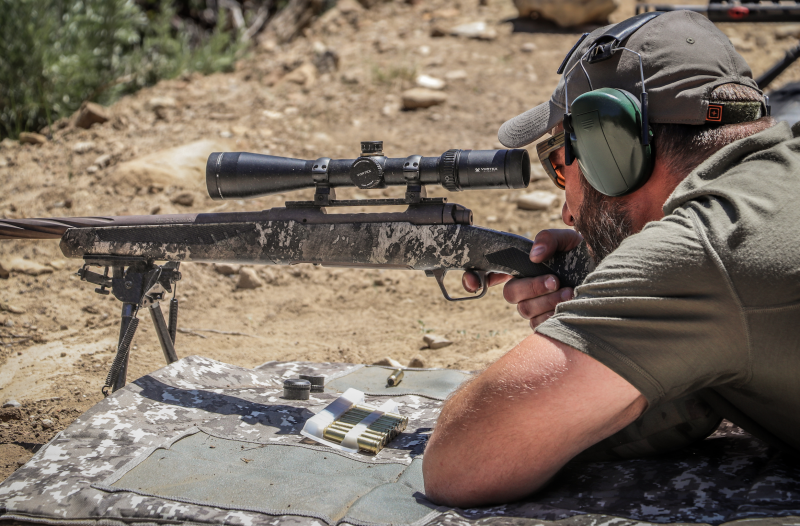 The 110 High Country is new to Savage for 2019 and was designed to take down western game at long distances. It has a number of the features that 110 owners have grown accustomed to including the AccuFit System and an adjustable AccuTrigger. A feature that sets the High Country apart from its 110 cousins is the coyote brown PVD coating on the barrel and True Timber Strata stock. If you haven't seen one of these in person, you owe it to yourself to seek one out. Not only is the High Country a dependable rifle, it looks awesome in person!
The other platform we chose is from the MSR line Savage released in 2017. When Savage launched their MSR's, it was clear they had the end user in mind. Their goal was to create a line of rifles that included many of the after-market upgrades that a buyer would be looking for as well as some features that were unique to a large manufacturer.
Savage made a splash with their MSR's when they launched. In a market that is full of copycat mil-spec AR variants, Savage was able to give their MSR's a unique feel at a reasonable price. They delivered on the time-tested Savage quality as well as bringing some new features to their rifles. Specifically, the addition of a side charging handle to all of their MSR's and countless upgrades.
Additionally, we chose another rifle that is new for 2019: the MSR-10 Precision chambered in 6mm Creedmoor. We wanted something that was going to be ready to shoot right out of the box, which is why we gravitated towards the MSR-10 Precision. Savage touts this rifle as being competition ready on day one, and we thought it would be fun to test these claims out.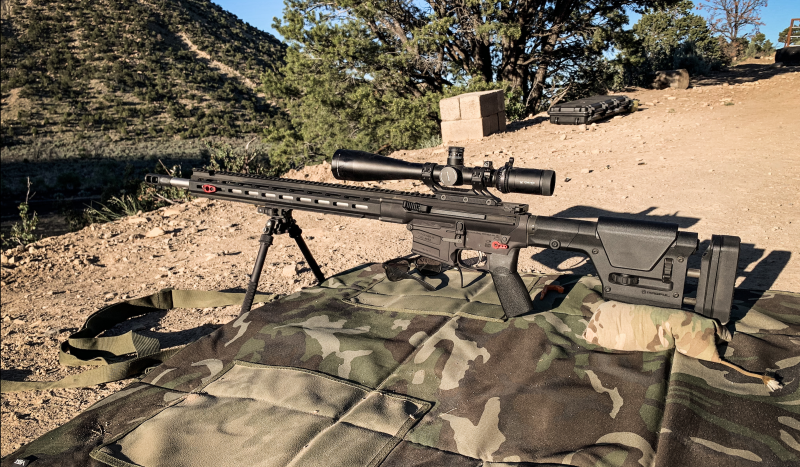 Having been built with precision shooting in mind, the MSR-10 Precision is loaded with high-end components. It features a non-reciprocating side charging handle, adjustable gas block, two stage trigger and furniture from Magpul and Tango down. Rounding the rifle out is an 18-inch Arca handguard. The side charging handle is especially nice for this application. With scope placement, a gas gun can be somewhat difficult to chamber, especially in the prone. The side charging handle makes it incredibly easy to stay prone and chamber a round without breaking your position.
The 22.5-inch stainless steel heavy barrel features 5R rifling. If you aren't familiar with 5R rifling, it incorporates slanted sides on the lands rather than conventional rifling, which has sharper sides of the land. The result is a projectile that stays uniform while traveling through the barrel resulting in greater accuracy. Another benefit, 5R rifling also makes the cleaning process easier by reducing the corners that residue can hide in after shooting.
With the planning done and gear lists finalized, our next stop is Utah to see if we have what it takes to bang steel at 1,000 yards. Be sure to check back for part 2 and 3 of this series that will feature more photos and video from our time on the range as well as what we learned. We'll also have a complete breakdown of the gear we used once we are back.
For more information on the firearms we are using, head to www.savagearms.com or directly to the 110 High Country and MSR-10 Precision pages.