4 Tips For Buying Hunting Property Sooner Than You Expected
DeerCast 02.13.19

Your own hunting property.. It seems like a pipe dream for many, but obtaining your own dirt to chase whitetails and long beards may be more realistic than you think. Here are some tips to help you hang deer stands on trees you actually own.
Change Your Mindset
The first thing you need to do is look at hunting property for what it is: an investment. Unless you are in a flood plain, you can hardly go wrong investing in real estate. Stop looking at a farm payment as a luxury. If you are redirecting some funds you would normally place in an IRA you can literally stand on your investment.

Work With The Right Real Estate Agent
Search for an agent who deals in farms and recreational property, not residential properties. Interview as many as you need until you find an agent you trust who has your best interests at heart. Often times, an agent will learn of properties that are available long before the for-sale sign is placed in the dirt.
Look For A Flip
You want to own 300 acres?  So do I, but very few of us have the bank roll to buy our forever farm the first time out. However, you may be able to afford 30 acres. Many times, an agent can find a farm that needs to be sold in a hurry or can be bought at a value due to needing a little TLC. With a little sweat equity, you can make improvements like building log roads, creating food plots and planting trees. Hold on to the farm for a few years then sell it. Those funds will be used for your next flip.
If you do this right, you will be shocked at how fast you can find and pay for your forever farm!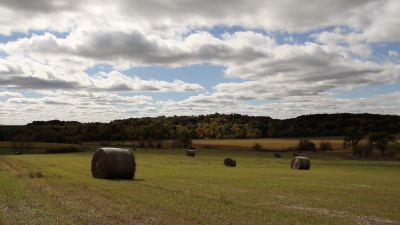 Income Producing
Search for properties that have the potential to pay you. Even renting ground to pasture cattle may produce enough income to pay the taxes and insurance.  Here are potential ways you can earn enough to offset a payment or pay 100% of your bank note:
Timber: Work with your agent to get an estimate on the value of your trees before purchasing.
Tillable Acreage: Is your potential farm in an area that is known for agriculture? Consider cash cropping to a local farmer (he may even help you plant your food plots)
Lease Hunting Rights: This may sound like blasphemy but I know plenty of people who love to hunt whitetails but could care less about turkeys. If you have turkeys on your property you can likely make money on a turkey lease.
"With the right mindset and strategies, you can find yourself owning a farm sooner than you may have thought possible."

– Jeremy Koerber
Want more great, how-to outdoor information? Download the DeerCast app for iOS or Android and get articles like this delivered right to your mobile device!