We recently published a story showcasing the fact that not all world-class whitetails are killed in Iowa and Kansas (click here to read about Melissa Bachman's incredible South Dakota deer), then we find out about this massive buck from North Dakota.
According to an article by Dave Mull, (IT LOOKS LIKE THEIR WEBSITE IS CURRENTLY EXPERIENCING SOME TECHNICAL DIFFICULTIES) digital editor for MidWest Outdoors, the buck shown above might be in the top five whitetails ever taken in the state — a North Dakota taxidermist (who isn't an official scorer) taped it at 225 inches!
The hunter's name is Kyle Hass, and he spotted the buck the day before firearms season. After snapping a smartphone pic of the buck through his spotting scope (below), Kyle pursued the now bedded deer with his bow, but eventually jumped the buck without getting a shot.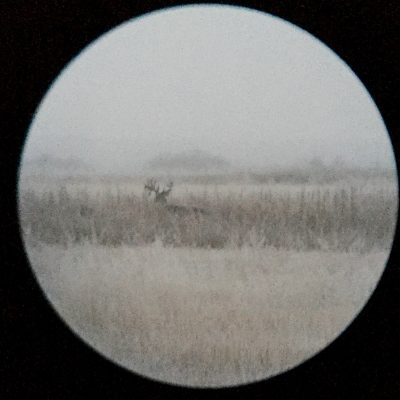 Details of how Kyle tagged "The Hass Buck" the following day during gun season are worth reading here. (Teaser: Kyle, his dad, and his buddy Ryan Peterson had a plan and executed it to perfection.)
Great buck, Kyle!