SHOT Show 2018: LOWA Boots Expands Task Force Offerings
Dave Maas 01.24.18

One of my favorite booth visits each year during SHOT Show is LOWA.
Never heard of LOWA footwear? If so, you're missing out — big time.
LOWA boots were originally developed for British Special Forces. Very simply, the performance, comfort and innovative design features of LOWA boots and shoes have proven themselves again and again in the world's most demanding conditions.
Personally, I've worn LOWA footwear for about 15 years. And by "worn them," I don't mean only the occasional pheasant or turkey hunt. LOWA hikers and shoes are my go-to choice 99 percent of my time on this planet. Sure, I'll wear knee-high rubber boots during deer hunts and some wet-weather turkey hunts, and I'll wear cold-weather pac boots during winter, but day in and day out (work, kids' sporting events, shopping, traveling, church, coaching baseball, life!) I'm wearing LOWA footwear. Click here to read about the LOWA shoes I wear fishing (below).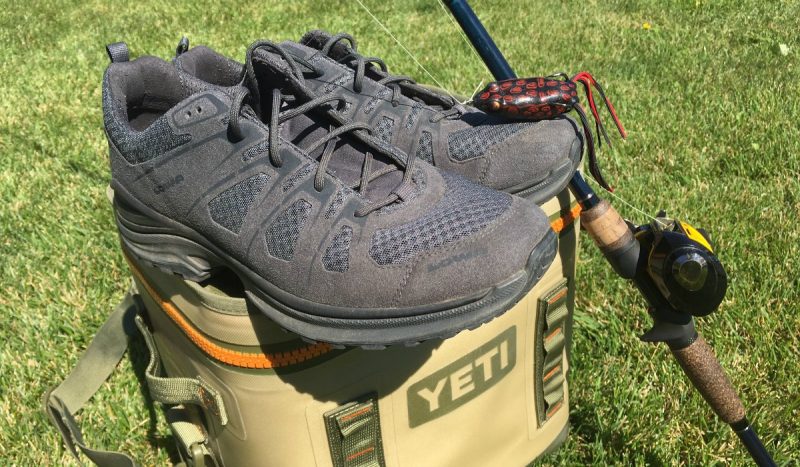 You can visit the company's website to learn about the details that matter, but take it from me — the boots and shoes are dependable/durable beyond belief, they are the most comfortable footwear I've ever worn, and they look good, too.
I apologize for the poor quality of the photo below. I quickly set up the two pairs of LOWA footwear I brought to Vegas for SHOT Show 2018 in my hotel room.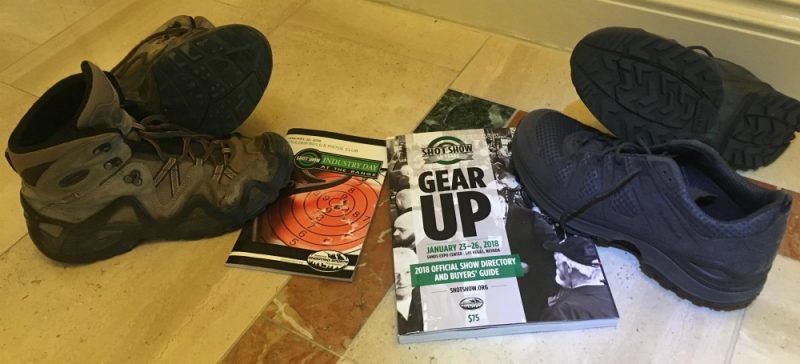 On the left are my Zephyr GTX Mids. I wore them to Industry Day at the Range because they offer enough support for hiking in the desert, and if it rains my feet will stay dry. This is not a misprint: I've worn these hikers just about every day for more years than I can remember. My best guess is they're 7-8 years old. I coach baseball in these hikers (pitching, etc.), plant foot plots, hunt, and do just about everything else. They are fantastic. Period.
On the right are my Innox Evo Lo TF shoes; the "TF" means they are part of LOWA's Task Force series. Which brings me to the subject mentioned in this article's title.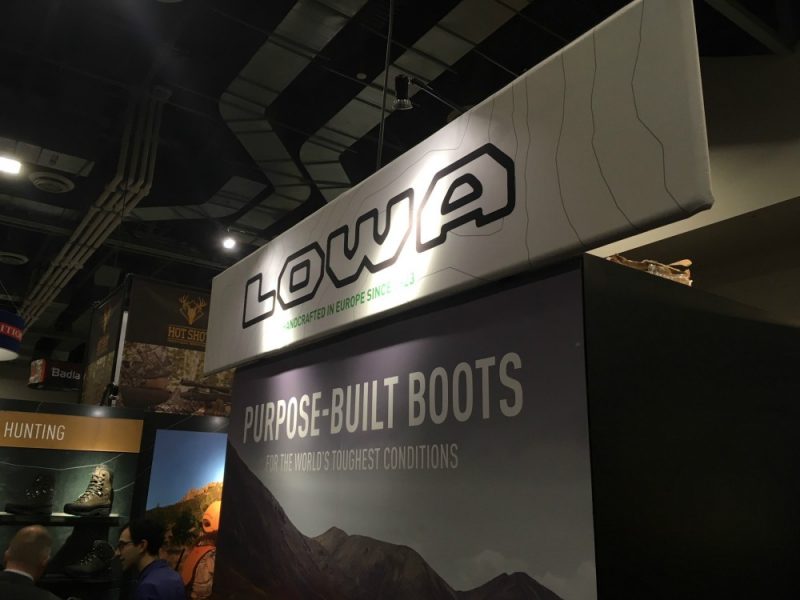 LOWA, which not so many years ago had a small offering of Task Force (tactical) hikers and shoes on display at SHOT Show, now have an entire wall of their booth dedicated to those working in law enforcement and the military, as well as anyone else who simply demands this type of high-end performance.
I can't provide online links to the new footwear I saw at SHOT because LOWA doesn't tease the market like so many other manufacturers. You won't see the new Task Force boots and shoes online until you can buy them, so stay tuned because as soon as they're available for purchase, I'll let you know. And I plan to field test and then review the all-black, leather Renegade GTX Lo TF (Task Force) shoe shown on the top shelf, far right, in the pic below.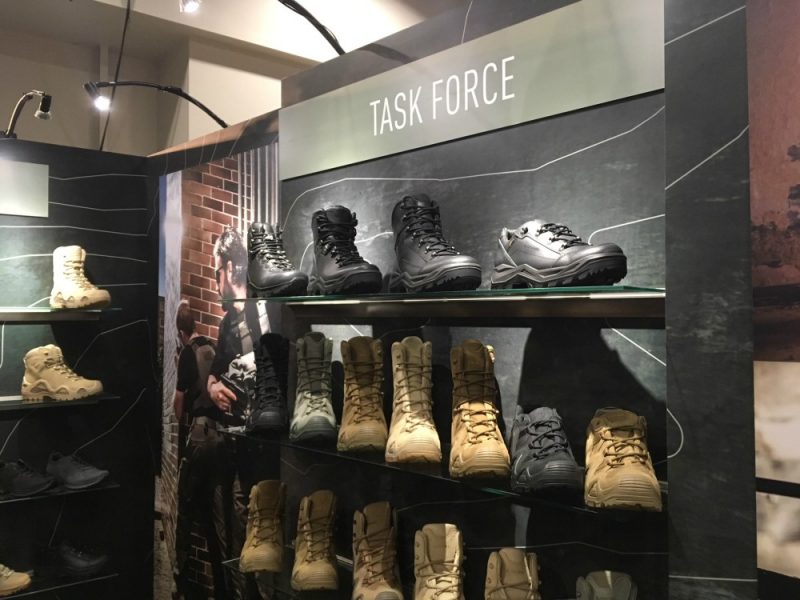 Note: I've often been asked by friends about LOWA hikers and shoes because basically it's all I wear. I always steer them to REI to check out the brand. And if your local REI store doesn't carry the exact model or color you want, at least you can try on a similar model and figure out your size and then order the LOWA footwear online elsewhere.
As for sizing consistency through the various models, the brand is spot-on. I wear a size 10 in everything LOWA, and each pair fits perfectly. The hikers and shoes require no break-in period (in my experience), yet like I said earlier, they take a beating for years and years. Do your feet a favor and check them out in 2018.