Gerber is bringing the MULLET Back in Style through Multi-Tools
Adam Scepaniak 03.22.19

Gerber is well known for their quality blades and unique tools to get us through nearly any outdoor or indoor endeavor we may encounter. A new tool for 2019 is their MULLET which is a solid-state, multi-tool that you can legally take through an airport. Some of the neat bits and pieces that comprise this multi-tool small enough for your key ring can be read below as presented by Gerber:
Pry Bar & Wire Stripper
Nail Puller & Scraper
Small & Large Flathead Driver
¼" Hex & Cross Driver
Bottle Opener, Belt Loop Hanger & Key Lanyard
Length 3.0" | Width 0.75" | Weight 0.7 Oz.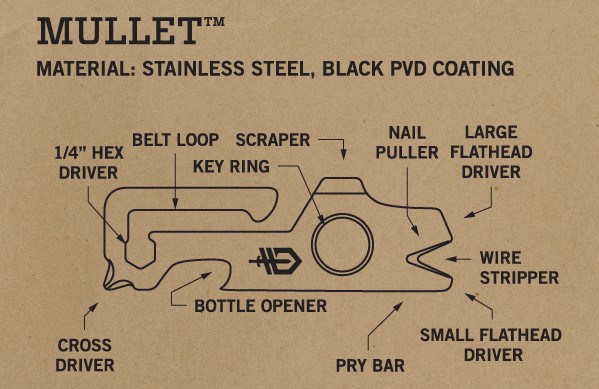 The one thing that most of us can never have enough of is multi-tools. With a grass is greener mentality thinking the next one you buy will be the last one we are always in pursuit of cool tools to throw in our packs, pockets, or key chains. The Mullet absolutely fits that bill! Gerber goes on to further explain their newest little wonder tool in this Press Release statement from their website:
"Problems aren't scheduled in advance, but solutions can be planned for. The Mullet is a compact keychain tool that houses 9 tools to handle those unexpected daily tasks. When accessibility is key, the Mullet answers with the ability to be carried on a keychain, from a belt loop, or through an airport."
You can get your very own Mullet in either a Black or Stonewash finish. Either color choice will set you back $10 at full MSRP making it a very affordable tool to tuck away. It also comes with their Gerber Guarantee and Limited Lifetime Warranty.
As we all thaw out from winter and look to explore more outside, what do you think of this product? Is this something you would be willing to put on your key chain for everyday carry? If not, is there another product you have your eyes on? Let us know your thoughts in the Comments below! We always appreciate your feedback.