NEW Book – "Build A Custom 10/22® Step By Step" by Amilcar Hernandez
Adam Scepaniak 06.03.19

The Ruger 10/22 rifle is like the Lego of rimfire firearms. From this simple, but stalwart platform there are endless possibilities as to how you could build, modify, and truly create a one-of-a-kind rifle just for you. For that very reason, there are countless aftermarket companies who make accessories for the Ruger 10/22. The only predicament is knowing how to install all those intricate parts if you do not want to pay a gunsmith a steep fee. That is where someone like Amilcar Hernandez can be extremely helpful with his NEW book "Build A Custom 10/22® Step By Step." A Press Release statement from Amilcar Hernandez sheds some more light into what the book is all about:
"This soft-cover book of 175 pages will show you how to build a custom 10/22 that will shoot straighter than you thought possible. Every detail to the build is explained in easy-to-understand text and beautiful high-definition photos that show you exactly what needs to be done and how to do it.

Whether you are a beginner or an experienced gunsmith, you will have a custom-built, tack-driving 10/22 by the end of this book. Inside you will find lists of resources and websites where you can buy parts and find additional information. From stocks to barrels, from bolt-actions to optics, this book gives you all you need to complete your project and make you proud of what you've accomplished.

Many of the photos are close-ups that have captions that explain what you are looking at. Arrows that overlay the photos point to the exact spot on the gun part that needs your attention. This book takes all the guesswork out of a 10/22 gun build so that you can jump right in and do it yourself, no matter what your skill level."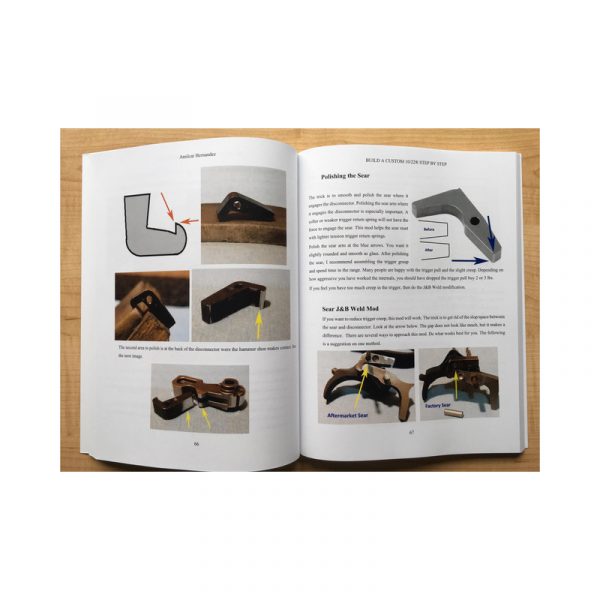 The nice thing about "Build A Custom 10/22® Step By Step" from Amilcar Hernandez is that it is not a dry read of words upon words. It is littered with close-up photos to pictorially show you exactly what he is trying to explain at all times. This can be extremely helpful for someone who is new to shadetree gunsmithing and needs a moment to pause and think. If you happen to have any questions outside of what is presented in the book, you can always contact Amilcar Hernandez via social media or his personal contact information:
Right now "Build A Custom 10/22® Step By Step" from Amilcar Hernandez is available on Amazon for $29.99 as a soft cover book. For those who have built up a Custom Ruger 10/22 before, what is something you wish you knew before diving in on a project like that? Let us know all of your thoughts in the Comments below! We always appreciate your feedback.