Angler Reels in Alien-Looking Fish, Fries it, Claims it Tastes Better Than Cod
OutdoorHub Reporters 09.16.19

The phrase 'once-in-a-lifetime catch' gets tossed around a lot. But when you reel in an alien-looking fish like this angler did, it's totally justified.
A Norwegian fishing guide was completely caught off guard and "nearly jumped out of the boat" when he reeled in a freaky, dinosaur-like creature from the deep with large bulging eyes making it look like something truly out of this world.
Oscar Lundahl, a fishing guide for Nordic Sea Angling, was reportedly fishing for blue halibut off the coast of Andøya – the northernmost island in the Vesterålen archipelago – when he made the catch in more than 2,600 feet of water.
According to Fox News, Lundahl said, "we were looking for blue halibut which is a rare species about 5 miles offshore. I had four hooks on one line and felt something quite big on the end of it. It took me about 30 minutes to reel in because we were in water more than 2,600 feet deep."
At first, Lundahl had no idea what the fish was (hence his reason for wanting to jump overboard) but his colleague claimed it was a ratfish, a relative of the shark reportedly dating back 300 million years ago. However, after comparing photos of the two fish, I would say we still have an unknown species on our hands here.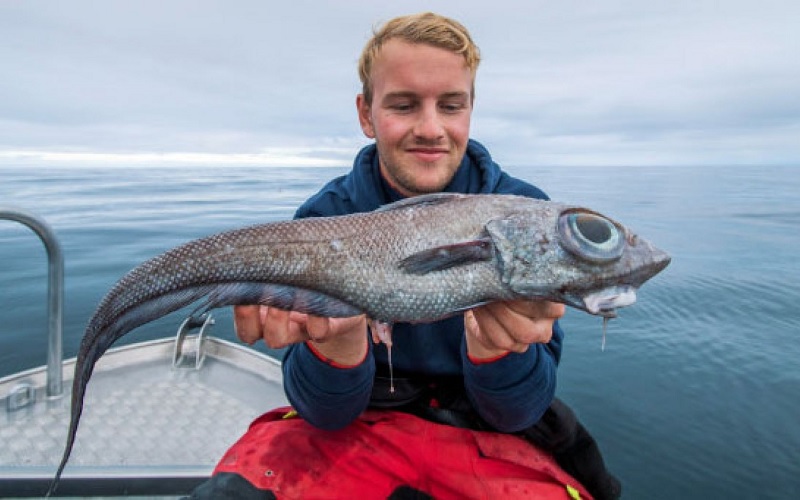 The angler said due to the extreme change in pressure, the fish did not survive.
The best part about this story (IMO) is what Lundahl did after the catch. He claims despite its ugly appearance, he took the fish home and fried it up for dinner. "It was really tasty," he said. "It is a bit like cod but tastier."
Good on you, Oscar, for not wasting any of the meat. Steven Rinella would be proud!