[ATA Show 2020] Annihilator Broadheads – The Evolution of Broadhead Theory
Adam Scepaniak 01.10.20

Whenever the first arrow was ever flung into the air it likely employed a rock chiseled and sharpened to an edge as its first broadhead. Now, a company by the name of Annihilator Broadheads, has potentially brought us full circle from the dawn of archery with a broadhead that is so lethal it can cut into a concrete block, be sharpened on a stone, maintain concentricity, and be re-used for future hunts!
Your first reaction upon seeing an Annihilator Broadhead might be… "Someone has not attempted this design before?" And the answer is, "No." While it looks simple enough, there is a lot more nitty-gritty science occurring that Annihilator has hashed out for us. The geometric design of the broadhead completely blocks the arrow traveling behind it. This creates a pressure vacuum in flight; thus, your arrow is less likely to be bullied by the wind and will fly more true-to-its-path on longer shots. Upon impact, that vacuum and the turbulence induced around the entire arrow helps pull visceral tissue forward and through any game animal. This ensures more humane harvests and more successful hunts.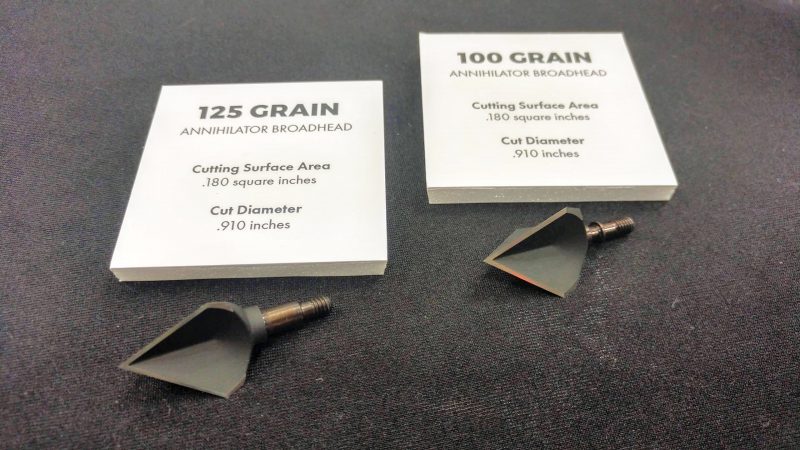 It is interesting to also know that the shape of the Annihilator broadhead, although not overly large in its visual footprint, creates the largest cutting surface area on the market. No spring-loaded, projectile, parlor tricks required! The rest of the specifications for the broadheads can be read below as presented by Annihilator:
100 & 125 Grain Broadheads: Cutting Surface Area | 0.180 Square Inches (the largest cutting surface area of any other broadhead)
100 & 125 Grain Broadheads: Cut Diameter | 0.910 Inches
One Piece of 4140 Alloy Steel – Hardened to Rockwell RC:52 for Superior Edge Retention & Insane Durability
Easily Field Sharpened Flat on a Stone & Re-Used
Heads are Batched within 0.4 Grains of each other
Designed & Manufactured in the USA
The price point that archers are looking at for these is $54.99 for a 3 Pack of 100 Grain broadheads and $56.99 for a 3 Pack of 125 Grain broadheads. A 3-pack might sound small, but these are easily sharpened and re-usable broadheads (even if you miss a buck and hit a cinder block).
For most of us, we might have an ice cream pail or storage box of old and new broadheads in our personal inventory we rely on. Would you be willing to give these new ones a shot? More cutting surface, re-usable, American steel, and less prone to deviate in heavy winds are all great selling points. Let us know all of your thoughts in the Comments below! We always appreciate your feedback.