[SHOT Show 2020] Long Range Threat! NEW Savage Arms 110 Elite Precision
Adam Scepaniak 01.22.20

OutdoorHub visited Savage Arms at SHOT Show during the "Industry Day at the Range," and we took a look at their NEW 110 Elite Precision! With the burgeoning popularity of PRS (Precision Rifle Series) and long range shooting in general, they are looking to capitalize on producing a factory-configured rifle that is of high enough quality to be sighted in and brought straight to a match.
The Savage Arms 110 Elite Precision has a Savage factory-blueprinted action with their world-renown AccuTrigger. This receiver and action has been upgraded significantly from their standard quality 110 package by having a Stainless Steel, Flash Nitride Target Receiver as well as a Titanium Nitride Bolt Body. This rifle is built on an MDT ACC Aluminum Chassis which boasts a lot of great characteristics by itself. It has a fully adjustable stock with Length-of-Pull (LOP) variability between 13.4″ – 14.75″. It features an ARCA Rail, is compatible with AICS patterned magazines, and has a target MDT Vertical Grip. The barrel is between 26″ – 30″ depending on the cartridge it is chambered in, and it has a hefty muzzle brake to tame recoil.
We had the opportunity to shoot this tack driver at the "Industry Day at the Range" out to 1,000 Yards in a 110 Elite Precision chambered in 6.5 Creedmoor. With the rifle already zeroed for us out to that distance, we were able to make contact on steel immediately! Very impressive to sit behind a rifle we have never handled before and knock a steel gong on our 1st try.
This rifle is available in an assortment of long range cartridges that people might employ for long-range hunting or target shooting. Everything from the diminutive .223 Remington to the thunderous .338 Lapua to suit everyone's needs from small to large. All of the available rounds in the Savage Arms 110 Elite Precision are listed below as well as their associated MSRPs:
.223 Rem | 26″ Barrel | MSRP $1,999
6mm Creedmoor | 26″ Barrel | MSRP $1,999
6.5 Creedmoor | 26″ Barrel | MSRP $1,999
.308 Win | 26″ Barrel | MSRP $1,999
.300 Win Mag | 30″ Barrel | $2,149
.338 Lapua Mag | 30″ Barrel | $2,149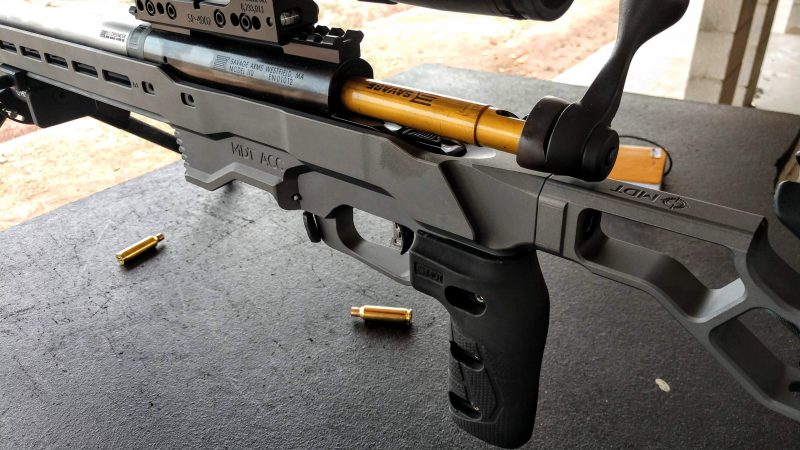 This rifle is something that is actively available from Savage Arms for anyone who may be interested in getting their hands on one. The 110 Elite Precision already impressed our staff by being able to connect on a steel gong at 1,000 Yards, but the most important thing is what do you think? Is this a rifle you would be willing to spend $2K on and potentially take with you to a PRS or similar style competition? Let us know all of your thoughts in the Comments below! We always appreciate your feedback.