Savage 110 Hunter: Custom Accuracy, Off The Shelf
Eve Flanigan 01.06.20

Lately I've been testing out a 110 (short action) Hunter rifle by Savage Arms. I acquired the rifle for the primary purpose of a last-minute pronghorn antelope hunt, and hurriedly got it scoped, slinged, and zeroed for that. In the easier schedule of later weeks, I was able to spend more time evaluating the rifle, and am overall very pleased.
The model in this review is chambered in 243 Winchester, one of 13 (yes, thirteen) available. Barrel lengths in the Hunter are generally 22 inches, as this one is, however some of the heftier calibers come with a 24-inch barrel.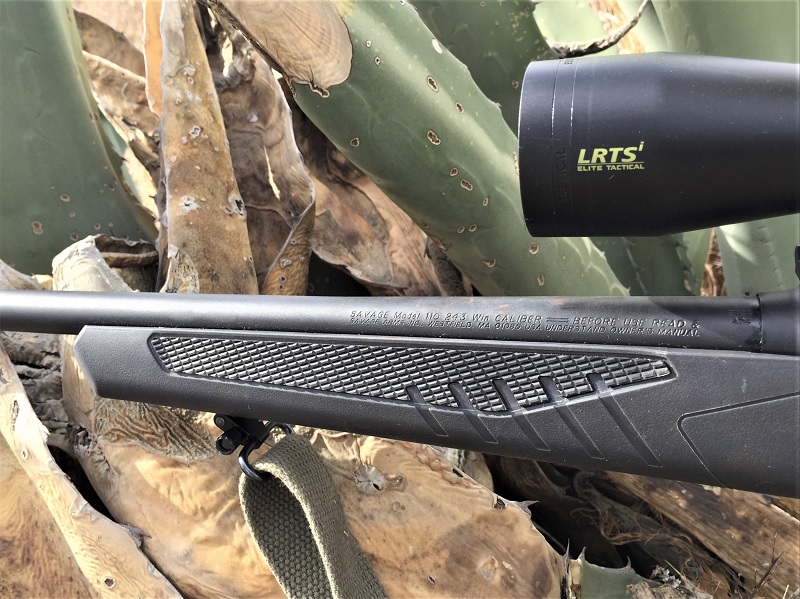 Working from front to back, that carbon steel barrel has a 1:10 twist and black matte finish. It's pre-drilled and tapped to accept scope-mounting screws. The barrel ties into a receiver of the same construction. The standard bolt action feeds rounds from a detachable metal (four-round in the case of the .243) box magazine.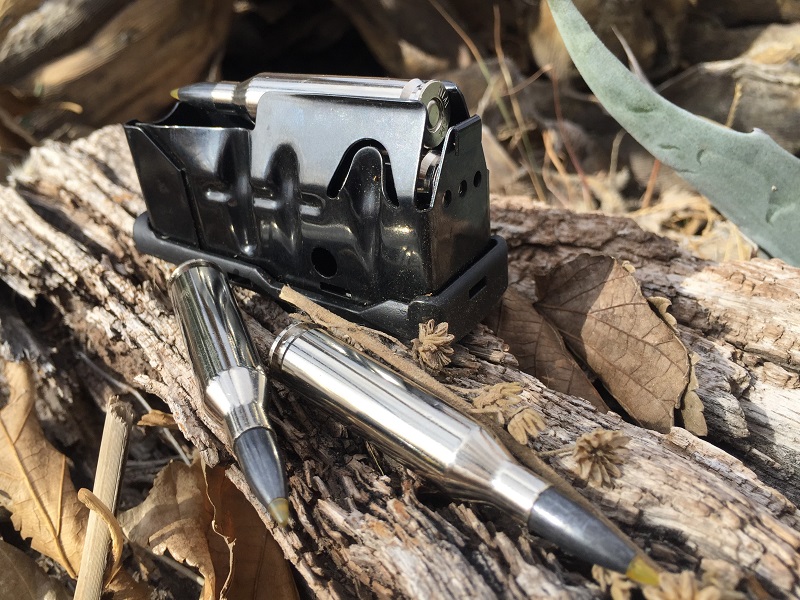 The stock is dark gray with black highlights and texturing at the usual contact points. Its synthetic material has a sound-deadening, rubbery (and a bit clingy on fleece) matte finish. Sling studs are included. Overall, the look is subdued and perfect for not drawing the attention of game animals.
The trigger is Savage's well-known Acu-Trigger, with its safety lever reminiscent of many striker-fired pistols—uncharacteristically silvery in this case. The Acu-Trigger is adjustable, but I found the break, which averages around the three-pound mark, to be perfect for me as it was.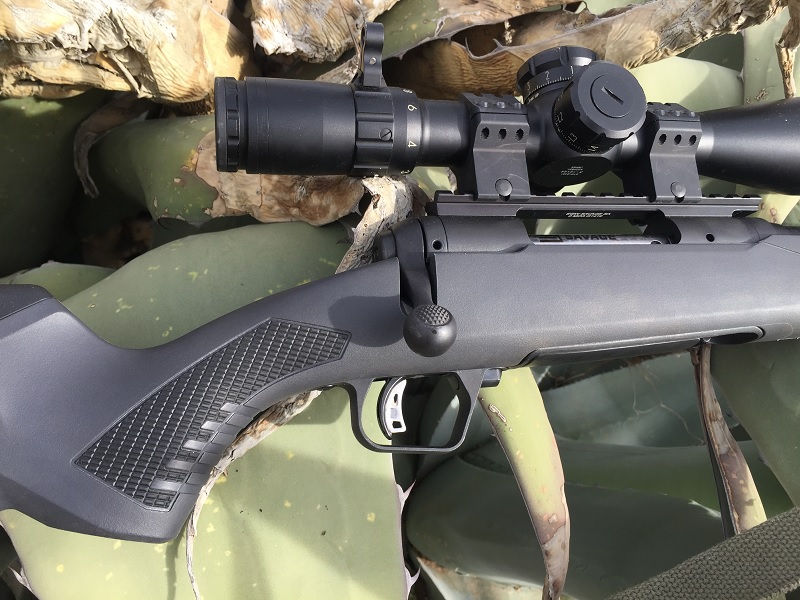 Savage has honed rifle stock modularity to a highly customizable degree. A plethora of choices of comb height as well as length of pull await the user, who with some experimentation can achieve a custom and natural fit. A series of cushiony rubber pads at the rear allow the user to get the length of pull just right while ensuring that felt recoil is minimized.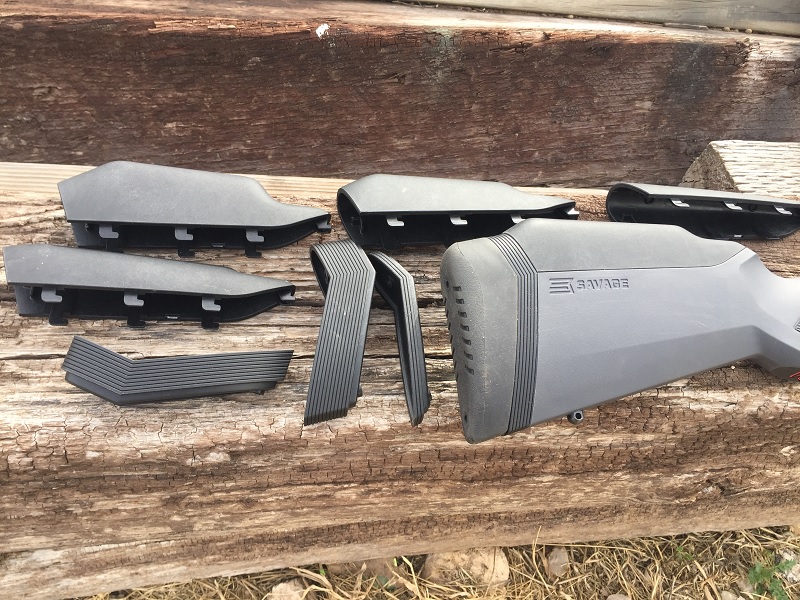 Setting up the rifle for the hunt was relatively straightforward but did require some attention to detail. As the top surface of the receiver is curved, a concave-shaped Picatinny rail base had to be purchased before the scope, a Bushnell Elite Tactical, previously used on a modern sporting rifle, could be transferred to the rifle in its existing rings.
Establishing length of pull came next. It was easy enough to feel that one layer of pad needed to be removed to get the perfect fit. Here is were a slightly humorous discovery was made:  It's best to use a solid-shank Phillips screwdriver for this job rather than a bit that can get sucked loose as it's pulled from the snug aperture that covers the adjustment screw when it's not being adjusted. After temporarily losing one screwdriver bit inside the rifle butt, it was easy to make the adjustment with a tool that locks the bit into place.
Setting comb height took only two tries of the many choices offered, with potential effects ranging from a significant rise to a smooth, uninterrupted profile. On the higher side of medium, I found the perfect insert that, combined with correct length of pull, presented an instant and clear view through the scope every time. Comb inserts have rigid plastic, foot-looking flanges that must be struck quite firmly, down and slightly rearward, to be seated into the stock. While this represents outstanding modularity, I would be concerned about doing frequent comb insert exchanges, as the "feet" that hold them in place seem a bit fragile.
With a relatively quick setup and a 12-round exercise of finding a 100-yard zero, the rifle was off for its first adventure, a pronghorn hunt in which it showed itself worthy of the "Hunter" name by exacting a clean, one-shot kill. More on that in a later article.
Back at the shooting bench, it was time to put accuracy to the test.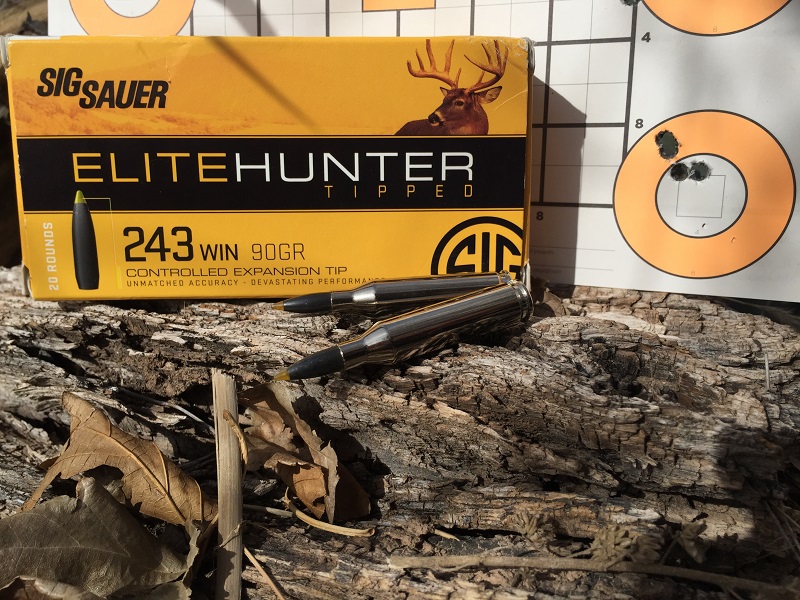 As an owner of other Savage rifles and having seen this one make two rounds share the same oval hole during zeroing, my expectations were high. Using Sig Sauer's Elite Hunter ammunition, the rifle scored a few 1 MOA groups until yours truly remembered how much distortion sunglasses offer. Sans glasses, the five-shot group fired from 100 yards instantly shrunk to ½ MOA. While I never advocate practice without eye protection, in this case it was necessary to show the rifle's capabilities.
Between rounds, the bolt runs smoothly, but I did find some frustration with feeding from the magazine. A couple of overrides occurred. The mag needs assertive insertion to properly seat, and one of those overrides is on me for that reason. But a couple others just happened. The extraction/feeding process with this rifle requires aggressive operation, with the bolt being opened and thrown back to the hilt with a certain determination. This seems to be how the 110 Hunter, as well as other bolt-action Savages I've fired, "prefer" to be handled.
Overall, I believe the 110 Hunter to be a great choice for pursuing large game. It's easy to grip in all weather conditions, has a stock that won't slide around where it's carried, and when topped with a quality scope, delivers as much accuracy as the person on the trigger can muster. Savage Arms calls this one of their improved ergonomics designs, and I agree—it couldn't be more comfortable to shoot. As I've come to expect with Savage rifles, the 110 Hunter represents custom-shop quality at a store-shelf price–$759 MSRP in this case, with real prices hovering in the low-600s.
SPECIFICATIONS:  Savage Arms 110 Hunter, chambered in .243 Winchester                 
MSRP:                                 $759.00
Action:                               Bolt
Barrel Color:                     Black
Barrel Finish:                    Matte
Barrel Length (in):           22
Barrel Material:               Carbon steel
Magazine Capacity:        4
Hand:                                  Right
Length of Pull (in):          12.75 – 13.75
Magazine:                         Detachable metallic box
Overall Length (in):         43.25
Rate of Twist (in):           1 in 10
Receiver Color:                Black
Receiver Finish:               Matte
Receiver Material:          Carbon Steel
Type:                                   Centerfire
Stock Color:                      Grey
Stock Finish:                     Matte
Stock Material:                Synthetic
Stock Type:                       Sporter
Weight (lb):                       7.5