[SHOT Show 2020] Bigger Dog in the Fight! ATI BULLDOG 12 GA Shotgun
Adam Scepaniak 02.05.20

American Tactical (ATI) has cemented themselves as being a truly complete firearm manufacturer with their portfolio covering everything from AR15s to 1911s to even single-shot shotguns. One very interesting creation they debuted recently was a very tactical shotgun with unique patent pending features. ATI let the dogs out at SHOT Show 2020 by releasing their American Tactical Bulldog 12 Gauge Semi-Automatic Shotgun!
The Bulldog uses a bullpup-style design to make the overall footprint of the firearm incredibly small. ATI also cleverly utilizes an additional magazine affixed to a Picatinny rail on the forearm to be manipulated like a vertical foregrip. Bonus points for that clever use of a spare magazine. Some of the other features available to the shooter on the ATI Bulldog 12 Gauge can be read below as presented by American Tactical:
Caliber: 12 Gauge w/ 3″ Chamber
Includes One (1) 5-Round Magazine w/ Picatinny Cut-Out (Additional Mags available at $34.95 each)
Picatinny Rail System allows you to use an Extra Magazine as a Foregrip
Mag attaches to Pic Rail Feature
3 Choke Tubes Included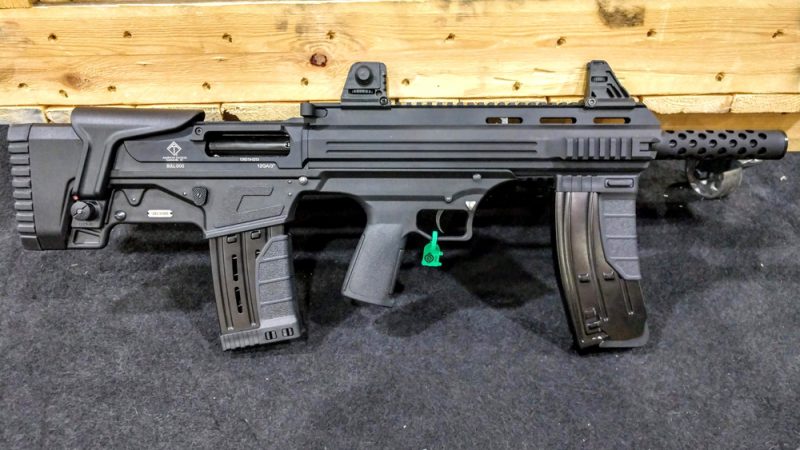 Flip-Up Iron Sights
Adjustable Cheek Rest
M-LOK Rail
Patent-Pending AR15-Style Charging Handle
The ATI Bulldog is manufactured in Turkey and currently has an MSRP of $499.95 per shotgun. For the amount of features and benefits this bullpup-style shotgun provides it is a tremendous value. The adjustable cheek rest ensures every shooter can get proper eye alignment and a sight picture with the iron sights or an optic of their choosing. Its overall small design makes it very wieldy for home-defense, competition shoots like 3-Gun, or just general recreation at the range. While we handled it inside the American Tactical booth at SHOT Show 2020 that was our first impression of the Bulldog is its very balanced feel and extreme maneuverability.
With many tactical shotguns, especially those in a bullpup configuration, going for prices for over $1,000 the American Tactical Bulldog looks affordably-priced  and a great value at that. If you were to get your hands on one, how would you use it? Defense? Competitvely? Recreation? All of the above? Let us know all of your thoughts in the Comments below! We always appreciate your feedback.