[SHOT Show 2020] Smith & Wesson Performance Center M2.0 M&P9 CORE 5″ Ported
Adam Scepaniak 02.07.20

Smith & Wesson is never short on cool firearms when it comes to an event as grand as SHOT Show, and that was especially true this year! Smith & Wesson's Performance Center M2.0 M&P9 CORE 5″ Ported 9mm was on display at SHOT Show 2020 for the first time, and we definitely had to take a look! Many of us may have encountered a similar version to this pistol in the original M&P9 (or M1.0 you could call it). It has finally made the transition into the newest M2.0 series getting some enhancements and improved ergonomics for all of us Smith & Wesson fans.
While handling it in Smith & Wesson's booth at SHOT Show, this new M2.0 CORE with a ported barrel and slide had a nice balance to it. The sight acquisition of the red dot and iron sights (which could also be easily seen through the red dot's lens) was very fast and crystal clear. I, personally, used to own one of the original Performance Center CORE pistols and it shot wonderfully! We did not have the opportunity to shoot this new model while at SHOT Show, but we would tend to believe it would perform the same. All of the specifications for the Smith & Wesson Performance Center M&P9 M2.0 Ported 5″ Barrel & Slide CORE can be read below as presented by Smith & Wesson:
Ported Barrel & Slide to Reduce Muzzle Flip
C.O.R.E.™ – Competition Optics Ready Slide includes Optics Mounting Kit
New, Larger Slide Stop
Trigger Stop to Adjust the Overtravel
PC Tuned Action with Audible Trigger Reset
3-Dot White Sights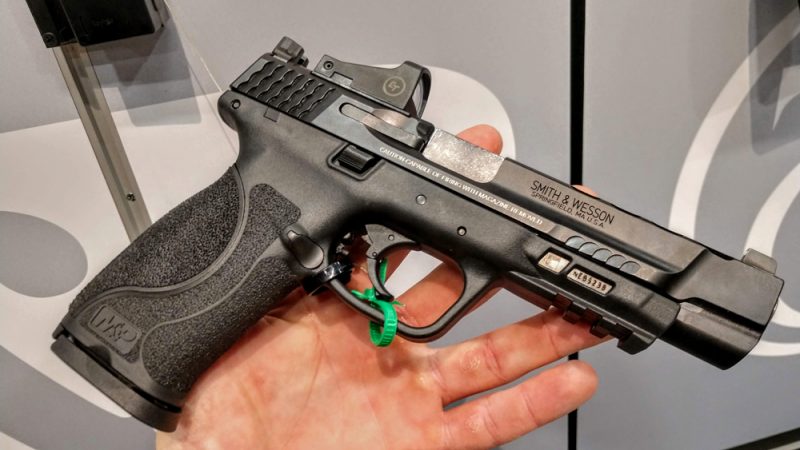 Front Cocking Serrations
Extended Rigid Embedded Stainless Steel Chassis System to Reduce Flex and Torque while Firing
Aggressive Grip Texture for Enhanced Control
Low Barrel Bore Axis makes the M&P Pistol more Comfortable to Shoot Reducing Muzzle Rise and Allowing for Faster Aim Recovery
Four Interchangeable Palmswell Grip Inserts for Optimal Hand Fit & Trigger Teach – S, M, M-L, L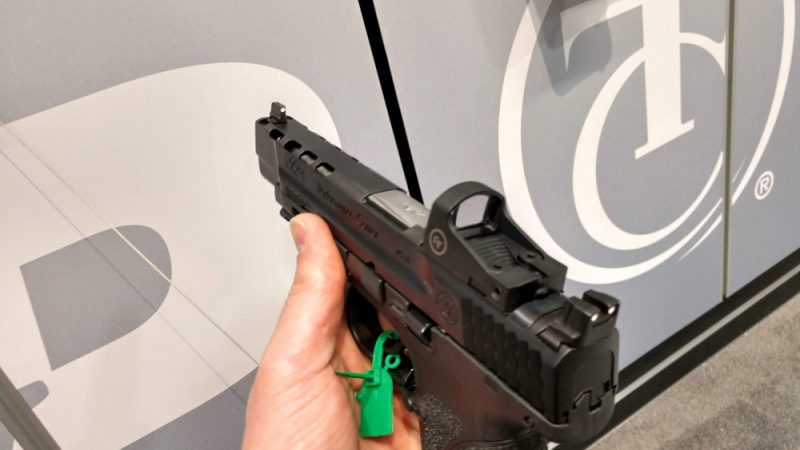 Armornite® Durable Corrosion Resistant Finish
Two 17+1 Magazines Included
INCLUDES – Performance Center® Branded Cleaning Kit, Collapsible Cleaning Rod with Rotating T-Handle, 10 Cotton Cleaning Patches, Nylon Cleaning Brush, Bronze Bore Brushes and Nylon Jags (.22 cal/9mm/357/38/40/10mm/.45 cal), Nylon Slotted Tips
As always, this Performance Center M&P pistol is backed by the Smith & Wesson Lifetime Service Policy in the rare event that it would ever need technical service or repair. The MSRP for the Smith & Wesson Performance Center M&P9 M2.0 Ported 5″ Barrel & Slide C.O.R.E. is benchmarked at $735. For all of our readers out there, what do you think? Is this a pistol you would be willing to add to your arsenal and take to the range? Let us know all of your thoughts in the Comments below! We always appreciate your feedback.