Blackhawk Finds a Sweet Spot With T-Series Holster
Eve Flanigan 05.28.19

Tactical gear maker Blackhawk Holsters has just released a Kydex holster called the T-Series, available in Level 2 and 3 configurations. This one may be a real problem-solver in the duty market, responding to the need for fast draws despite deliberate action required to defeat retention. I'm currently testing a Blackhawk T-Series Level 2, and already consider it a favorite where Level 2 holsters are concerned. However, the model does have some limitations.
The T-Series is available in black, and the early release is only available for what is surely the most common duty pistol brand: Glock. One holster fits the full and compact size of each model. A holster for the Sig Sauer P320 is on the horizon; hopefully more models will follow.
Left-handed and light-bearing models are already available, a boon to two groups of shooters/officers who are often challenged to find Level 2 holsters that are service-ready. The light-bearing option is also great for home defense.
This holster is a problem-solver. Other gear on the belt or high-waisted conformation can impede a smooth draw. The mount of the holster is dropped slightly; the gun rides about an inch lower than on a typical belt-mounted rig. That little extra space makes all the difference for quick draws, especially when loaded down with other waist-borne gear or for short-waisted shooters who find it necessary to bend away from the gun to create enough room to draw.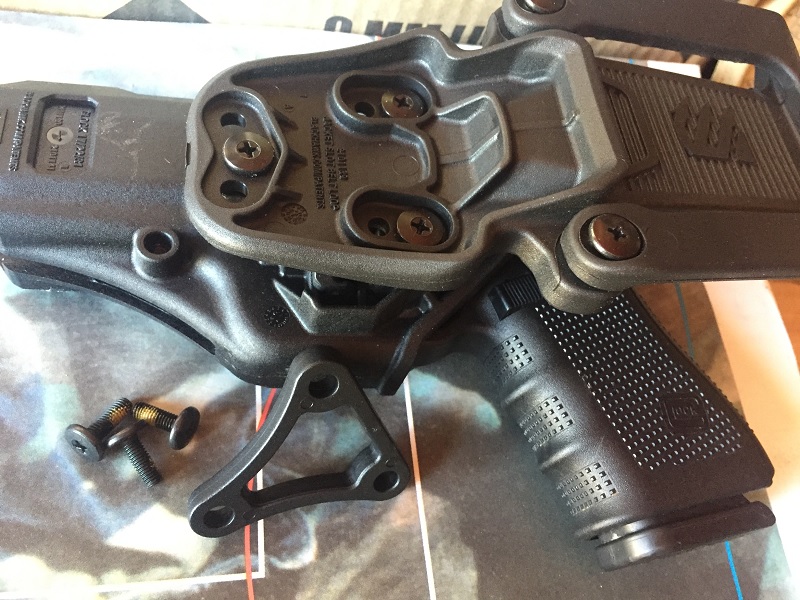 In addition, an optional spacer is included to offset the gun a small but significant quarter-inch or so away from the body. This, along with the drop feature, makes fast draws easier regardless of body shape or other gear.
Stacking up ways to make it comfortable and fast to draw, the T-Series exploits the natural movement of the thumb to release the retention device. There is no conscious effort required, other than getting a feel for where the holster is in space as with any holster. The act of establishing grip disengages the retention smoothly, more so than any Level 2 I've seen including Blackhawk's own Omnivore holster.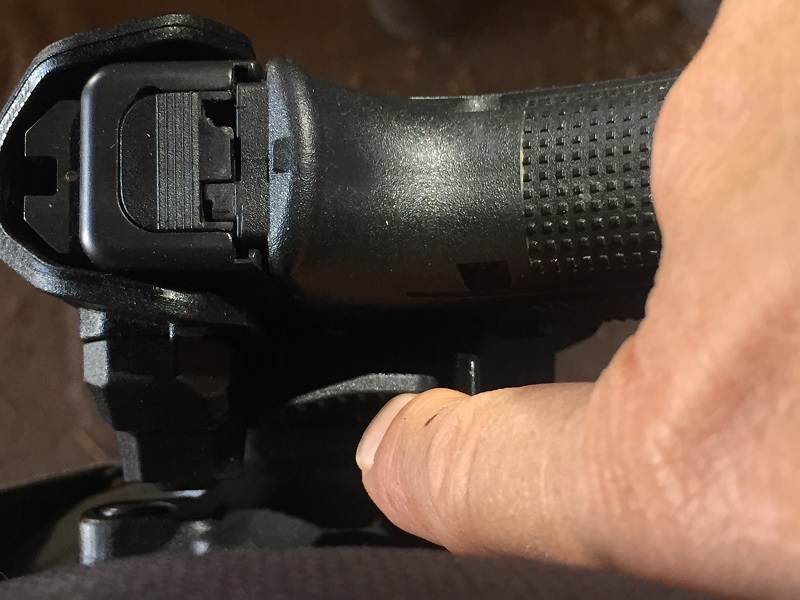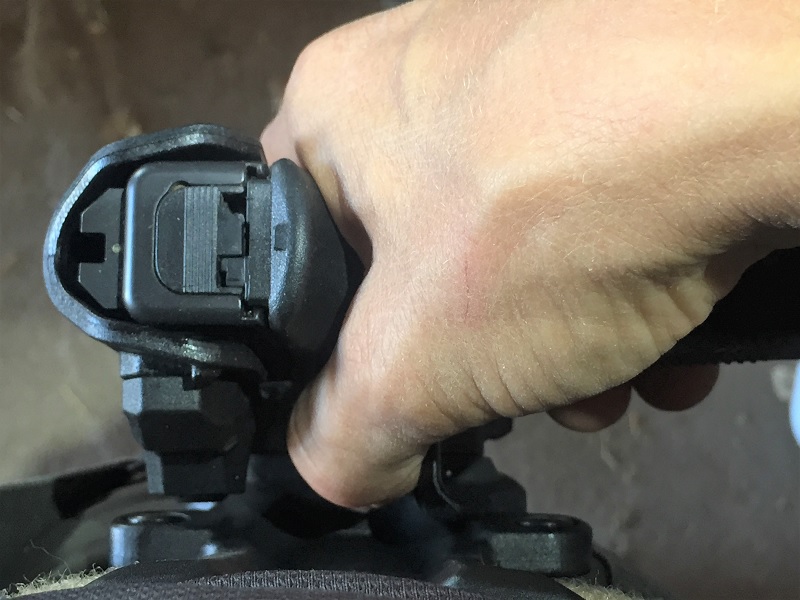 The retention device does, as with the Blackhawk's Level 2 Serpa design, engage with the trigger guard. It appears to latch into the anterior side of the trigger guard. As such, extreme care should be taken when reholstering after rolling in mud, snow, or debris, or when a shirt hem or jacket toggle are sloppily draped over the holster—and this is true of any holster, especially when a part of the product will be inside the trigger guard when it's properly holstered. I view it as completely safe when used with common sense.
The T-Series holster provides excellent protection of the firearm and trigger guard when worn. In fact, there's so much coverage that a red dot sight cannot be used with the first run of these holsters. Blackhawk representatives say an RMR-ready model is in the works. Despite being a low-profile holster, it does accommodate the XS Big Dot night sights on my G19.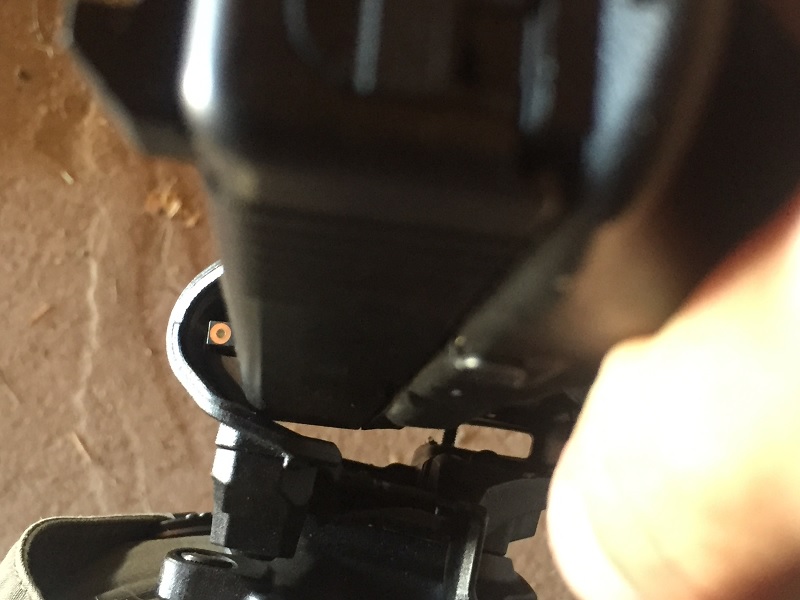 Retention of the gun is excellent with the T-Series. An audible "click" upon reholstering gives great peace of mind.
Depending on one's work-related EDC, the belt loops on the T-Series will be good or bad. While my aging Blackhawk rigger's belt, with exposed loop material, easily threads through it, a very similar but slightly thicker (same width) belt is too stiff to be used with the holster without significant labor. I cannot thread my leather Sam Brown through at all. But, there's an out. Screws at the bottom of each belt loop allow for semi-permanent attachment to most belts. The fit is so tight on some belts, though, that there's no moving the holster fore or aft once it's attached. So it can work, but the initial attachment and any later adjustments will be time-consuming. This type of attachment also necessitates separating the gun from the holster when not in use. This may or may not be a problem depending on one's routine for securing the firearm when it's not worn.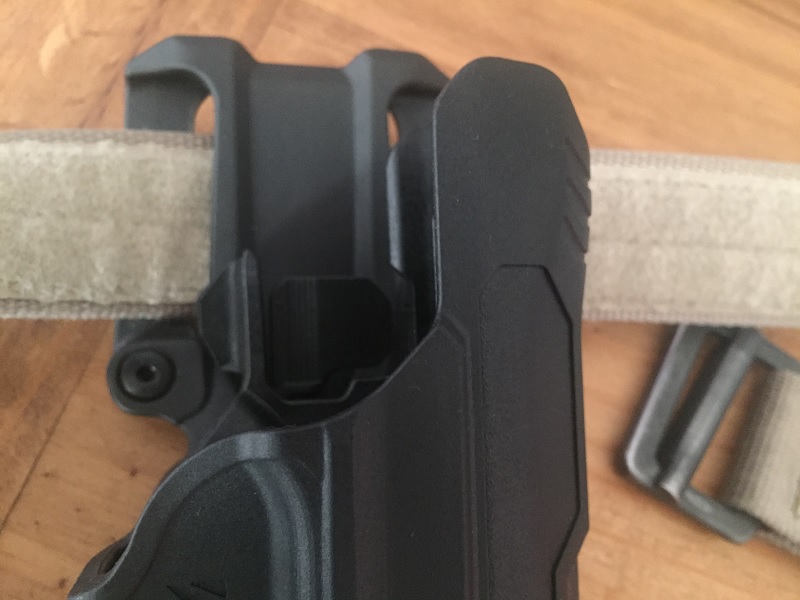 Blackhawk is focused on the duty market with the T-Series. As such, it's currently only available for most full-size and compact Glocks as well as the Sig Sauer P320. It is available in a choice of left- or right-hand wear, and there is a Level 3 option which adds a retention strap across the top.
The T-Series holster is, in my opinion, an important development in the evolution of Level 2 holsters. It's certainly faster on the draw than Blackhawk's Serpa or Omnivore models, and the retention design makes it almost impossible for the holster to punish incorrect trigger finger placement as has been recorded in a couple isolated instances with the Serpa. It has a slim profile that allows room for other duty gear, even with the spacer attached.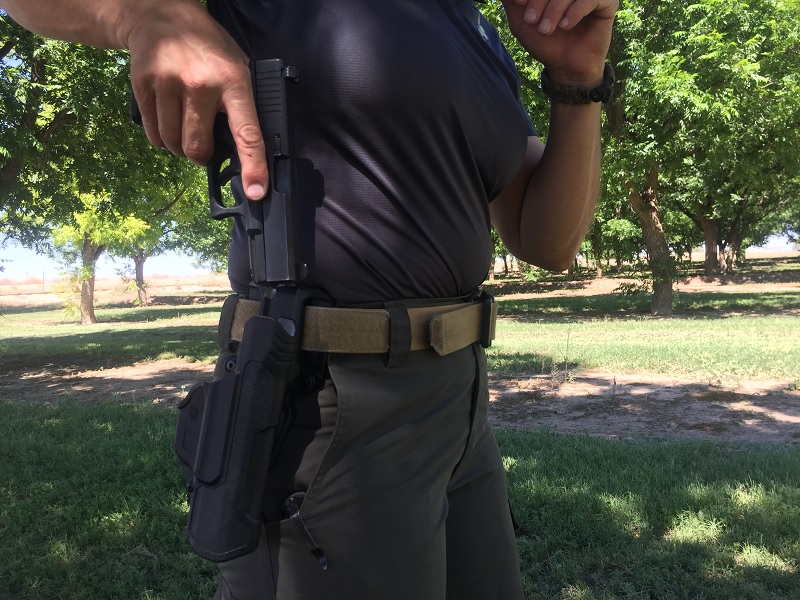 Blackhawk, without a doubt nailed, it here. Make a T-Series holster your own for $129.95 for Level 2 or $149.95 for Level 3.