JM4 Tactical Wallet is a Real Money Magnet
Eve Flanigan 07.01.19

JM4 Tactical already makes an innovative and practical magnetic holster. It's one I've carried for quite a long time and my most comfortable concealment holster. So it was exciting to hear the company was applying its magnet-and-leather design to a wallet. Just like their holster, there's nothing else like a JM4 tactical wallet.
The Magnetic Quick, Click, and Carry Wallet is the companion to the holster by the same name. In every state that I'm aware of that has a concealed handgun licensing system, lawful carry includes the presence of the license. This wallet has four card slots. The two on the outside are very tight, and I quickly learned the oval cut-outs on these pouches are more than just a window to see what card is there. These openings serve as leverage points. Using a thumb to push the card toward the opening is the only way to remove the card without a fight. In other words, it's super-secure!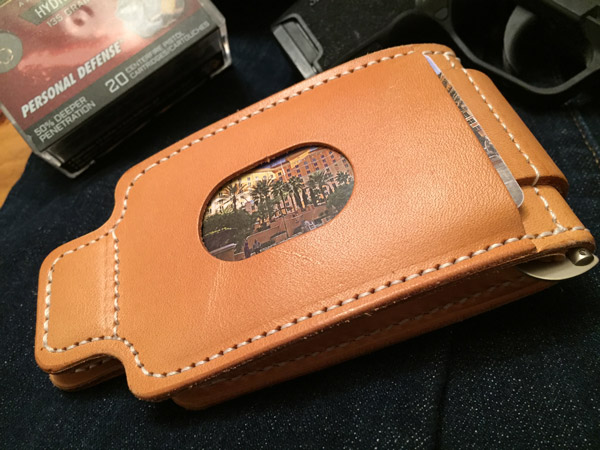 The interior card slots are much more forgiving of card removal, with the entire long side of the cards exposed. The flaps on the narrow ends of this two-ply wallet enclose strong magnets. As with the company's magnetic holsters, this wallet "wants" to stay closed, even when looped over a belt or half-inside, half-outside of a waistband.
An ingenious money clip is anchored between the two layers of leather, at the fold. It's the only metal component and is unobtrusive. Like the JM4 Tactical Quick, Click & Carry holster I wear, there is no metal-to-skin contact with the money clip, so people with metal sensitivities can still wear this wallet without fear of a rash. Paper legal tender is held tight and doubly secure, latched in the clip and enclosed inside the folded wallet.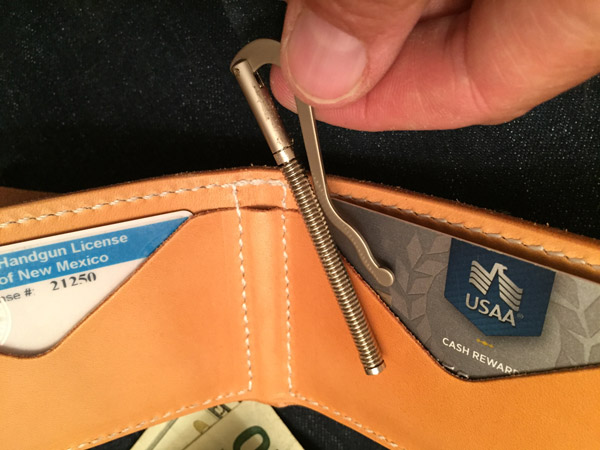 This wallet puts money, ID, and credit cards right under the user's control in comparison to hip-pocket wallet carry, protecting against pickpockets while keeping the moolah in easy reach. In addition to being nearly theft-proof, wearing the Magnetic Quick, Click, and Carry Wallet eliminates the common problems of discomfort and strain of the spine muscles and sciatic nerve associated with hip-pocket wallets.
In preparation for this review, I wore the Quick, Click, and Carry Wallet over my waistband at approximately 10-o'clock position for a week. My handgun rides at two-o'clock. At no time did I feel that the wallet nor its contents would come loose. Even while stacking hay bales, the magnets held tight.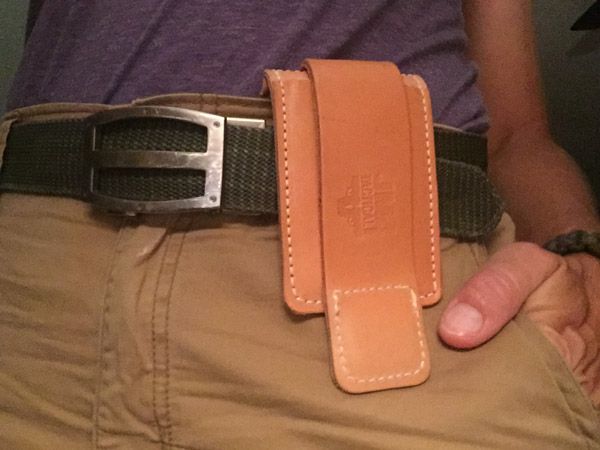 The only downsides I find to wearing this wallet are minor. While it's acceptable with a tucked shirt, it is large enough at just over four inches long to attract attention. If you don't mind the attention, that's not a drawback. And when worn at the waist with a tucked shirt, dollar bills are slightly visible to anyone interested in staring long enough to identify them as such. I also found it required a slightly longer shirttail to render it reliably concealed as compared to my holster's magnetic belt attachment. At just over four inches at its longest when folded, the leather tabs over the magnets are often visible under my customary concealment shirts. But the hands-free and comfortable convenience of having my hotel room keycard, ID, money, and credit cards right at hand are a boon for efficiency on a workday and for getting that feeling of freedom on days off.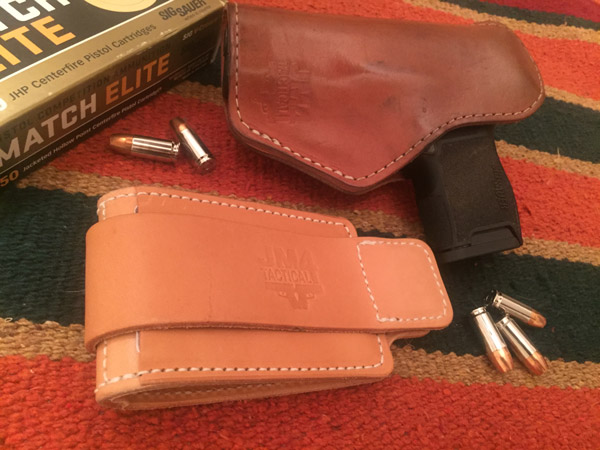 Based on experience with JM4 Tactical's magnetic holsters, I would recommend the un-dyed tan color for most people. Darker dyes can bleed onto skin and clothing. The Quick, Click, and Carry Wallet is available in black, brown, or natural tan for $15 more than the base cost of $64.97. Exotic shark and elephant hide wallets are also available in black or brown, and there is a price increase for these special materials. If you or someone you care about has a case of wallet-related back pain, or simply would like to enjoy your time, hands free to engage in whatever the day brings, without any stress over wallet security, this one's a winner.