When you're getting ready to head out fishing for the day, you may think all you need is your fishing rod, some line, bait, hooks, and you're set. Sure, you could get by with that sort of minimalist gear, but you'd be much better off including several other important items as well. To get you ready for the water, we've put together a list of the top 10 essentials for the modern-day angler!
Fishing Rod and Reel
There are literally thousands of different setups an angler could use for their rod and reel based on fishing style, fish type, and experience. So, we're going to keep this one pretty simple. Rod and reel combos are perfect for getting out on the water quickly and easily. Combos are ready to use 'out of the box'. All you have to do is add the line of your choice – some even come with line pre-spooled. The benefit of getting a combo set is that you'll know the specifications of the rod and reel will work well with each other. Lew's offers a great selection of Rod and Reel combos. Lew's Custom Black LFS Combo (pictured below) was awarded "Best Rod & Reel Combo" at the 2018 iCast product showcase, marking the 5th consecutive year Lew's has won this award.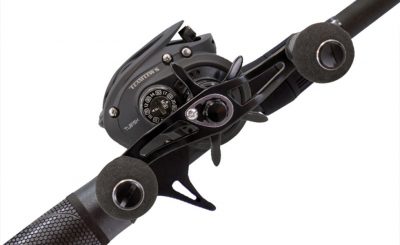 Polarized Sunglasses
If you plan to get out on the water, you need a solid pair of polarized sunglasses. Don't stop by the grocery store and grab a pair off the rack, do a little homework here. Polarized sunglasses provide superior glare protection for the modern angler– especially on the water. With the reflective glare eliminated, anglers can see into the water. This is great for spotting fish, rocks or other elements below the surface. A brand that is tried and true is Costa. They offer seven lens colors that range from low-light to extremely bright light so you can choose the right color to suit your fishing environment. The Costa Baffin (pictured below) was also awarded a Best-of-Show at the 2018 iCast product showcase. These glasses are part of 'The Untangled Collection' where the frames are made from 100% recycled fishing nets.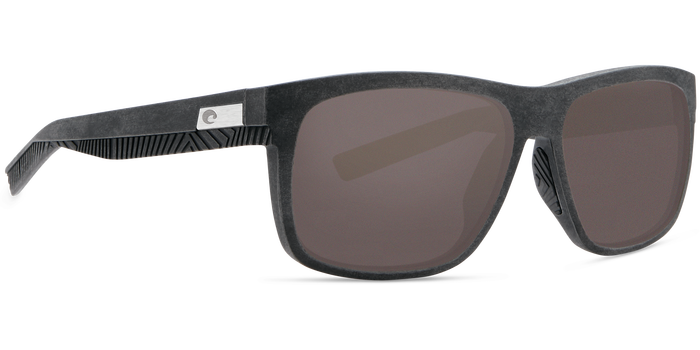 Fishing Hat
Every angler needs a good fishing hat is a great way to protect your head and face from excessive sunlight, minimizing the chance of sunburn and long-term skin damage. Sure, you could grab an old bucket hat like your grandpa had with flies hanging off, or you could make a stylish upgrade such as the Trout Fly Patch Hat from RepYourWater. Not only is the topo/camo design very cool looking, but it comes with a built in drying patch for your flies (how cool is that!). RepYourWater is an apparel brand providing unique gear with locally focused designs. You can choose a hat design that features the state you live in or even the type of fish you like to get after. You can check out their entire selection of hats here.
And they'll even donate 3% of your purchase to their local conservation partners.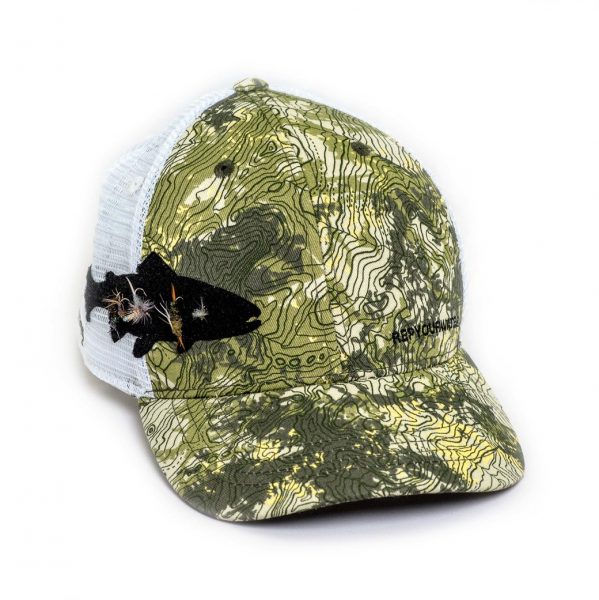 Sun Proof Fishing Shirt
Comparing a cotton tee shirt to a full-fledged fishing shirt is like comparing a grocery bag to a suitcase. Sure they both hold things, but they are used for totally different tasks. Likewise, tee shirts are comfortable to wear for just about anything, but a good fishing shirt is made specifically for the tasks of angling. So it must be comfortable, offer sun protection and have the right features. Columbia, a company we all know, offers a wide range of fishing  shirts for the modern angler. Columbia has a shirt for every size, style and budget, all made specifically for your type of angling.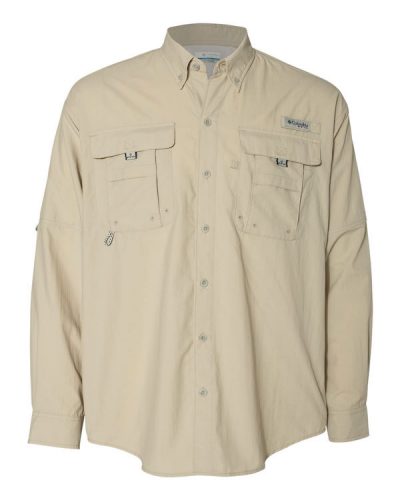 SmartPhone
These days, your phone is probably one of the most essential items to have with you at all times. But the phone also makes special appearances when you're on the water and you want to capture the scenery/memories/fish caught etc… Besides capturing the essence of your fishing trip, your phone should be loaded with some apps to help aid in your fishing excursions. The FishAngler app is a resource to help you do everything from exploring new fishing spots and checking weather conditions, to uploading and capturing your fishing photos and catch stats. This app is loaded with great features to make you a more successful Angler. You can download the FishAngler app for IOS or Android all 100% free by clicking this Free Fishing App.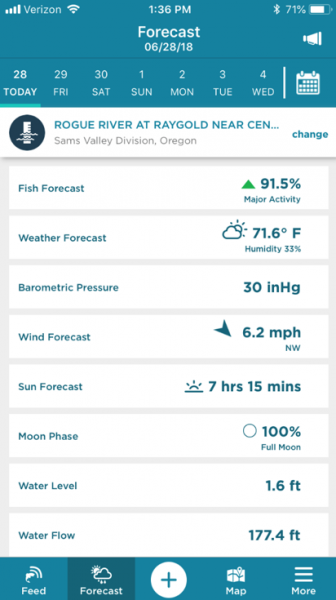 Waterproof Phone Case
Do yourself a favor and get a waterproof case for your phone. Too many phones have met their demise by water when an angler scrambles to take a photo while having a fish on the line. If you plan to use your phone frequently during your fishing trip, a waterproof cover will save you some potential heartache. DryCase makes the best smartphone case on the planet. The Drycase uses vacuum seal technology to ensure a watertight seal every time. Best of all, you'll still be able to use your touch screen to text or make calls and your pictures will be crystal clear! When you purchase the DryCase you will also receive a small hand pump, neoprene armband, and a lanyard. If you don't have it already, this is your next essential fishing item to purchase right here!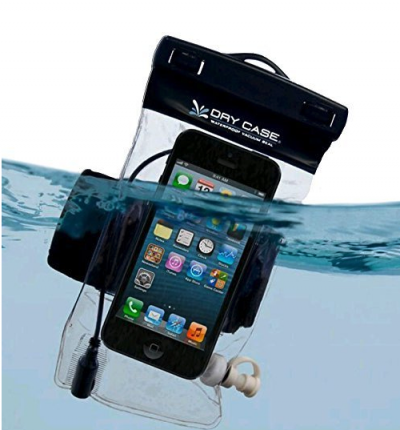 Fishing Net
With the addition of new age materials, a net is now an angler's companion out on the water that performs a multitude of jobs. As much as any other piece of tackle that is brought along, the net is a crucial part of the angler's kit. Everyone wants proof of their trophy catch and a good net allows for proper fish handling techniques and follows good #keepemwet practices. It also serves as a great holding tank to let the fish rest after a long fight. If you're in the market for a fishing net that is lightweight and durable, look no further than the Fishpond Nomad River Armor Emerger Net. Not only does FishPond make some of the best nets in the industry; Fishpond looks to the future with a goal of creating innovative products for the good of our community and planet.
Waterproof Gear Bag 
Now that you've acquired a handful of important clothing items and equipment, a modern angler needs a convenient and safe way to carry everything around. A waterproof gear bag will keep your items dry from the unexpected tropical thunderstorms or surprise river swims. If you're looking for an ultrasimple waterproof pack, the Patagonia Stormfront Pack lets you carry your gear with confidence knowing it will be dry no matter the weather conditions. This gear bag features welded construction, a burly Tizip closure and an ergonomic back panel and shoulder harness for comfortable carrying. Part of its great waterproofness lies in its high-grade gas, pressure and watertight Tizip zippers, which are not just used in rugged backpacks, but diving suits, chemical protection and gas protection suits, to name a few.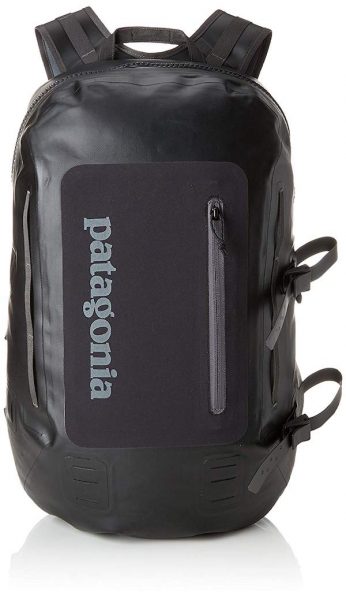 Rain Gear
When bad weather hits and you're just not ready to call it a day, rain gear can help any angler stay comfortable. Rainwear is also pretty compact so it's easy to roll up and bring along with you. When clouds cover the sky and rain becomes apparent, there is a good chance for some awesome hours on the water – as long as you're prepared.
If you demand good performance from your fishing gear, check out the packable rain jacket from HUK. Next time, don't rely on the weatherman, pack your own waterproof/breathable rain jacket. This jacket is wind-proof and packs into its own pouch and can be stowed just about anywhere on the boat or tackle bag. 100% waterproof, 100% windproof, 100% awesome!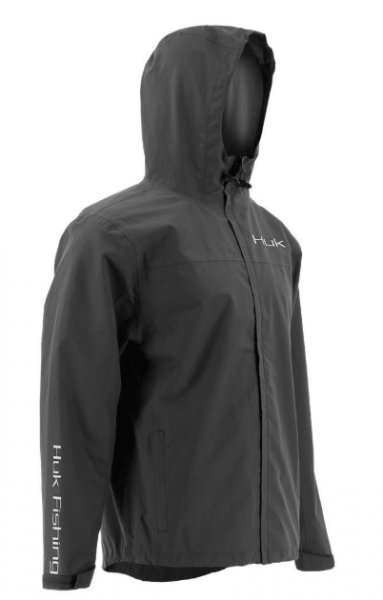 Drink Wear
Last but certainly not least, don't forget to bring your favorite cold beverages for those long hot days on the water. Yeti has pretty much taken the idea of the Koozie to a whole new level with the Rambler Colster. They keep your hands from getting cold and your beverage from getting warm. What separates the Yeti from the freebie koozies out there is that instead of foam and neoprene, it's made of 18/8 stainless steel with double-wall vacuum insulation. It's basically a thermos for your beverage that will keep your beverage cold for a very long time! But don't take my word for it, check out the 4.7/5 rating with literally thousands of raving reviews!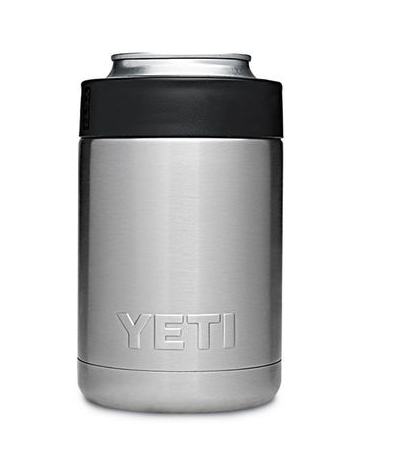 Adding these items to your fishing routine will help the modern-day angler maximize comfort and likelihood of success. So, grab a gear bag and fill it up with these essentials before your next fishing trip. You'll thank us later. . .
Tight Lines!