SIG Sauer Offers Ammo for All Your Needs
Terry Nelson 09.10.19

You most likely have heard of Sig Sauer for its exceptional line of handguns and rifles. Their line of products also include red dots for both rifle and pistol, rifle scopes, range finders, spotting scopes/binoculars and have been making headlines for some time. You may have even heard of the Sig Sauer Training Academy having been around now since the late 1980's.
However, many folks probably still do not know that Sig has been in the ammunition business since 2013. Its ammo division first started in Kentucky and has now moved to Jacksonville Arkansas. Sig Sauer offers a full line of Practice, Defensive Match and Hunting ammunition along with brass for the reloading enthusiasts.
I have yet to try all the offerings of Sig ammo as of yet, but have been fortunate to test most of their ammunition categories to include the following:
Defensive
As SIG puts it when talking about their defensive line "From bullet to brass to propellant, SIG V-Crown ammunition establishes a new standard in jacketed hollow point centerfire pistol cartridges." I have shot lots of Sigs defensive line of ammo and can report that it is both reliable and accurate.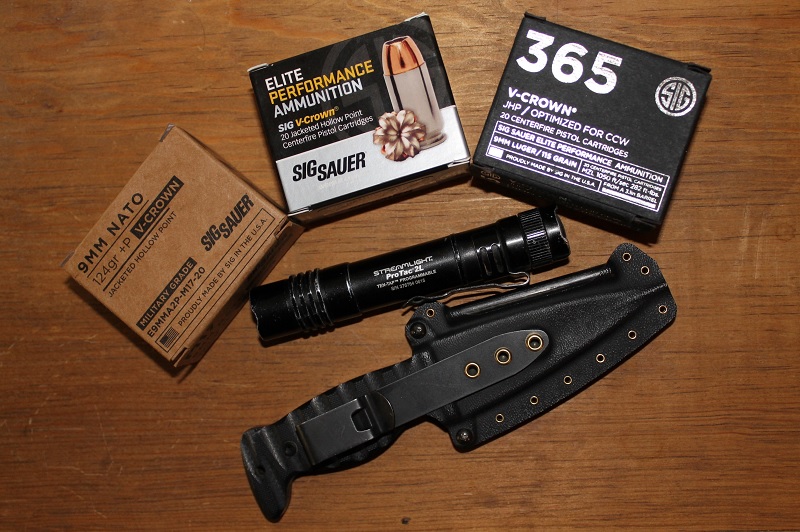 Defensive ammo from SIG is offered in the following; 38 Special +P, 380 Auto, 38 Super + P, 9mm, 10mm, 357 Sig, 357 Magnum, 40 S&W, 44 Magnum, 44 Special, 45 Auto and 45 Colt. Included in this in the new 365 Sig 9mm ammo, developed specifically for the also new SIG 365 model pistol, a great choice for concealed carry.
Hunting
The hunting line of ammo offered by SIG is one I have not had the privilege of trying as of yet but hope to soon. SIG Hunting line of ammo offers a good selection. Manufactured in the following calibers; 22-250 Rem, 223 Rem, 243 Rem, 260 Remington, 270 Winchester, 300 Blackout, 30-06 Springfield, 6.5 Creedmoor, 308 Winchester and 300 Winchester Magnum.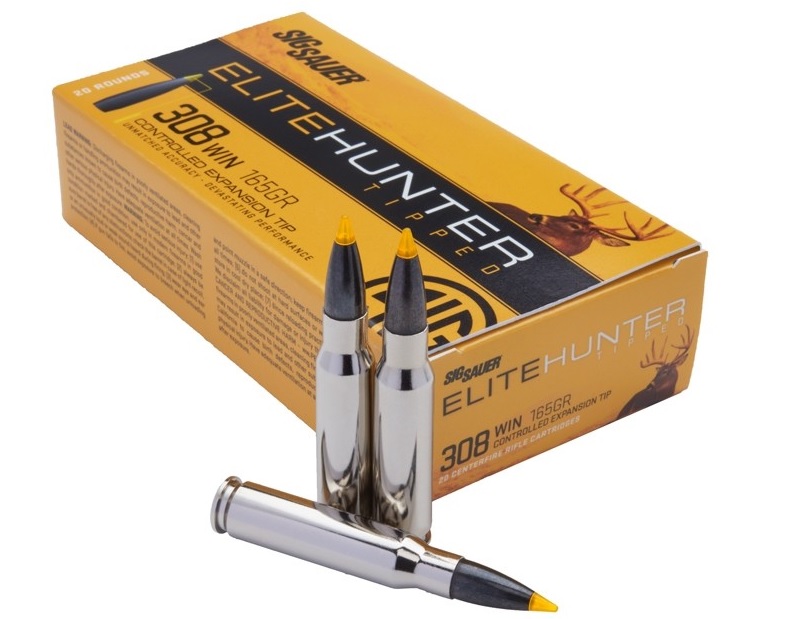 SIG states that their  "HT superior hunting rounds yield consistent 1.8X diameter expansion using an all-copper projectile with optimized nosed geometry and premium nickel-plated shell casings, delivering consistently reliable accuracy for taking down game."  My intent is to try SIG hunting ammo in the hunting field soon.
Practice
Sig practice ammo is "manufactured to SIG's exacting standards with durable copper jacketed bullets, solid brass cases and dependable primers."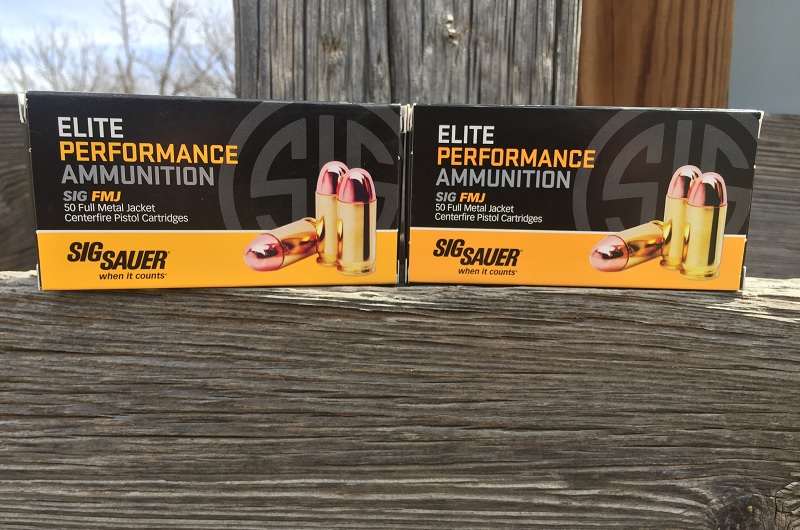 The "Practice" category was my first chance to try out Sig's ammo and it did not disappoint with zero feeding or reliability issues. Offerings in the Practice ammo include, 38 Special, 357 Magnum, 380 Auto, 38 Super, 9mm, 10mm, 357 Sig, 40 S&W, 45 ACP and even .308 FMJ. Sig provides yet another choice for the shooter when it comes to reliable training ammunition.
Match
According to SIG "Our subsonic match rounds deliver increased downrange terminal performance and low noise for suppressed AR rifles, while supersonic rounds offer superior accuracy and minimal dispersion when suppressed." SIG manufactures match grade ammo in the following calibers; 223 Rem, 300 Blackout, 6.5 Creedmoor, 300 Win Mag, 30-06 Springfield and 308 Win. Now Sig is also now offering 147 grain 9mm Match ammo. I have personally tested their match ammo in 308 Win and can say that it is offers excellent accuracy and reliability.
Brass
Sig offers high quality shell cases for those of you that prefer to hand load your own ammunition. Cases are available in both pistol and rifle calibers and in primed and unprimed casings.
No doubt I will continue use of other brands of ammunition that have been in my ammo cabinet over many years of hunting, training and competition. Have no doubt that the SIG lineup of ammo will have a place in my selection for ammo needs now and into the future.