Lucid Optics' MLX:  Top Pick Among Long Range Optics On A Budget
Eve Flanigan 10.15.19

The slogan of Wyoming-based Lucid Optics is "on target; under budget." That can be a tall order where full-featured long range scopes are concerned. In the world of precision shooting, the baseline of expectations is quite high. But Lucid managed to check all the right boxes with the MLX 4.5x-18×44, currently the company's only first focal plane scope.
With specs chosen with an ear toward long-range hunters' and precision shooters' most frequent requests, the first focal plane, mil-based reticle is just the beginning of this full-featured scope. Windage and elevation controls are built with 1/10 mil clicks. Zero-stop adjustment is built in for fast and intuitive adjustments.
The scope is housed in a one-piece 30mm 6063 aluminum tube which is shock-proof in chamberings up to .338 Lapua. It's mobile between rifles when paired with the company's QD cantilever mount. There are six inches of available mounting space. It's big enough to be useful at well beyond 1,000 yards yet compact enough to take afield. It has a 44mm objective lens and 34mm ocular lens. It's 13.89 inches long and weighs 26 ounces. It's also waterproof.
Lucid's attention to detail in glass quality is above expectations for the price range. Lenses are FBMC multi-coated with 92 percent light transmission. The scope has parallax adjustment that is effective at eliminating distortions at any of its magnification levels. There is no illumination, though.
Field and tactical use are enhanced with Lucid's screw-on sunshade and filter which doesn't obscure clarity but does eliminate glare. The company's sunshade may or may not be compatible with other brands, depending on thread pitch.
The etched reticle features 10 mils of hold-over and five mils of hold-under in the field of view. At 4.5x, the field of view is 25.5 feet, decreasing to 8.5 feet at the maximum magnification of 18x.
At the 2019 Ballistic Summit, a writer's conference sponsored by Lucid Optics, I had the opportunity to run the MLX on a high-end rifle, the Cadex Guardian Lite chambered in 6.5 Creedmoor. The scope's ladder-style reticle has a clear center that doesn't obscure the target. With hold-overs established and recorded for various distances, it was easy to clean a row of steel plates progressing from 400+ to over 1,000 yards in quick succession. The scope has excellent clarity. It functioned well for hours with a number of event participants ranging in age from 13 to gray-haired; all enjoyed quick success when using pre-determined holdovers.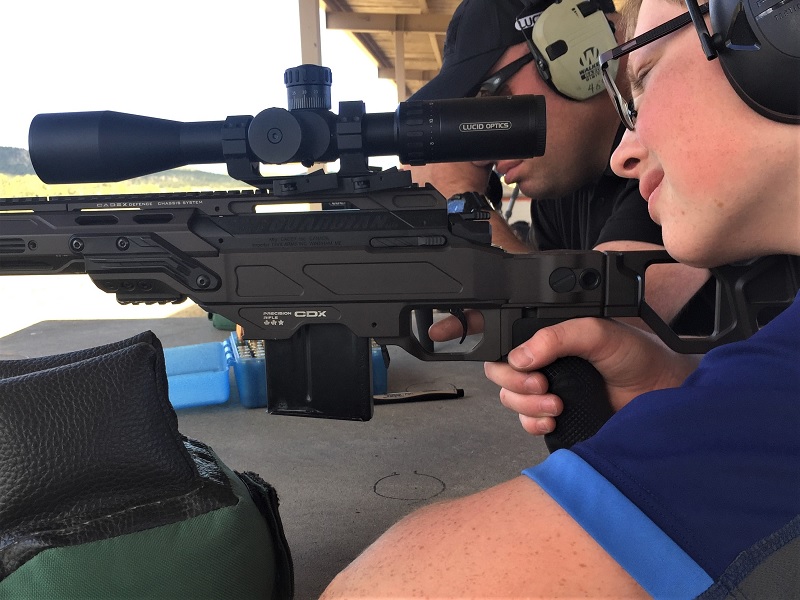 The only difficulty in using the scope was when they all get challenging—at longer distances in the wind. Holding windage as well as significant elevation forces the shooter to draw an imaginary x/y axis intersection and hold there—but even so, it's far better than some pricier hunting scopes.
Adjusting elevation and windage was easy. The turrets are designed to lift, turn, and then set back down to lock in the adjustment. Clicks are palpable and gently audible. Even making a new "true zero" is easy and tool-free; simply lift the knob higher so it'll spin without clicking, and press all the way down to set zero. The only potential fault with this system is the small possibility it could catch on gear and adjustments could be made inadvertently, though this is not likely if the rifle and optic are handled with care.
MSRP on the MLX riflescope is $719, but they can be found online for $507. Highly recommended for hunting in the Western states where distances are longer, or as an entry level long range precision optic.