Lucid Optics; Not Just Rifle Scopes and Red Dots!
Terry Nelson 10.21.19

Are you heading to the field this fall or winter to enjoy the time-honored tradition of the hunt? All across the U.S., hunting season is already in full swing. And along with it comes the inevitable trip to the range to zero rifles, then on to a destination to hopefully bag that whitetail, bear, or whatever species you're lucky enough to have a tag for.
Along with range time and the hunt comes the need for not just a quality scope, but also for a good binocular and possibly even a spotting scope depending on the terrain you're hunting. Here in the west, I spend lots of time glassing for mule deer, pronghorn, and elk.
Recently at the first ever Ballistic Summit sponsored by Lucid Optics at the renowned NRA Whittington Center near Raton New Mexico, I was able to get my hands on both a set of binoculars and a very compact spotting scope from Lucid Optics. I find the high-definition resolution of Lucid optics to be phenomenal.
Lucid offers both the B-10 binocular (10×42) the B-8 (10×8) binocular. The B-10 and B-8 are almost identical in specifications but I spent the most time trying out the B-8 which is new for 2019.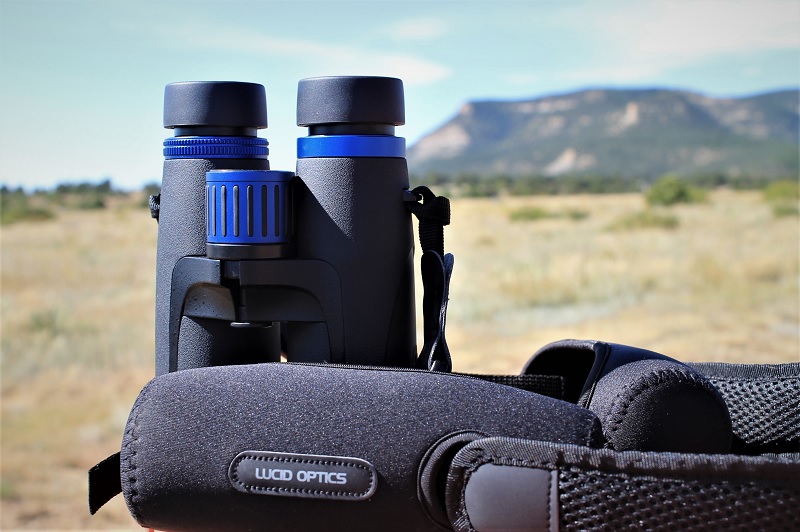 Specs for the new B-8 are as follows:
Magnification – 8x
Objective Lens – 42mm
Ocular Lens Diameter – 22mm
Length – 6.5 inches
Tripod Adaptable – Yes
Weight – 24oz.
Rubber Armor – Yes
Construction Material – Polymer Frame
Prism Material – BaK-4 High Definition Resolution
Color & Finish – Matte Black
Waterproof – (IPX8) Yes
Fogproof – Yes (Nitrogen Purged)
Lens Coating – (Multi Coated) FBMC
Prism Coating – Silver
Light Transmission – 96%
ED Fluoride Lenses – Yes (High Definition Resolution)
Eye Relief – 18mm
Exit Pupil – 14mm
Field of View – 341ft @ 1000yds
Close Focus – 5.75 feet
Warranty – Limited Lifetime
MSRP for the Lucid B-8 $679.99, but you can find the B-8 binocular for around $560 from retailers.
Another awesome Lucid optic I was able to spend lots of time with is the model SC9 spotting scope. With a length of just over eight inches and weighing only 21 ounces, you can throw this spotting scope in your cargo pocket or day pack. The SC9 is a variable magnification of 9x-27x making it ideal for the hunting field.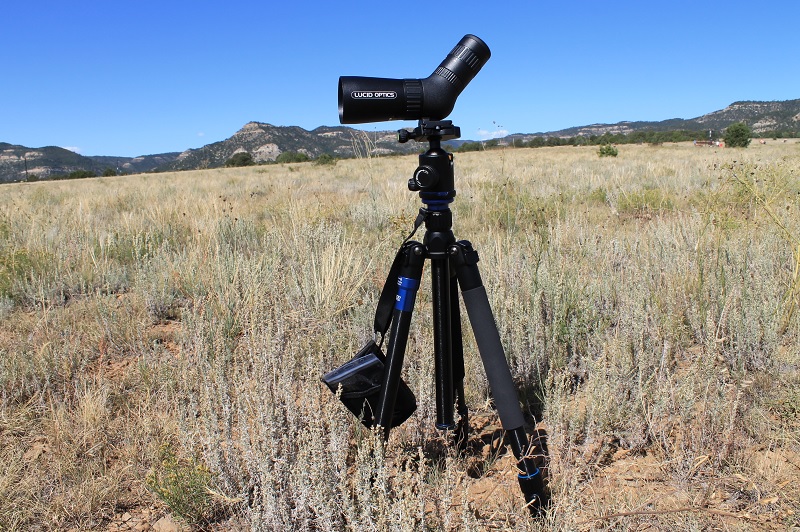 Overall specifications of the Lucid SC9 spot tong scope are as follows;
Magnification—9x-27x
Objective Lens—56mm
Ocular Lens Diameter—20mm
Length—8.25 inches
Mounting—1/4-20
Weight—21 ounces
Rubber Armor—Yes
Construction Material—One piece aluminum
Prism Material—BaK4
Color & Finish—Matte Black
Waterproof—Yes IPX8
Fogproof—Yes (Nitrogen Purged)
Lens Coating—FBMC (multi coated)
Light Transmission—92%
Ocular Focus—Yes
Eye Relief—14mm-17mm
Exit Pupil—7mm
Field of View—120 feet @1000 yards
Close Focus—8 feet
Warranty—Limited lifetime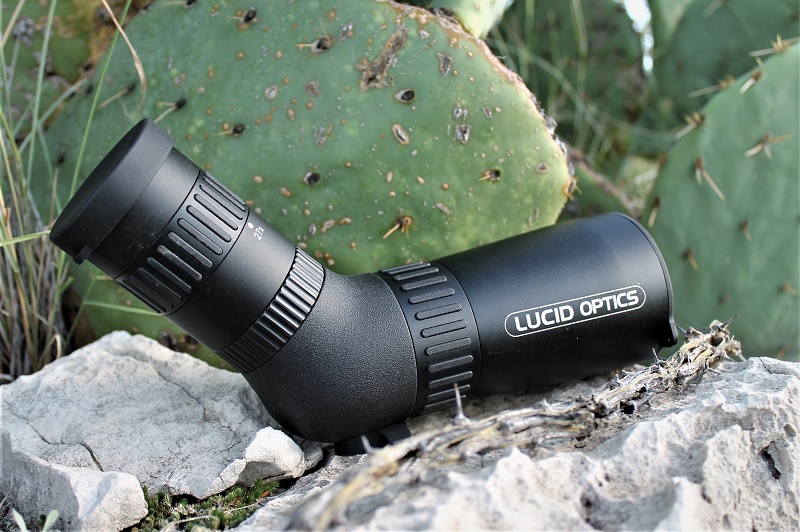 MSRP for the Lucid SC9 is $599, but as with the B-8 binocular you can find the spotting scope on the retail market for around $440. You may want to consider coupling the SC9 with Lucid's TP4 aluminum tripod for super stability and that can be used as a traditional tripod or as a monopod, MSRP $179. I like this spotting scope for field use because it's so compact and lightweight. I found that the SC9 is very useable without a tripod by just bracing my hands against my chest while holding the optic and looking through the ocular lens.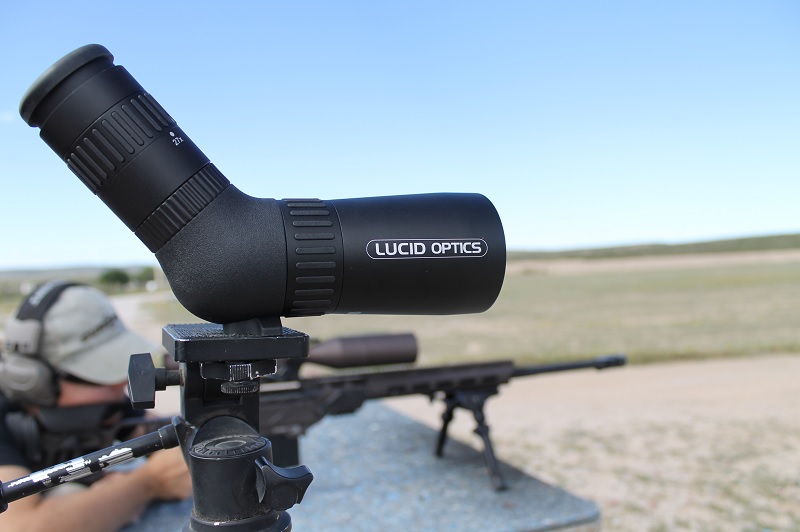 If you are looking for a great field optic that is high quality and offers a limited lifetime warranty look no further than Lucid Optics.  The company's motto of "On Target-Under Budget" by all appearances hits the mark. Take a look at Lucid Optics at mylucidgear.com.