2019 Gear Hunter Holiday Gift Guide: Traeger Pro Series 575 Pellet Grill
OutdoorHub Reporters 12.16.19

For any outdoor enthusiast who also brings their passion for the outdoors into the kitchen, get ready to reach new levels of flavor with a pellet grill from Traeger. If you aren't already familiar with Traeger, they have established themselves by offering top-of-the-line pellet grills which use natural hardwood pellets for a fuel source instead of charcoal or gas.
This was my first experience with Traeger, and using a pellet grill, so needless to say I was eager to get cooking!
I found the Traeger Pro 575 was easy to assemble, set up and start cooking on right away. One of the coolest features about the Traeger 575 is it's versatility, allowing you to cook 6 different ways (Grill, Smoke, Bake, Roast, Braise & BBQ) all on one unit.
Over the past few months, I have cooked a variety of recipes from the Traeger app including  3-2-1 Pork Ribs,  Smoked Pulled Pork,  Roasted Rosemary Orange Chicken and Roasted Venison Tenderloin using the Traeger Pro Series 575 pellet grill.
The '575' is a direct reflection of the grills cooking capacity. Meaning you get 575 square inches of cooking surface, which roughly amounts to 24 burgers, or 5 rib racks, or 4 whole chickens. Traeger also offers a number of add-ons and accessories for this specific model, such as a Full-length Grill Cover and Folding Front Shelf.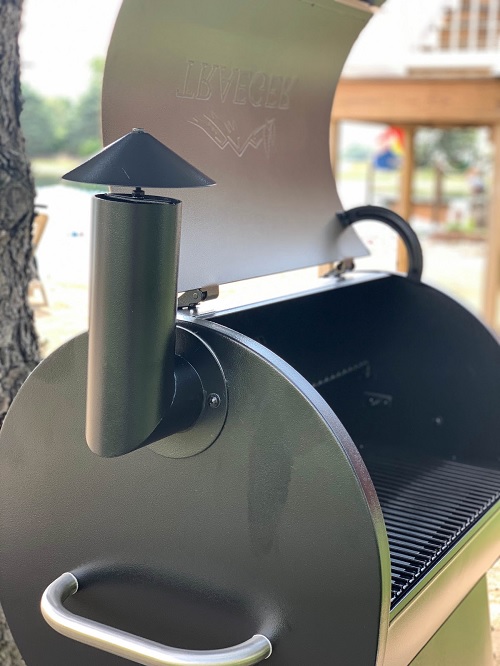 Key Features:
Pro D2® Controller – As easy as using an oven. Just turn the dial to the desired temp, hit ignite, and you're Traegering.

WiFIRE® Technology – Allows you to monitor and adjust your grill anywhere.

Pro D2® Direct Drive – Improves searing and let's you cook low and slow or hot and fast.

TurboTemp® – Lightning fast start up times and quicker recovery.

GrillGuide® – Step-by-step cooking instructions and alerts for over 1,500 recipes in the Traeger app.
Here's more from Traeger:
"The Traeger Pro Series is the best-selling pellet grill in the world. The all-new Traeger Pro 575 & 780 grills just got better with an enhanced controller that uses WiFIRE® technology.

WiFIRE® allows you to monitor and adjust your grill anytime, anywhere from the Traeger app on your smartphone. Plus, with the brand-new D2® drivetrain, the Pro Series wifi pellet grills now start quicker, heat up faster, and put out better smoke quality giving you consistent results infused with wood-fired flavor."
Don't forget the secret sauce!
It's really no secret at all, but Traeger also has their own mouthwatering line of BBQ sauces and rubs which will enhance your flavors even more and have your guests running back for seconds – and probably thirds!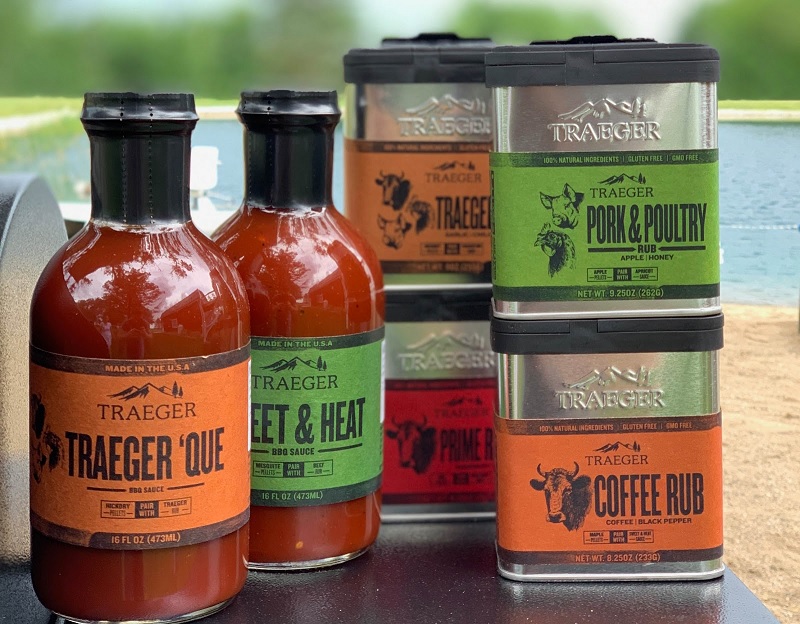 If I had to offer one piece of advice after cooking with the Traeger 575, I would say don't be afraid to experiment! With Traeger's wide range of BBQ Wood Pellets, the possibilities are seemingly endless. Once you find a flavor profile you like, mix it up by trying a different blend of pellets for an entirely new taste experience. And with each bag of pellets, Traeger includes some suggestions on which foods to pair them with.
It may take some time to nail your 'secret' flavor combination with all of the options, but I guarantee it will be the most delicious conundrum you've ever dealt with!