It's pretty rare that the surface of this 20,000-plus-acre Roscommon County fish factory is as smooth as glass, but that's how it was when I met up with Mike Mol the other evening for one of our annual walleye fishing safaris. And that, Mol said, was bad, bad, bad.
"You've got to have some wind," the former Department of Natural Resources Conservation officer said. "I don't care if it's bright and sunny or overcast, if there isn't any wind, they just don't bite."
Because of the negative weather (it's pretty amazing that someone would characterize a sunny, mild, still evening as negative weather, eh?) Mol decided he'd take a flyer on something different: fishing deep. Typically, we fish the first good drop-off off shore, usually in only about five to seven feet of water, or along slowly sloping points on the north end of the lake. This time, Mol took us to the southwest corner of the big lake and we cruised over some 20-foot depths–which is about as deep as this lake ever gets–until Mol found a sharp drop-off he wanted to follow.
And we did, using Mol's typical approach, which is pretty simple: We trolled tiny–no more than three inches long, tops–perch-colored Rapalas along the drop at about 1.1 miles per hour. Mol said the first thing the 'eyes do post-spawn is head out to the drop-offs and gorge themselves on one-year-old perch. The only the change Mol made to his usual presentation (which includes the bait tied on a fluorocarbon leader with a perfection-loop knot so it swings widely) was that he added a second split shot up above the leader to make sure we were getting the bait down toward bottom.
Over the course of about 90 minutes we caught two 'eyes, one just barely longer than the 15-inch minimum size and one about a half-inch shorter. That's when the wind started picking up (and so did Mol's spirits). We set up upwind of where we'd caught the fish, baited up slip-bobber rigs dressed with leeches, and tied to run the baits over the 'eyes, but the wind changed directions before our first drift. So we reset and…the wind changed directions again. But before we could set for a third try, it started to rain, slowly at first, then increasingly hard.
Although I had brought a rain jacket, I hadn't brought the britches–they were in my truck–so Mol suggested we make a run for it. Long story short, by the time I grabbed my rain pants and got back to the boat, it had stopped raining, but the wind was still blowing at a steady clip. Mol decided that, rather than run back across the lake, we'd go to more familiar territory along the north shore.
We made one change (other than take the extra split shot off the line) from the way we'd started. Instead of using a Rapala, I rigged up with a two-hook worm harness (Bo's Bluegill Buster) and a red worm, just to see if it made a difference.
It seemed to–my rig started getting strikes more quickly than Mol's Rapala. Problem was his were mostly walleyes. Mine were just about everything else in the lake. We caught largemouth bass and pumpkinseeds, bluegills and pike, rock bass and crappie. Lots of them. Everything seemed to like those red worms.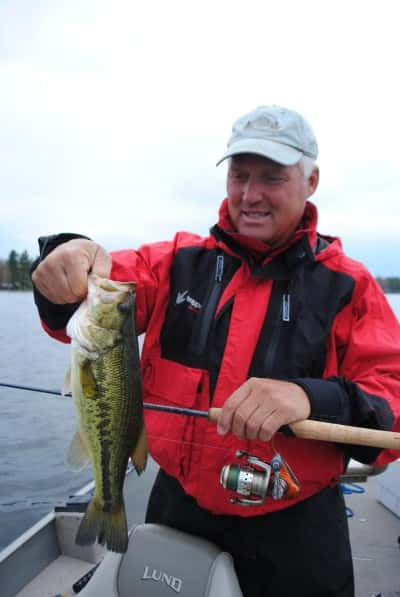 That's Houghton Lake for you. You can go there, target walleye, pretty much fail, but still wind up catching more fish than you'd catch most places.
Not that we were failing on the 'eyes; we caught a boodle of them. Problem was most of them were running right at 14-3/4 inches.
"You keep thinking that next year there are going to be a ton of walleyes to catch, but it's like this every year," Mol said.
True enough, it does seem as though the predominant-sized walleye in Houghton Lake is just shy of 15 inches. And generally, that's not a problem as you catch so many you can cull out a good batch for the table.
Recent surveys by the DNR show that numbers of walleyes on the lake is pretty high, but that they are growing slower than the state average. That would seem to indicate there's a lack of forage, but that doesn't appear to be the case when you look at the bass. Both largemouths and smallmouths at Houghton Lake are fat and healthy. And the panfish are, too.
But Houghton Lake remains one of the most heavily fished lakes in the state. And the reason for that, I figure, is simple: Houghton Lake is full of fish.
By the time we had the fish figured out–so that we could anchor, set up with slip-bobber rigs, and really clobber 'em–it was dark. If we'd had some lighted bobbers, I'd bet you we'd have slammed them. Instead we motored back to the launch ramp.
We'd caught 15 'eyes in a little more than three hours of fishing, which is pretty darn good in my book. Only four of them would keep, which is a little disappointing, but when you add in the non-target species, we had pretty close to non-stop action once the wind got up and we got where we wanted to be. That, to me, pretty much sums up what Houghton Lake is all about: just plain good fishing.

For more information on Michigan fishing go to michigan.org. Click here to purchase a Michigan fishing license online.
Images by Bob Gwizdz
What's Your Reaction?