It seemed inevitable that Hunter Engel would wind up a charter boat captain. He acknowledges as much.
"I would say so," said the 27-year-old skipper of Best Chance, a 30-foot Sea Ray, as we headed out to Lake Michigan the other day. "I grew up on boats. And I love fishing."
Engel father's Dave is one of the best known, most successful captains/tournament anglers on Lake Michigan. And Hunter's great uncle Bob–Dave's father's brother–ran a charter service, too, making Hunter the third generation of Engels to captain a charter boat out of this port.
Fact is, Hunter served as first mate on Bob's boat (the boat he owns now) for years.
"Uncle Bob was talking about retiring so I just made the plunge and bought the boat," he said.
Fishing had been "kind of tough"' for the last week or so, Engel said, as he set lines in 90 feet of water on a calm overcast day.
"It's a kind of a transition period and the guys who have been going out to deep water haven't been doing well at all," he said. "The shallower water is starting to warm up now, so I think those fish should be moving back in."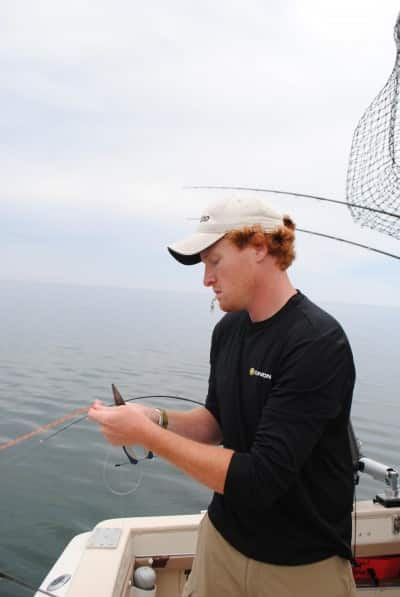 I was on board with a couple of Engel's friends, his mate, and the editor of the local newspaper. It was the first time I'd ever fished with the younger Engel–I fish with his dad quite often–but not the first time I'd played with him. I shared a post in the standing corn with him and his dad during early goose season back when Hunter was a young teen.
It was shortly before the younger Engel started entering goose calling competitions, where he has excelled. He won the first event he ever entered and has gone on to repeat that performance many times, including winning the state goose calling championship three years in a row.
We were running a dozen rods, trolling flashers and flies and dodgers and Spin'N Glows on copper wire on planer boards, off downriggers, and on Dipsy Divers. We had the water column covered, but virtually everything we marked–both bait and big fish–was down near the bottom. And when the first rod went off, it was the chute rod, which was running near bottom. That fish escaped but not before we got an eyeball on it; it was lake trout.
Thirty minutes later, the same rod went again. This time, Engel's guest brought the fish to net and the skipper netted a laker I guessed at eight pounds, not counting the lamprey that was attached to its side.
"Lake trout are often near bottom," Engel explained to his guests. "They just seem like they're more lethargic than salmon."
The fish set the course for how our day was going to go. We boated two more fish (both lakers) and lost one other that we never saw before we pulled lines at a little past 11 a.m.
Engel, who is the youngest skipper working out of Saugatuck, said the transition from mate–besides working for Uncle Bob, he often mated on his dad's Best Chance, Too, whenever his dad's partner, Bill Bale (who is also an excellent angler) was captaining the boat–to skipper has been relatively seamless. He inherited a lot of his great uncle's clients.
"They already know me and have fished with me," he said, and he's picked up some slack when his dad's clients wanted to go but Dave was already booked. So he's got a good start on building his business.
Still, he has no illusions it's going to be easy.
"It's a pretty hard life, but I grew up with it and I love it," he said. "I helped my dad with a lot of maintenance on his boat, but I always had personal time to do what I wanted. Now it seems like I'm always working on the boat.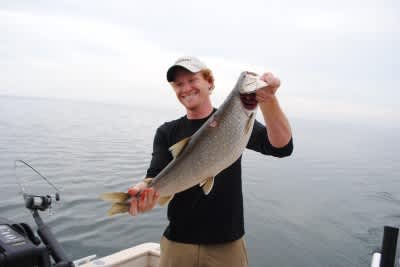 "There's two halves to the boat," he continued, "I grew up working the rods, but the biggest adjustment is working the front of the boat, plotting the course, making decisions, making sure you're running the right speed, making sure you're giving the customers what they want. It seems like I'm doing pretty well. This past week it seems like I'm the only boat that's been going out here."
Though he'll continue to work with his father on the goose hunting business–both in Michigan and in Arkansas where they chase snow geese in the late winter–it looks like his competitive goose-calling days may be coming to an end. He's already had to miss some competitions because he's been booked to fish and, besides, he said, he doesn't have the time to practice the way he needs to because of the commitment he's made to running a charter boat. But that doesn't bother him as he's proud to keep up the family tradition.
"My dad's set the bar pretty high," he said. "I hope to make it like he has. But so far it's been a positive experience.
"It's almost like people were waiting for me to do this."

For more information on Michigan fishing go to michigan.org. Click here to purchase a Michigan fishing license online.
Images by Bob Gwizdz
What's Your Reaction?