The other night the urge to explore local lakes struck me. We're truly blessed to live in southwest Michigan, which is riddled with small, glacier-dug bodies of water, and although I've lived here near Paw Paw for four years, I haven't fished a lot of them.
So I dug out my tattered Michigan Atlas & Gazetteer, the detailed map book I've used primarily for hunting grouse in the Upper Peninsula. On the map's six-mile scale, I measure out 12 miles with braided fishing line, a pen on one end, a pencil on the other. Locating the intersection nearest our house I draw a circle. More than 75 lakes fall within it, and 22 of them have boat launches. I make a list and alphabetize it, and decide it is my summer "to-fish checklist."
I've fished on just three of them, leaving 19 new ones to explore. Upper Jeptha Lake, the first unfished one from the bottom of the list, is the first choice because it's small, I've never seen it, and it's easy to get to.

A quick Google search gets me even more pumped. It's just 57 acres, meaning unlikely to have jet skis, and a large section borders Jeptha Lake Fen, a wetland preserve that, according to the Southwest Michigan Land Conservancy site, "supports showy and unusual wildflowers such as pitcher plants (which are carnivorous) and marsh blazing stars." And the Lake-Link website says Upper Jeptha has crappie, bluegill, grass pickerel, largemouth bass, pike, sunfish, and yellow perch.
Perfect.
Kayak loaded in the back of the truck, it's 13.5 miles to the lake by road.
Because just about all lakes around here have healthy populations of largemouth bass, they become the main target and I've loaded up a couple of baitcasting combos—one for jigs or Texas-rigged worms, the other for spinnerbaits or cranks—and a spinning rod with a split-shot worm rig. An ultra-light rod spooled with four-pound test with a tiny tube jig tied on is also in the Hobie's rod rack, just in case the kayak ends up surrounded by bluegills and crappies.
It turns out to be one of those perfect June mornings: little wind, the sun shining warmly, and the lake is nearly idyllic. Roughly half of the lake shoreline is somewhat developed with cottages, and the rest is wild and beautiful. The fact that almost all of the docks sport pontoon boats and nary a jet ski lift or ski-boat is to be seen makes my heart swell. As I pull into the public ramp, a fellow is launching a 16-foot Alumacraft with a large Merc outboard, but instead of firing it up, he drops his front trolling motor in and disembarks silently. Two other watercraft on the lake have anglers, one is a canoe with an older gent with a gray ponytail and white beard taking two small boys fishing. The other is a 16-foot aluminum boat with a middle-aged guy and another young kid. He doesn't fire up his outboard either.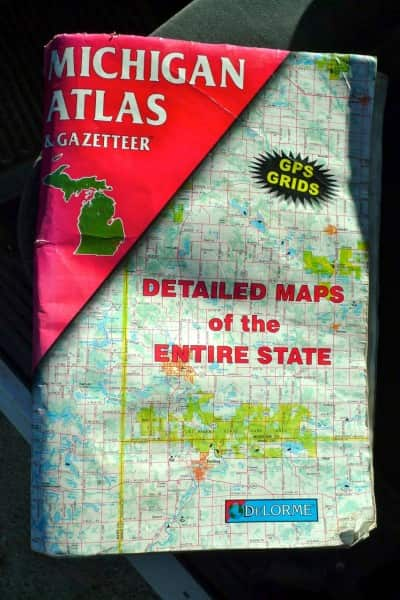 Although I was a fairly hardcore bass angler in the 1990s, since the year 2000, I can probably count how many times I've been bass fishing in southwest Michigan on one hand. The allure of Great Lakes trolling and the need to do it as editor of a Great Lakes fishing magazine just filled up all of my fishing time.
When you're away from something you used to love doing, the subtle nuances of the experience seem much larger. The feel of popping a plastic worm off a weed, watching the line go down to see if a bass hits. Just making fairly accurate casts without a backlash (well, I had one) lends some satisfaction.
And when you feel that tap of a bass sucking in the plastic worm, set the hook and feel the fish tugging on the other end, then see it leap out of the water, well, it's way more special than when you get to do it all the time. Even when the fish isn't a 14-inch keeper, which is exactly the scene with the first bass I catch. Another high point was figuring out how to take my own picture while holding the fish, my camera attached with Velcro to the kayak's stand-up support bar.
I fished for almost four hours, pedaling the foot-driven Hobie about halfway around the lake. I missed a few more strikes on the worm, then caught another small bass on a lipless rattling crankbait and lost a third on that lure. Then it was time to get back to meet a writing deadline.
At the ramp, the white-bearded fellow in the canoe came in just as I was finishing strapping the kayak in the bed of my truck.
"How was fishing?" I asked as he walked toward his vehicle.
"Fishing? It really wasn't worth a thing," he replied.
I silently disagreed.

For more information on Michigan fishing go to michigan.org. Click here to purchase a Michigan fishing license online.
Images by Dave Mull
What's Your Reaction?