To waterfowl hunters, there are some historic destinations that fill dreams and top bucket lists. While it's well-known for excellent deer hunting and amazing fishing, Michigan is also home to some amazing waterfowl hunting action. What's better still are the outstanding Managed Waterfowl Hunt Areas that make up the Great Lake State's Seven Wetland Wonders.
Unlike deer hunting, some of the best action hunters can find for waterfowl is on public land. Establishing in the 1960s and early 1970s, the Managed Waterfowl Hunt Areas offer a diverse array of hunting opportunities and styles—everything from traditional big-water duck hunts to field hunting for geese.
Where to go
The seven areas are all located in the lower half of the Lower Peninsula. Each unit can be located and information found on the Michigan Department of Natural Resources' (DNR) Wetland Wonder page.
Each unit is managed for hunting opportunities, said Joe Robison, wildlife biologist supervisor with the DNR.
"These areas are managed to offer world-class hunting and other outdoor activities," Robison shared. "Some may think they need to travel out of the state to enjoy the type of hunting the management units offer, but they obviously don't. And it's all public land."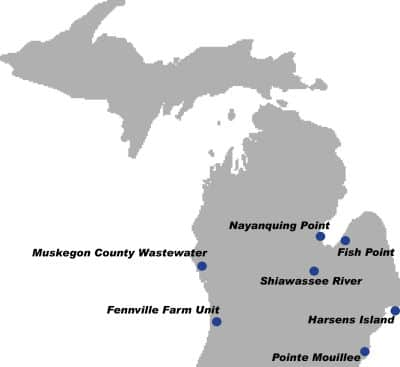 The areas operate on a permit basis. Each morning, hunters come to the check-in/registration shacks and enter a lottery system for first pick of the blinds/hunting spots. The number is limited and there are limits on the number of hunters allowed per blind.
In the last 10 to 12 years, Robison said, an application draw system was put in place for the top units for the first days of the season. If you want to hunt Fish Point, Shiawassee River, Shiawassee National Wildlife Refuge, or Harsens Island on one of the first days of the waterfowl season, you need to apply by August 28. Being drawn ensures you have the opportunity to hunt at one of these units.
"We have increased the number of hunting opportunities at Fish Point and Shaiwassee River," Robison said. "The number of hunts for the Shiawassee NWR went down. There are also some great opportunities for the youth hunt."
So which area is best? That's a hard question as each unit has its own benefits. Fish Point gets the greatest number of applicants and visitors each season, Robison said. It's a traditional duck hunting location and right off the historic Saginaw Bay. Shiawassee is more known for geese, and Harsens Island is a unique mix.
The other units are available on a first-come, first-served basis for the morning draw, which is usually around 5:30 a.m. for the morning hunts and 11 a.m. for the afternoon hunts. Check with the officials managing the area you want to hunt for specific draw times. Many hunters, Robison said, camp out for the night at the unit so they can be there in the morning to get in on the hunt.
"The thing hunters need to keep in mind about these units and the hunts is they will get the opportunity to get a shot at some birds," Robison continued. "These units are managed and have a great deal of birds coming into them. I won't say that bagging a bird is a sure thing, as that depends on the hunter and his or her shooting ability, but if you hunt at one, you'll have the opportunity."
Planning your hunt
So you think you want to hunt one of these units, or maybe even apply for one of the reserved hunts? Great, it's a great opportunity. But how do you plan for the hunt? That's a question Robison gets all the time. To help educate hunters on the units and what to expect and bring, he teamed with professional waterfowl hunter and videographer Shawn Stahl from Avery Outdoors and RNT Calls. They created a series of videos for each area to showcase the "property" itself, and to educate hunters as to what to expect and what to bring for each hunt.
For example, the Fish Point video (embedded below) gives a rundown of what the property offers and a good idea of what hunters can expect to find.
"I've hunted each of the units and each of them has their own unique advantages and challenges," Stahl said. "Joe and I worked together to create the videos [and] inform people and encourage them to use this incredibly valuable resource."
One thing hunters need to keep in mind is that each area has its own regulations regarding the number of shells each hunter is permitted to bring in, how the unit can be hunted, and the use of spinning wing decoys.
"I wouldn't choose one unit over another, as far as quality goes," Stahl continued. "Each unit has its own qualities. Location might be the deciding factor to picking which ones to hunt. Some units are easier than others to hunt, too, so it depends on what type of hunt you're looking for."
When asked whether he has a favorite, Stahl said with a laugh that he favors all of them. Scouting is a key element to each hunt, and the managers from each area are great tools to help in scouting.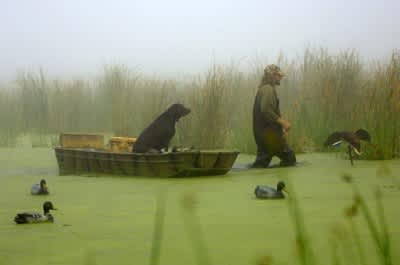 "Public-land hunting has gotten a bad rap in recent years because you have to deal with other people around you that can affect the outcome of your hunt," Stahl said. "These units are public hunts where you don't really have that issue because they are managed just for that type of hunting pressure."
The wonder of it all
Each season, Michigan urges hunters to hunt and use the Seven Wetland Wonders by way of the Wetland Wonders Challenge. To enter the Challenge, all a hunter needs to do is hunt three of the seven areas. Doing so enters that hunter into a drawing for one of seven prize packs. Hunting additional units results in additional entries. The prize pack consists of a Mossberg shotgun, Zink calls, and Avian X decoys, along with some memorabilia and a Golden Ticket, a pass to next season's limited-draw waterfowl hunts.
Stahl and Robison both stressed that using these units and applying for the reserved hunts are great assets to waterfowl hunters in the Great Lake State. Robison also pointed out that there are public lands open to hunting just outside the areas' grounds as well, for those hunters who didn't make the daily draw—a point that was made in some of the unit videos.
The main thing is this: waterfowl numbers are up this season and Michigan provides some excellent opportunities to hunt ducks and geese, both inside the Managed Waterfowl Hunt Areas and out. If you're planning to hunt waterfowl in Michigan, be sure to have all of the required licenses, including the Federal Duck Stamp, which is now available through the DNR license system. You can find all the licensing and regulations on the DNR website. With the early seasons, Michigan waterfowlers can now hunt from September 1 all the way into February of next year, making waterfowl hunting a very Pure Michigan activity!

For more information on Michigan hunting go to michigan.org. Click here to purchase a Michigan hunting license online.
This article was produced in partnership with Pure Michigan.
What's Your Reaction?