There has never been a better time for backyard inventors than right now. Much of that is due to the easy accessibility of crowdfunding. No longer do inventors have to chase down investors or sell their ideas to large corporations for pennies on the dollar. Now, innovators can pitch their ideas directly to the people who will buy their products, raise funding from the ground up, and shape their products how they see fit.
Sounds like a great idea, right? Unfortunately, crowdfunding isn't exactly perfect and unscrupulous people have been known to take advantage of the system. Regardless of your experience with crowdfunding, it can't be denied that the platform allows many new inventors to offer their product directly to the customer. Some are more practical than others, but here are five fishing innovations that made waves in 2015.
1. The device that "zombifies" bait fish

Status: Ongoing, campaign ends January 7
To some, the idea of animating dead bait fish sounds creepy. To others, it's a great way to increase the effectiveness of your bait without going through all the hassle of live fish. That is what the designers of Zombait, a device that can be placed inside bait fish to imitate movement, are hoping for.
"Put it in the water and it will start swimming automatically until you pull it up again, no hassle. And, unlike live fish, it won't get tired over time or die unexpectedly," the designers wrote on Kickstarter. "More importantly, it won't try and escape from the trophy fish you're after!"
Backed by a team of engineers, fishermen, and programmers, Massachusetts-based Magurobotics LLC started a crowdfunding campaign in December to raise $27,000 for the production of Zombait. However, some anglers have voiced concerns over the possibility of losing the device, and the potential damage to fish and the environment. Nonetheless, the strange concept has drawn a fair share of attention to Zombait, and it is well on its way to meeting its crowdfunding goals. Read more about the device here.
Kickstarter video:
https://www.kickstarter.com/projects/1029637745/zombait-a-robotic-lure-that-brings-dead-fish-back?ref=discovery
2. The football-shaped Fish Call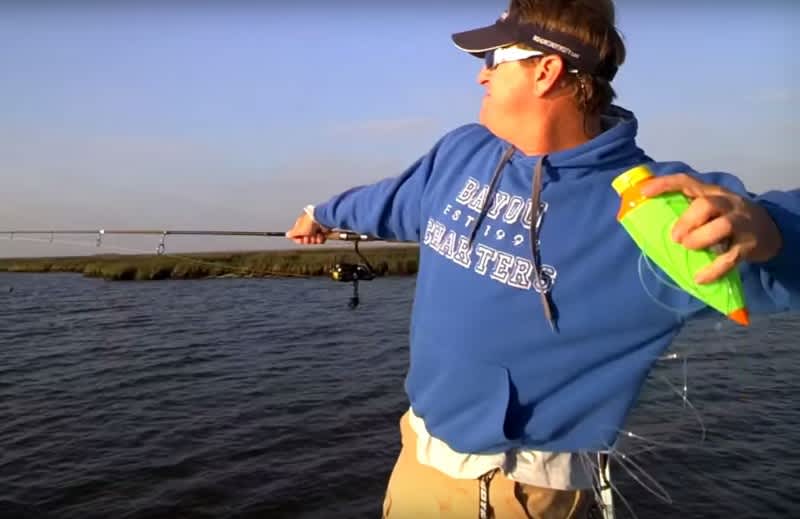 Status: Funded
Wildlife calls have long been a staple of hunting, but calls for fish? Is it even possible to make those? According to 16-year-old Jack Danos and his father Jeff, it certainly is. The father-and-son team from Louisiana created a throwable electronic fish attractor that works by playing pre-recorded sounds and vibrations that draw certain fish, therefore increasing angler success.
"It's super easy to use: Just turn it on and deploy it by either throwing or placing it into the water. You can use the included anchor to keep it in place or remove it to let it drift. It broadcasts out sounds and vibrations that mimic the sounds of schooling and feeding fish," stated the Kickstarter campaign. "The fish can't help but head towards it in search of their next meal! It's about the size of a mini football and weighs less than a pound, making it easy to toss into the water, and compact enough for super-convenient storage."
The duo only asked for a modest $10,000 when they started their campaign this summer, but were overwhelmed with over $110,000 in funding by supporters. According to the campaign's last update, they are expecting to ship out the first batch of calls to supporters soon. Read more about it here.
Kickstarter video:
https://www.kickstarter.com/projects/jackadanos/the-fish-call-the-future-of-fishing/description
3. The ice auger that doubles as a go-kart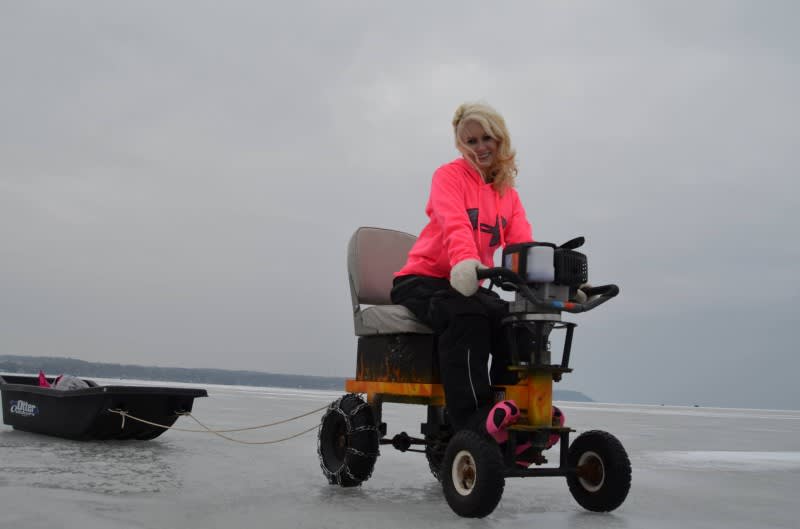 Status: Failed
Ever wished your ice auger could transform in a go-kart, or vice versa? Designer Adam Ford developed a contraption almost does that. The Ice Auger Go Kart Machine was essentially an auger that doubled as the engine of a small go-kart. That meant that anglers were able to drive out on the ice, take out their "engine," and start drilling without having to unpack any additional equipment.
"The idea came to me from an experience I had ice fishing on 'The Bay' in Green Bay, WI," Ford wrote on his Kickstarter page. "I had walked and pulled all my equipment out about 2 miles from shore and started fishing. Shortly after I had got everything situated I noticed a storm was coming in. The long story short, I had to pack up and battle walking and pulling in this nasty storm. The whole walk back I was coming up with a way I could propel myself forward with the motor on my auger. Luckily I made it back after 2 hours of walking and since then I have come up with a design and built it."
Ford's novel idea failed to get off the ground. He only raised $132 for a $30,000 goal and the project was not funded. Still, we hope this is one idea that gets a second chance at life soon. Read more about the campaign here.
Kickstarter video:
https://www.kickstarter.com/projects/iceaugermachines/ice-auger-go-kart-machine-for-ice-fishing-hauling
4. "Catch enlarger"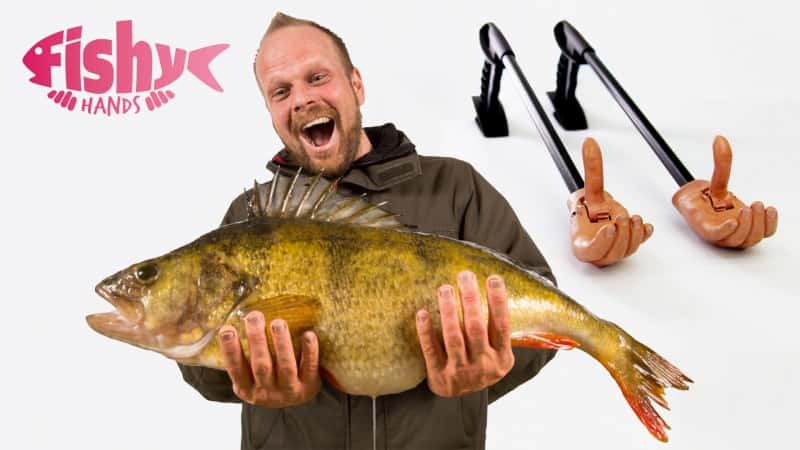 Status: Failed
This simple device from Danish company MOEF started off as a joke, but later became so popular that the company decided to make real product just because of the public reaction. The FishyHands tool is a device that allows anglers to cheat perspective and make fish appear larger than they are in photos. This of course, is mocking the age-old—and widely ridiculed—method of using forced perspective to "enlarge" your fish.
"The news about FishyHands spread out rapidly amongst angling enthusiasts, where a single picture reached more than 500.000 users," the company stated in a press release. "But also on the well-known American social news and entertainment site Reddit, the story quickly turned popular, ranking second place for some time. People responded and wanted to know where to buy the product."
Unfortunately for MOEF, the joke seems to have had a better reception that the real thing. The company only raised about $1,600 out of its $30,000 campaign goal. Read more about it here.
Kickstarter video:
https://www.kickstarter.com/projects/215204966/fishyhands/updates
5. New, pain-free method to measure fish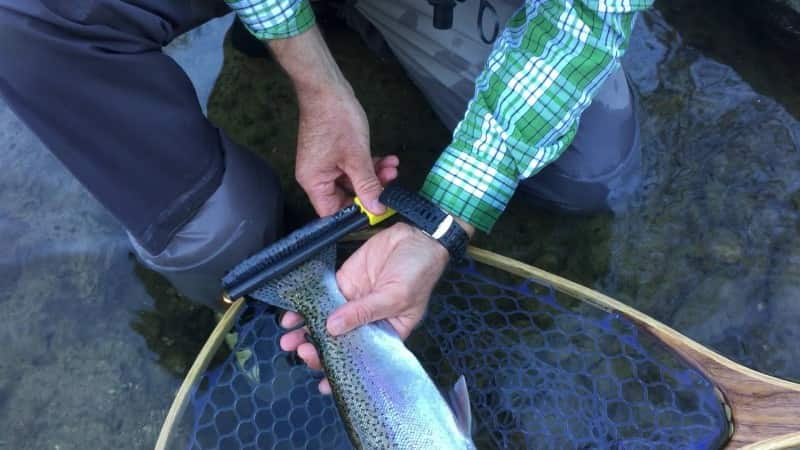 Status: Funded
Want to measure fish accurately and harmlessly? This crowdfunding project from Arizona-based fishing accessories company Nørre aimed to do exactly that. The Tail Scale may look like nothing more than a pair of chopsticks, but its designers say the tool can be used to accurately measure the size and weight of most trout species in seconds and is easier than using traditional methods such as measuring tape.
"Trust us, as a totally new tool you may mess it up a time or two, but once you practice on a few fish, the Tail Scale will provide the best combination of speed, estimating and fish health in any measuring method you have used," the company stated. "It's actually fun to use because it takes a clumsy and high fish handling aspect of our sport and makes it a quick and smart technique."
Backers believed as much, and put $8,000 into the Kickstarter project to fund it, narrowly topping the campaign's $7,500 goal. You can read more here.
Kickstarter video:
https://www.kickstarter.com/projects/606885277/nrre-tail-scaletm-the-most-incredible-way-to-measu/description
All images are screenshots from their respective Kickstarter campaigns
What's Your Reaction?