We carefully placed decoys along the swaths of barley with the faint light of our headlamps. The chatter and excitement was hard to miss among the crew, as they wondered out loud what the day might bring. With any luck, the ducks and geese would swarm us, just like they had circled and fed across the field the day before. Blinds were strategically placed, and the outer skins camouflaged with straw from the swaths. Before the sun started to break the eastern horizon, we were tucked comfortably within our hides to await the migration magic and the dawn of a new day.
In typical waterfowl-hunting style, we just poured a steaming hot cup of coffee from our Thermos, when the distinct honks of Canada geese broke the silence. Breakfast was about to be served, Manitoba style, but instead of a heaping helping of ripened barley, the birds would be met by hunters with a hunger of their own.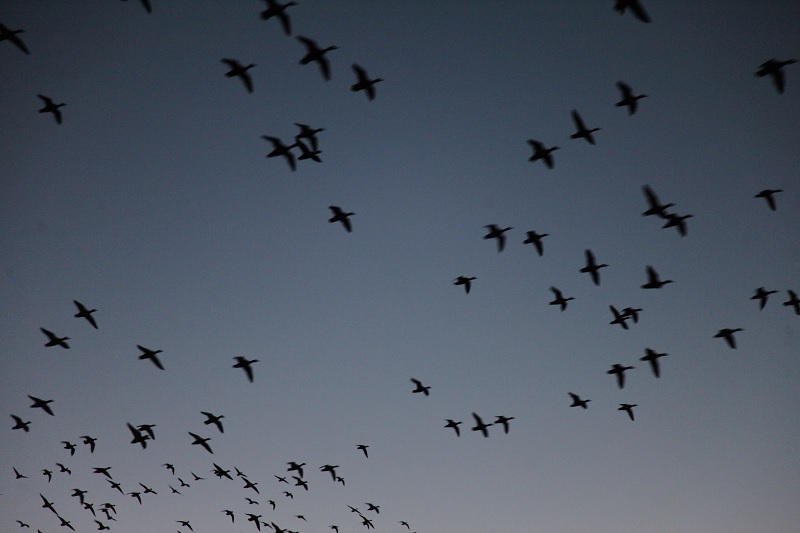 When the geese broke over the treeline, they were already close. The lead bird zeroed in on the decoys, and our calls reaffirmed the birds were back in the right place. The big honkers set their wings and whiffled through the air as if racing to see how they could get to the ground first. When the signal was yelled to "shoot them", we emerged from our blinds and collected the first geese towards a daily limit.
The action was fast and furious for the next two hours. Coffee was soon discarded, as there simply wasn't time to drink it. Geese lined the sky like squadrons of aircraft coming in for a landing. Ducks joined the party, and a flight of mallards circled once, set their wings, and drifted to within 10 yards of where we hid. Nobody wanted to pass on the ducks to see if geese farther out might come in.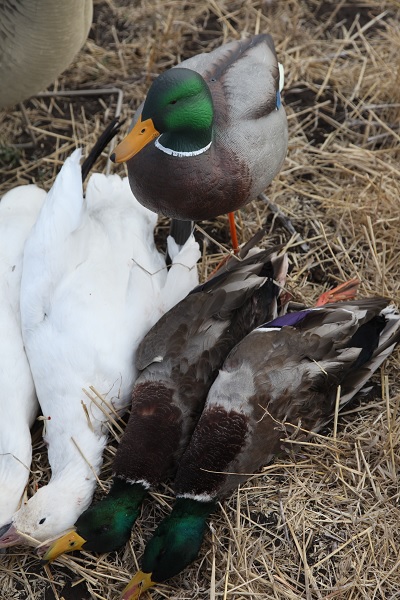 When all was said and done, we had a long line of ducks and geese to take pictures of and share over big smiles from hunters. The most amazing part of the trip to central Manitoba was the fact we had sensational hunts three mornings in a row, where limits were harvested, forcing us to go fishing in the afternoons. Talk about First World Problems.
Habitat is Where its At
Manitoba has always been rich in resources, which drew European fur traders to the region. The province name is derived from Cree "manitou-wapow" or Ojibwa "manidoobaa", both meaning "straits of Manitou, the Great Spirit", a place referring to what is now called The Narrows in the center of Lake Manitoba.
The hunts took place near the Narrows of Lake Manitoba, which could only be described as outstanding waterfowl habitat. There is almost as much water as dry ground in the region, giving ducks and geese plenty of habitat options. The Narrows is a special spot in Manitoba, but the most interesting thing about this province is the productivity of its entire southern portion. Throw a dart at a map of this central province, and if it hits in the lower third, you'll likely locate a new waterfowl hotspot.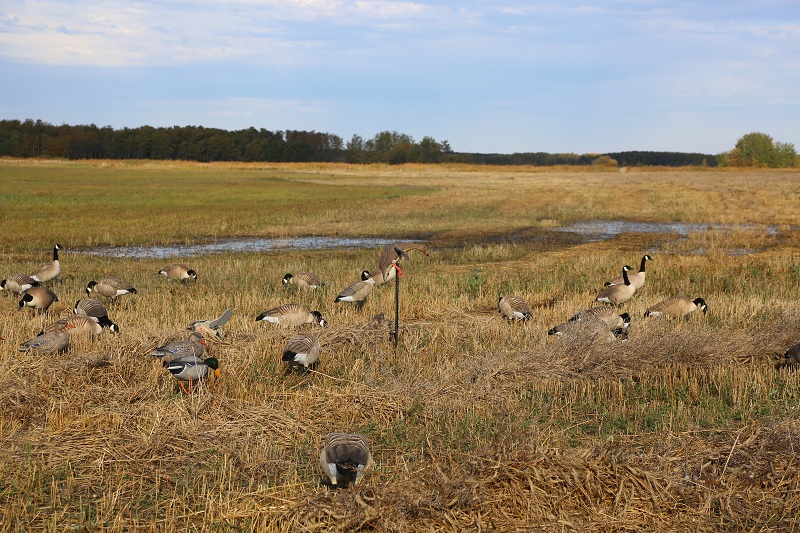 The northern half of Manitoba is covered with forest, and the southern region is comprised of unique and productive grasslands and farmland. Southern Manitoba was once covered with the glacial waters of Lake Agassiz, and the old lake bed not only makes for a productive agricultural zone, but it still holds plenty of water that ducks and geese love.
Wetlands and Water
When it comes to water, Manitoba has world bragging rights. It is home to the 10th largest freshwater lake in the world. About 110,000 lakes cover close to 40,000 square miles. No wonder Manitoba is synonymous with waterfowl.
There are plenty of historical and world recognized wetlands to boot. And, where there is water and marshland, there is waterfowl production and even more values as staging habitat.
The southern border of Manitoba splits the Central and Mississippi Flyways, meaning ducks and geese coming out of, and produced in Manitoba feed the two largest flyways in North America.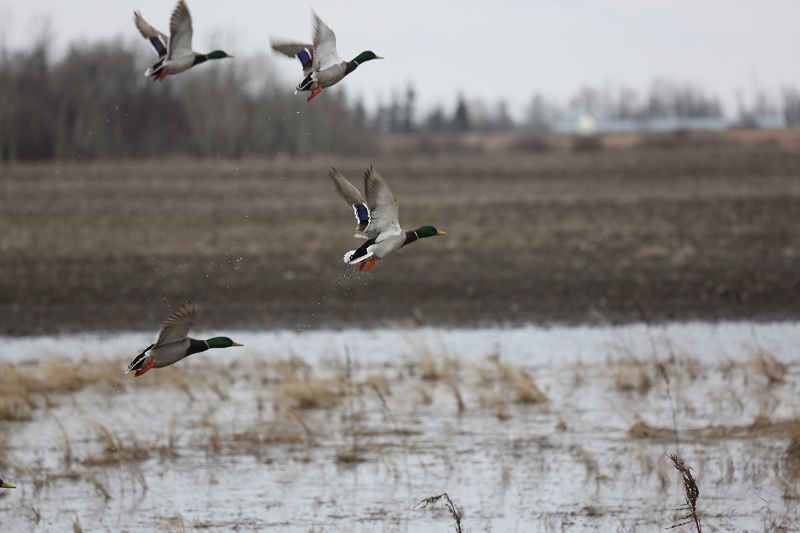 History and Celebrities
The historic Delta Marsh consists of an extensive open marsh situated near the south shore of Lake Manitoba, extending for close to 18 miles along the shore of the lake, and being over two miles wide in some spots. The marsh is a network of interconnected shallow bays separated from Lake Manitoba by a dune, or ridge that is 300 yards tall and often 600 yards wide. The Delta March, originally created as the delta of the Assiniboine River, which flowed into Lake Manitoba at this point in the past.
The Delta Research Station was established there in 1936, leading to University studies and programs to benefit and understand waterfowl. The likes of Ernest Hemmingway and Clark Gable have hunted the legendary marsh that is still open to waterfowl pursuits today.
Oak Hammock Marsh is home to the offices of Ducks Unlimited Canada that overlook close to eight miles of open marsh and wetland. Managed hunting is enjoyed by hundreds of avid waterfowlers every year.
The Minnedosa Potholes are famous for duck production and home to incredible numbers of dabblers, and prime nesting areas for canvasbacks. The pothole region is productive and usually an awe-inspiring sight during the peak of the migration.
If you're following along on a map, you'll get the idea that waterfowl are everywhere, but we'd be remiss not to mention the Whiteshell Provincial Park and the incredible diver hunting on the Canadian Shield. It is a unique hunt that waterfowl enthusiasts should add to their bucket list.
The Pas is a northern town, and the marshes to the west are prime staging waters for arctic birds looking for a stop on the way south. This is yet another region that is often overlooked.
The Hudson Bay lowlands start 650 miles north of Winnipeg and offer some of the most secluded wilderness most hunters will ever encounter. The region is home to everything from polar bears to caribou, but it is the waterfowl that draws a crowd. In early fall, thousands of arctic nesting geese stage along the productive tidal areas of Hudson Bay, following the tidal push of the Arctic Ocean to feed on the protein-rich vegetation. Even the giant Canada geese from southern Manitoba use the area to stage, as juveniles, relaxing and fattening up before they hit breeding age. There were thousands of birds migrating along the coast, which is a traditional staging area for waterfowl coming off the northern arctic islands and extensive nesting grounds along the coastline.
Kaska Goose Lodge has operated along the Kaskattama River for many years, hunting out of traditional driftwood blinds, or venturing into uncharted territory. For the adventure seeker, they have a helicopter in camp to fly hunters up or down the coast, allowing you to be dropped off where cyclones of birds are found. They pick you up when you have all your birds, or you've run out of ammo.
Plan Early
Waterfowl seasons in Manitoba open early when compared to most states. Ducks, geese, and cranes can be hunted as early as September 1st, with some opportunities running into November.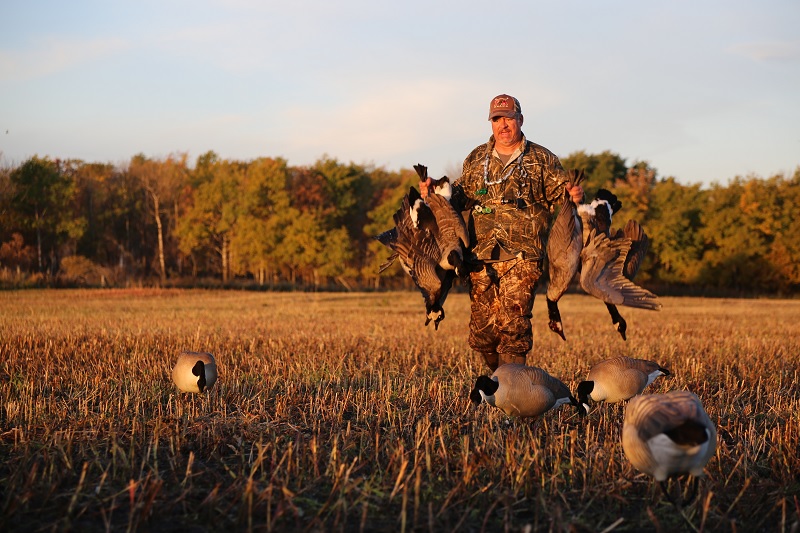 Manitoba offers hunting opportunities for foreign-resident hunters, wanting to pursue a variety of migratory species. Hunters can hire the services of an outfitter. You can even bring your dog, by doing a little paperwork with the Canadian Food Inspection Agency for permits.
For more information on GHA's, season dates, waterfowl hunting licenses, Hunter Education requirements or additional information on hunting in Manitoba, please visit the Manitoba Sustainable Development website at www.gov.mb.ca
Resources
Travel Manitoba has an interactive website for hunters and anglers interested in visiting the province. Take a tour at huntfishmanitoba.ca to start planning your Manitoba waterfowl hunting trip.
Bringing a Firearm to Canada
There is a misconception that bringing a firearm into Canada is difficult, when in fact it is relatively easy. You can find a fact sheet and Firearms Declaration Form at www.rcmp-grc.gc.ca/cfp-pcaf/information/visit/index-eng.htm. Click on English, then on Visitors/non-resident. Fill out your forms with the firearms information you will be bringing to Canada, but don't sign it until asked by a Canada Border Agency officer.
Questions?
Need information about traveling to Manitoba, or Canada in general, and crossing international borders? Contact Canada Border Services Agency at www.cbsa-asfc.gc.ca or call 1-800-461-9999 or in Winnipeg at 204-983-3500.
Other Resources
Manitoba Lodges and Outfitters Assoc. Inc. 1-800-305-0013 www.mloa.com
Manitoba Wildlife Federation 1-204-633-5967 www.mwf.mb.ca
Travel Manitoba 1-800-665-0040 www.travelmanitoba.com
United States Customs – Pembina, North Dakota 1-701-815-5800
U.S. Fish and Wildlife Service – Dunseith, North Dakota 1-701-263-4462 www.fws.gov/offices/
Pembina, North Dakota 1-701-825-6366